ASUS has been talking about its Padfone product for quite a while now but we're finally getting some more detailed specs on it. As a recap, Padfone is a smartphone that can dock into a tablet, which can then dock onto a keyboard to build a ultraportable netbook/notebook.
The Padfone itself is based on Qualcomm's Snapdragon S4, although it's not clear what S4 model number is being used. The MSM8960 would obviously make sense, but since ASUS isn't listing LTE connectivity as a feature it could easily be the MSM8260A. The 4.3-inch display features a qHD resolution, although when docked into the Padfone station you get a 10.1-inch 1280 x 800 IPS panel driven by the phone.
ASUS Padfone Specifications
ASUS Padfone
Networks

WCDMA 900/2100MHz
EDGE/GPS 850/900/1800/1900MHz
HSPA+ 21/5.76Mbps (42Mbps Optional)

OS
Android 4.0 (ICS)
CPU
Snapdragon S4 (dual-core Krait) with Adreno 225 GPU
Memory
1GB LPDDR2 RAM + 16 - 64GB eMMC NAND
Connectivity
802.11b/g/n, Bluetooth 4.0, 3.5mm audio jack, microUSB 2.0
Display
4.3-inch Super AMOLED qHD (960 x 540)
Camera
Rear: 8MP F2.2, AF with LED Flash
Front: VGA
Others
Motion sensor, proximity light sensor, gyro sensor, e-compass
Battery
1520mAh Li-ion
Expansion Slot
microSD (SDHC/SDXC up to 32GB)
Dimensions
128mm x 65.4mm x 9.2mm
Weight
129g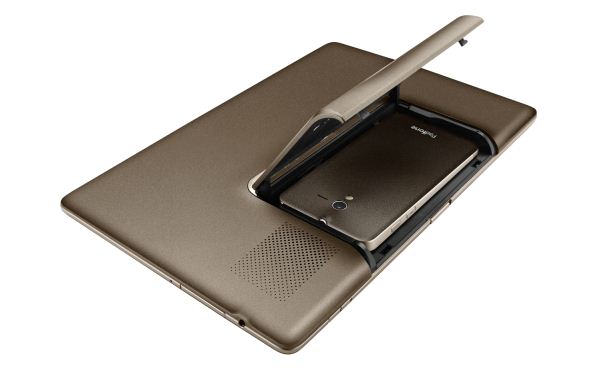 The Padfone station adds a 24.4Whr battery which should increase battery life tremendously. The flexibility of the Padfone platform is certainly unique and it's good to see ASUS experimenting with new form factors and usage models as it expands its position in the mobile industry. It's still not entirely clear what the ideal mobile device is. There are obvious benefits to having a smartphone, tablet or notebook. The Padfone tries to give you all three in a single platform. Conceptually it makes sense, how well it works in practice is only partially in ASUS' hands. The hardware aspect must be properly executed but there's also the software component. Seamless transitions between the different usage modes is important, but there's also the question of whether or not Android is ready for prime time as a notebook OS. I think it's safe to say that as a smartphone and tablet OS Android is doing quite well, but its usefulness as a notebook OS is still up for debate depending on what you do. If the TF Prime + dock is an option in your eyes, the Padfone is definitely an even more flexible alternative.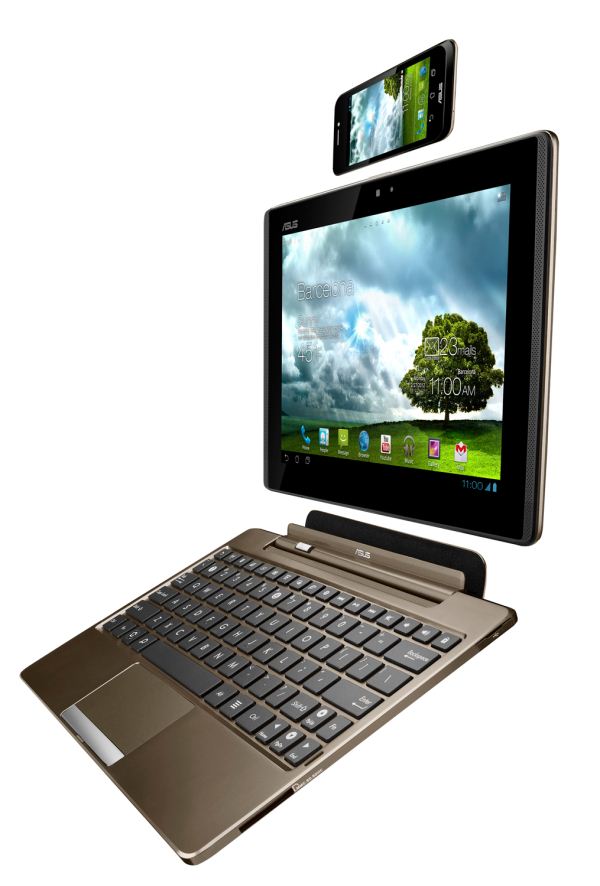 ASUS Padfone Station Specifications
ASUS Padfone Station
Connection Interface

Micro USB + Micro HDMI

Display
10.1-inch 1280 x 800 with Capacative Touch
Camera
Rear 8MP (via Padfone rear camera)
Front 1.3MP (1280 x 800)
Others
Vibration sensor, 2 color LED indicators for battery status
Battery
24.4Whr
IO
2-in-1 audio jack, 40-pin connector
External Antenna
Phone/GPS
Dimensions
273mm x 176.9mm x 13.65mm (h-average)
Weight
724g
As Microsoft heads toward a more unified OS strategy across smartphones, tablets and PCs, a Windows 8 based Padfone may be an interesting option...