The Eee Pad brand is gone, ASUS has officially reduced it to just Transformer Pad. One of the first tablets to carry the new Transformer Pad brand is one we saw at CES. Back then it was known as the Eee Pad Transformer Prime TF700T, but now it's simply the ASUS Transformer Pad Infinity.
Equipped with a 10.1-inch Super IPS+ 1920 x 1200 display, the Transformer Pad Infinity is ASUS' new high-end Android tablet. The WiFi version will ship with a 1.6GHz NVIDIA Tegra 3 SoC, a speed bump up from the 1.3-1.4GHz part that shipped in the original TF Prime. The big surprirse is the 3G/4G LTE version will use a Snapdragon S4 MSM8960 based on Qualcomm's new 28nm Krait architecture. According to ASUS' specs, the Infinity gets a 13.6% increase in battery capacity compared to the Transformer Prime - probably to help offset the increased power consumption from lighting the 2.3MP display.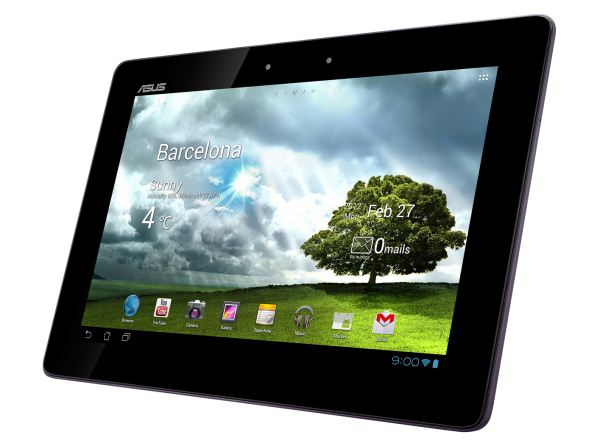 The TF Pad Infinity is slightly thicker than the TF Prime but the dimensions and weight apparently remain unchanged. The aluminum body is still available in two colors: amethyst grey and champagne gold. Just as we saw at CES, there's a plastic RF window strip across the back of the tablet to improve WiFi/GPS reception.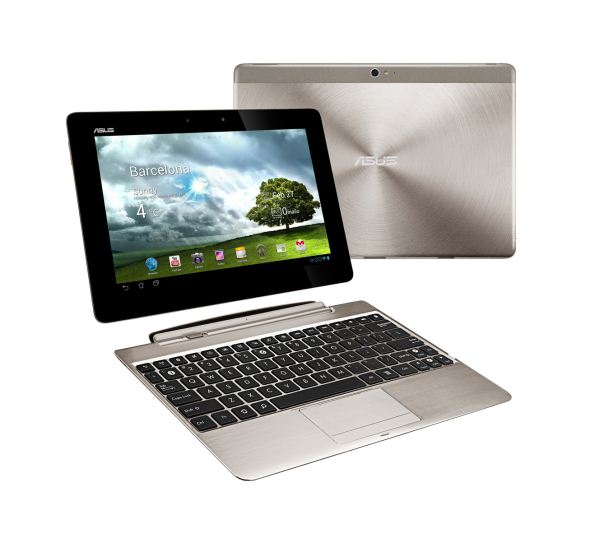 The TF Pad Infinity is also available with an optional mobile dock featuring an additional 22Whr battery. The dock measures 263mm x 180.8mm x 8 - 10.4mm and weighs 537g.
We're expecting pricing to be north of $599 depending on capacity and wireless connectivity. Although NVIDIA's Tegra 3 seemed to handle the higher resolution of the Infinity fine at CES, the Snapdragon S4 version could be even smoother thanks to its dual-channel memory controller. Expect availability to be limited based on panel supply, at least early on.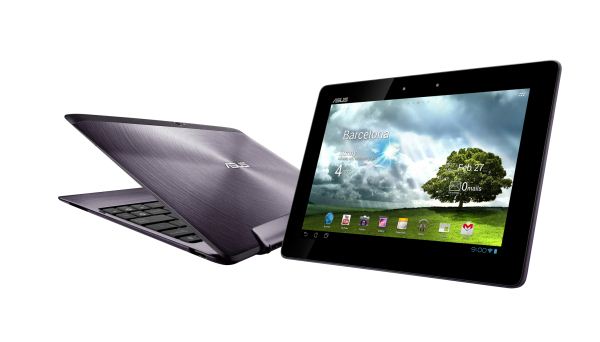 Tablet Specification Comparison
ASUS Eee Pad Transformer
ASUS Eee Pad Transformer Prime
ASUS Transformer Pad Infinity
Apple iPad 2
Dimensions
271mm x 175mm x 12.95mm
263 x 180.8 x 8.3mm
263 x 180.8 x 8.5mm
241.2 x 185.7 x 8.8mm
Display
10.1-inch 1280 x 800
10.1-inch 1280 x 800 Super IPS+
10.1-inch 1920 x 1200 Super IPS+
9.7-inch 1024 x 768 IPS
Weight
675g
586g
586g
601g
Processor
1GHz NVIDIA Tegra 2 (2 x Cortex A9)
1.3GHz NVIDIA Tegra 3 (4 x Cortex A9)

3G/4G LTE - 1.5GHz Qualcomm Snapdragon S4 MSM8960 (2 x Krait)

WiFi - 1.6GHz NVIDIA Tegra 3 T33 (4 x Cortex A9)

1GHz Apple A5 (2 x Cortex A9)
Memory
1GB
1GB
1GB
512MB
Storage
16GB + microSD card
32GB/64GB + microSD slot
16GB - 64GB
16GB
Battery
24.4Whr
22Whr
25Whr
25Whr
Pricing
$399
$499/$599
$599 - $799 est
$499