Build, Heat, and Power Consumption
Where I think Alienware has benefitted the most from their relationship with Dell is actually in these areas, and the X51 makes a strong case for buying a prebuilt instead of going the DIY route for Mini-ITX. The X51 uses a custom chassis and everything inside is sandwiched fairly neatly together. Although it was a little difficult to take apart, the tower is still basically laid out in a logical way, with the graphics card mounted to a riser card and essentially being an entire removable piece. The hard drive bay is then located beneath it, while the motherboard sits under the optical drive bay. The power supply is an external power brick connected to the back of the system.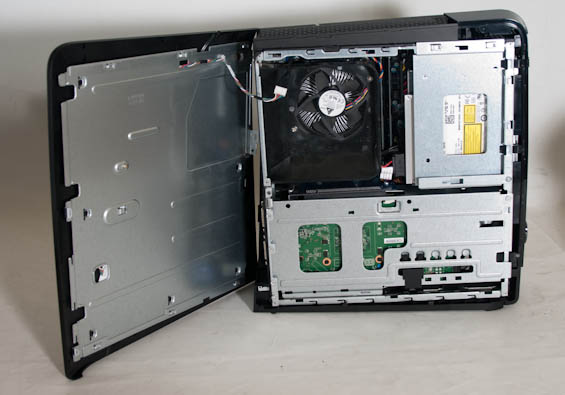 What I'm not as much of a fan of is the glossy finish accent on the front of the case, as well as the USB 3.0 connectivity being confined to the rear ports. Our review unit also unfortunately came to us with a crack next to the power button, and the button itself would stick a little bit. This system has seen more than its fair share of shipment and manhandling to be sure, but it's something to keep in mind: the X51 feels pretty solid, but it's far from bulletproof.
Finally, Alienware includes their traditional configurable lighting scheme: the rotateable alien logo on the front of the case can have its illumination color configured across the spectrum, just like the two dim lights on the sides. The lighting is cute and not at all obtrusive, but if you're not a fan, their Control Center application will allow you to disable it entirely.
With such a compact design one would expect the X51 to be both loud and hot, but surprisingly this isn't the case. Quite the opposite actually; the X51 is cooler and quieter at both idle and load than the first-generation Xbox 360 was.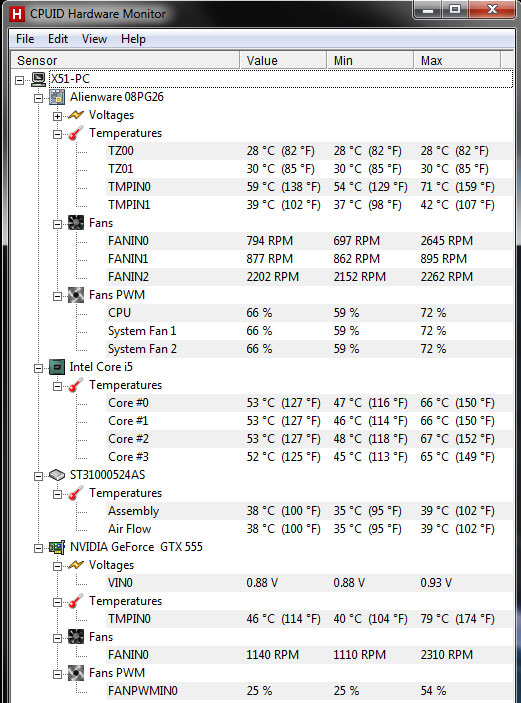 The CPU thermals are nothing short of excellent, with peak temperatures well under 70C, while the GPU's peak temperature of 79C isn't much to worry about. While there's some variation in fan speeds and the system is actually quite loud at POST (where the fans initially run at max RPM), in practice the X51 runs below 40dB at both load and idle, and you have to really listen to hear the difference.
For such a compact system, Alienware has done an excellent job of keeping heat and noise in check while producing a reasonably powerful computing experience. So what about power consumption?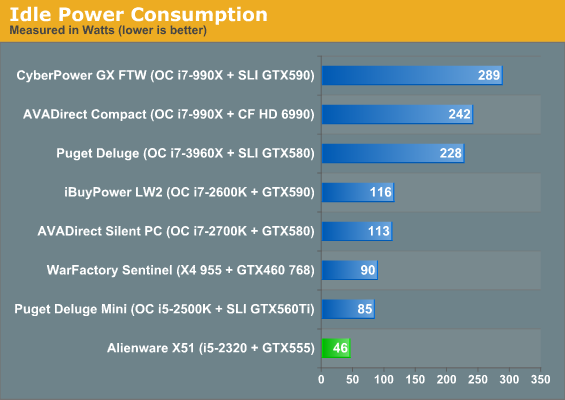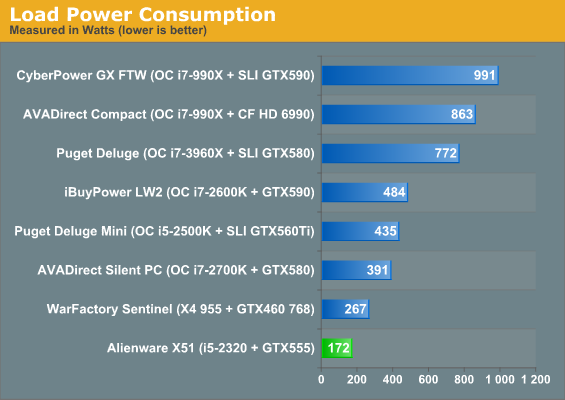 Alienware is able to leverage NVIDIA's Optimus technology to produce idle power consumption that's nearly half of the next system up on the chart. Under heavy load, the X51 still barely draws any juice from the wall and clearly has some wiggle room on the power supply. 172 watts for a reasonably comfortable 1080p gaming experience isn't too shabby at all.