Gaming Performance
This is the real measure by which the Alienware X51 will be judged. Alienware seems to have tried to cram as much GPU power as possible into the X51, but I do have to wonder if AMD's (admittedly now outdated) Radeon HD 6850 might not have been a better choice. The HD 6850 certainly fits well within the X51's power envelope, but then again, the end user would lose the benefit of NVIDIA's Optimus power-saving technology. That said, the benefits of that technology on the desktop are a little bit foggier than they are in a notebook. It's really a tough call either way, depending upon your usage model.
Where our charts unfortunately are going to come up a bit short are in comparisons. Because we recently revamped our gaming benchmark suite, there's only one system we can compare the X51 to: the recently-reviewed AVADirect Silent Gaming PC. That isn't necessarily a fair fight, either, with AVADirect's system costing 2.5 times as much and enjoying a GeForce GTX 580. Still, one data point is better than none, but try to maintain perspective: Alienware is targeting 1080p gaming, but our desktop gaming suite is brutal, and the GTX 580 is roughly twice as powerful in hardware.
In case you missed it, note that again we're using the same selection of games as our laptop reviews, only we're running 1080p using our Mainstream and Enthusiast settings. Since we don't have all of the previously reviewed systems available, we've included the only 1080p Mainstream results we have right now in one chart.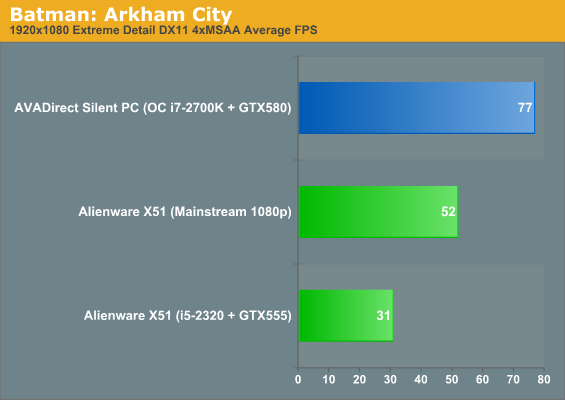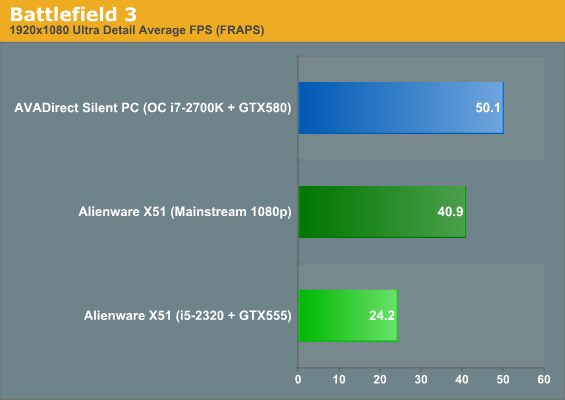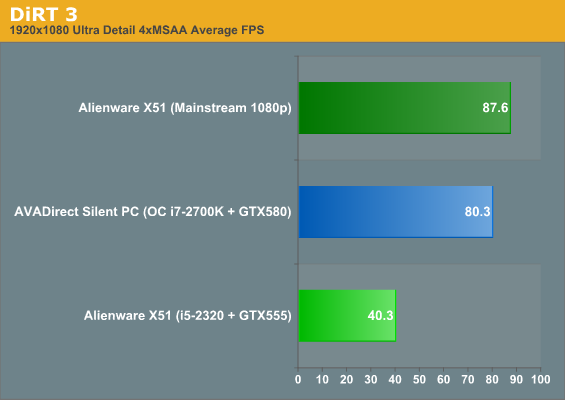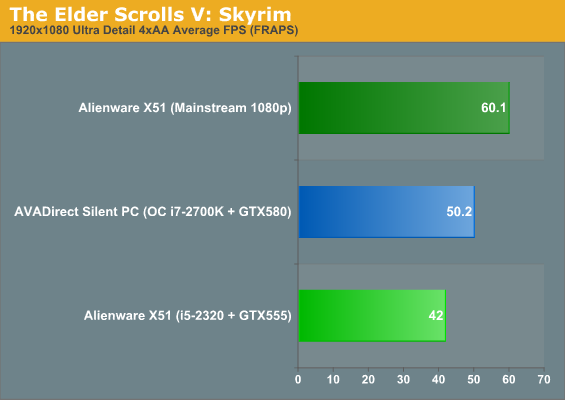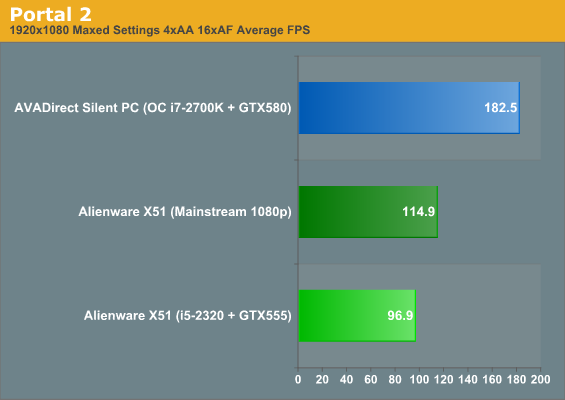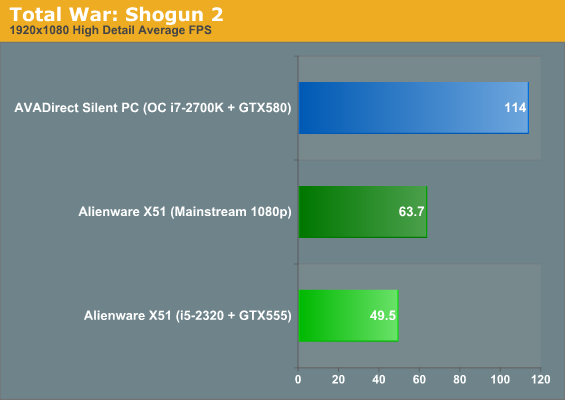 What's impressive is that the X51 actually posts fairly strong numbers in our gaming testing. Anti-aliasing is going to be out of the question in many cases (e.g. the Enthusiast results), but Alienware seems to have largely been successful in achieving what they set out to achieve: the GTX 555 version can definitely handle our Mainstream 1080p gaming suite.
Where things do get a little foggier is the Optimus support. Total War: Shogun 2 flat out refused to run while the IGP was enabled; we had to connect the monitor directly to the video card instead of the IGP's HDMI port to get the game to work. This bug was reported to NVIDIA and Alienware, and since the X51 uses standard NVIDIA drivers this should hopefully be fixed in the future.
We also discovered a minor hiccup in our testing suite involving the monitor we use for testing desktops: the Acer HN274H has a bug where it can incorrectly report the resolution it supports, regardless of HDMI, DVI, or VGA connection, and this bug reared its ugly head in Civilization V testing on both the X51 and on the AVADirect system. Unfortunately, despite working with NVIDIA on the issue, we didn't figure out it was the monitor until the X51 exhibited the same issue (refusing to benchmark at 1080p and knocking the resolution down to 1680x1050), so we don't have results for AVADirect's tower. That said, the X51 was able to produce over 30fps in Civilization V (34.7 at Enthusiast and 43.6 at Mainstream 1080p to be exact.)