In a private media event this week Corsair unveiled its latest contribution to the PC industry: gaming keyboards, mice and headsets. All of these new peripherals fall under the Vengeance brand. The motivation behind this move is simple: starting with memory and eventually expanding into power supplies, SSDs and cases, Corsair wants to be your one-stop shop for nearly everything you need for your PC. The CPU, motherboard and video card markets are either impossible to get into or undesirable for a manufacturer that doesn't already play in those spaces, leaving peripherals as one of the only options for expansion.
Traditionally companies avoided getting into the peripheral space because you have to compete with very wealthy and experienced competitors: Logitech and Microsoft. With Logitech trying to expand into other areas beyond peripherals it appears that Corsair is hoping that its competitor will lose a bit of its focus. Whether or not this works out for Corsair remains to be seen, but let's look at the products.
Vengeance Headsets
Corsair has dabbled in headsets already but with the Vengeance brand it expands the line considerably. Starting this October the company will offer three different Vengeance headsets priced from $39 up to $99.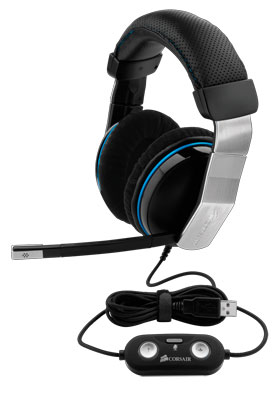 The Vengeance 1500 is the top end SKU with two 50mm drivers, simulated 7.1 surround sound and USB support (integrated audio codec). The 1300 is the same as the 1500 but substitutes in a 1/8" stereo plug instead of USB.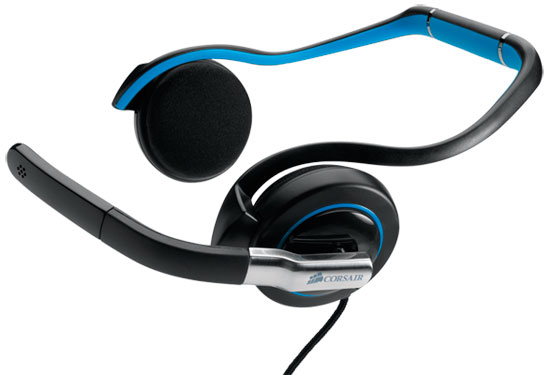 The 1100 is a lighter design that uses 40mm drivers but with USB support.
Corsair Vengeance Headsets
Vengeance 1500
Vengeance 1300
Vengeance 1100
Price
$99
$79
$39
Vengeance Keyboards & Mice
The entire Vengeance peripheral lineup is targeted at gamers. Start focused and expand beyond there seems to be the strategy. Corsair's initial keyboard & mice offerings are targeted at two genres of games: MMO/RTS and FPS. All of the Vengeance keyboards & mice feature an aluminum construction.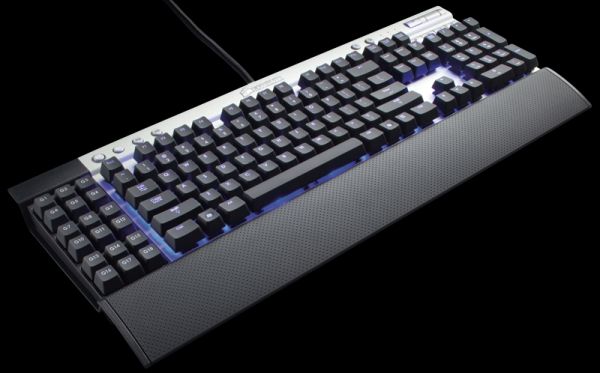 The MMO/RTS targeted products are called the Vengeance K90 and M90. The K-series are for keyboards while the M-series refer to mice. The K90 is backlit with over 90 individual LEDs (almost one behind every key). It uses Cherry MX mechanical red switches for each key which have a 2mm actuation travel (4mm total travel). There's no accompanying click sound with these keys, they have a nice linear but springy travel to them. The Cherry MX red switches apparently require the least amount of force to actuate out of their entire lineup of switches. Corsair claims the keyboard will recognize up to 20 simultaneous keystrokes.
The MMO/RTS focus comes in with the K90's 18 customizable macro keys. You can switch between three different sets of macros, for a total of 54 total macros. The macros are defined using Corsair's Vengeance gaming software.
The corresponding mouse is the M90: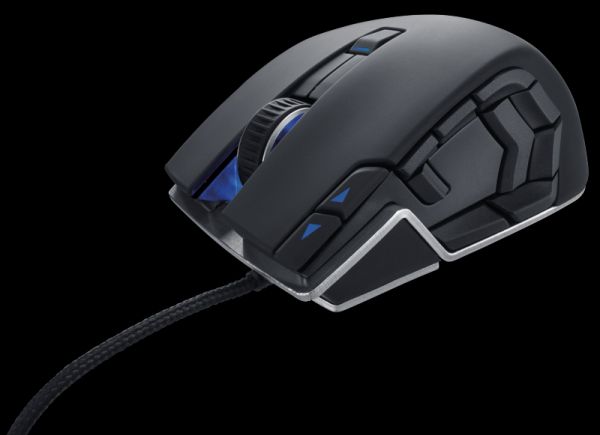 The M90 uses an Avago ADNS-9500 5700 DPI laser sensor. The mouse has 9 customizable side buttons.
On the FPS side there are the K60 and M60. Let's start with the K60: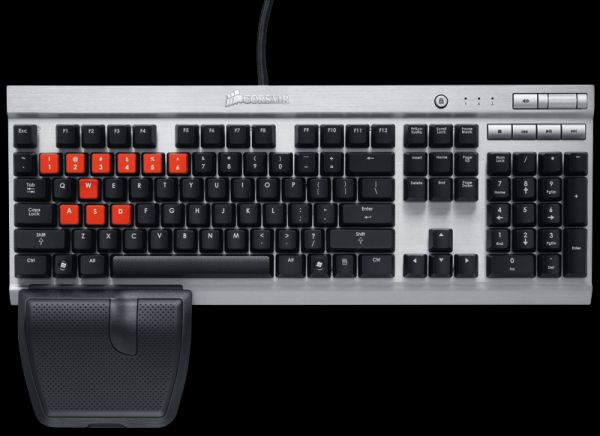 The aluminum chassis and Cherry MX red mechanical switches are both present, but the individual key lights are gone as are the macro keys. The K60 instead ships with a removable wrist wrest (which is actually quite comfortable) and easily removable, textured WASD and 1-6 number keys. When not in use, the textured keys can be stored in the wrist wrest. The feel of each keypress remains the same as the K90, but the macro keys are gone and the styling of the K60 is a bit different.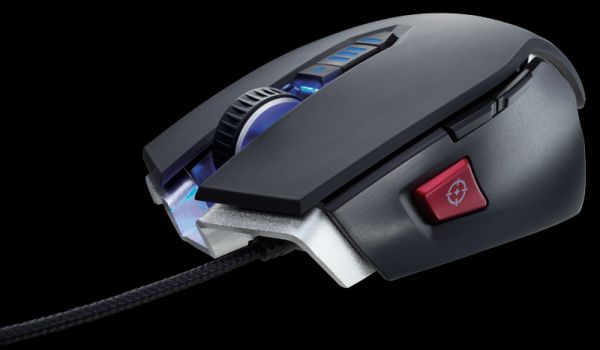 The M60 mouse includes a sniper button that allows you to quickly switch between high and low DPI modes (customizable in software).
Corsair Vengeance Headsets
Vengeance K90
Vengeance K60
Vengeance M90
Vengeance M60
Price
$129
$109
$79
$69
Final Words
I had some brief hands on time with all of the newly announced Vengeance peripherals, they all felt good but it'll take much longer than a short play session to really evaluate these things. I'm mostly curious to see how well these things do in the hands of hardcore gamers. Does Corsair have what it takes to pull customers away from the likes of Logitech, Microsoft and Razer?
Corsair's new Vengeance lineup will be available starting next month.