Random Read/Write Speed
The four corners of SSD performance are as follows: random read, random write, sequential read and sequential write speed. Random accesses are generally small in size, while sequential accesses tend to be larger and thus we have the four Iometer tests we use in all of our reviews.
Our first test writes 4KB in a completely random pattern over an 8GB space of the drive to simulate the sort of random access that you'd see on an OS drive (even this is more stressful than a normal desktop user would see). I perform three concurrent IOs and run the test for 3 minutes. The results reported are in average MB/s over the entire time. We use both standard pseudo randomly generated data for each write as well as fully random data to show you both the maximum and minimum performance offered by SandForce based drives in these tests. The average performance of SF drives will likely be somewhere in between the two values for each drive you see in the graphs. For an understanding of why this matters, read our original SandForce article.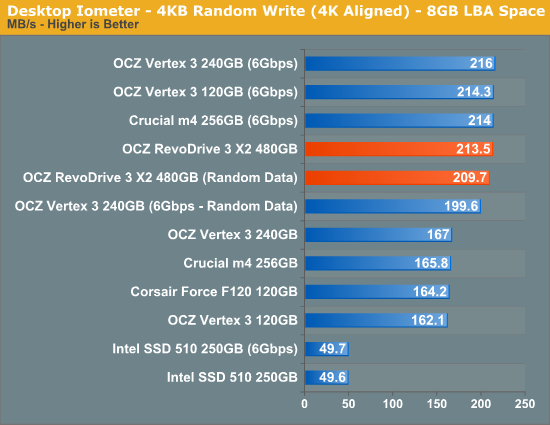 Low queue depth operation isn't going to show any advantage on the RevoDrive 3 X2. This is to be expected. I include these results to point out that for the majority of desktop users, you won't see any benefit from a 4-drive RAID-0 or the RevoDrive 3 X2. I already talked about how most modern SSDs deliver similar real world performance in our last SSD article. The RevoDrive 3 is no exception.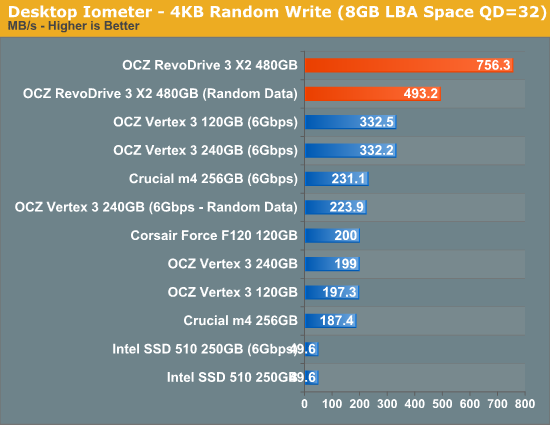 What happens during periods of intense IO activity however? The RevoDrive 3 X2 excels. With incompressible data the RevoDrive 3 X2 is over 2x faster than the 240GB Vertex 3 and with compressible data we're almost at 800MB/s for a single PCIe card.
Note that OCZ's specs for the RevoDrive 3 X2 promise up to 200,000 IOPS, however we're only seeing around 180K IOPS in our QD32 test. What gives? In order to hit those sorts of numbers you actually need to run in a multithreaded/ultra high queue depth configuration (two threads + QD64 in each case). If you actually run in this configuration but hit 100% of the LBA space, a reasonable workload for a high traffic server you'll get numbers similar to ours above (766MB/s vs. 756MB/s). If you limit the workload to an 8GB LBA space however you'll hit the 200K that OCZ advertises:
OCZ RevoDrive 3 X2 (480GB) 4KB Random Write Performance (IOPS/MBps)
QD=3
QD=32
QD=64
IOPS
52131 IOPS
184649 IOPS
202661 IOPS
MB/s
213.5 MB/s
756.3 MB/s
830.1 MB/s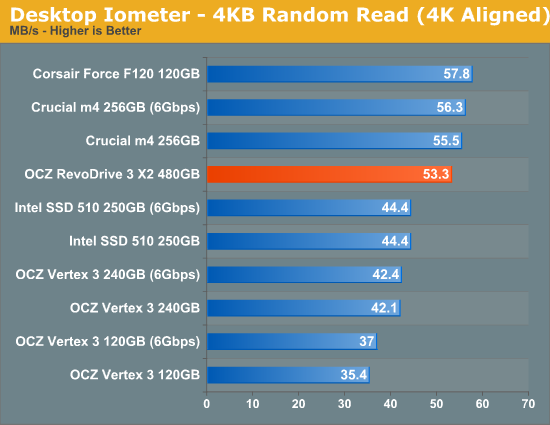 Low queue depth random read performance is nothing to be impressed by.
Sequential Read/Write Speed
To measure sequential performance I ran a 1 minute long 128KB sequential test over the entire span of the drive at a queue depth of 1. The results reported are in average MB/s over the entire test length. These results are going to be the best indicator of large file copy performance.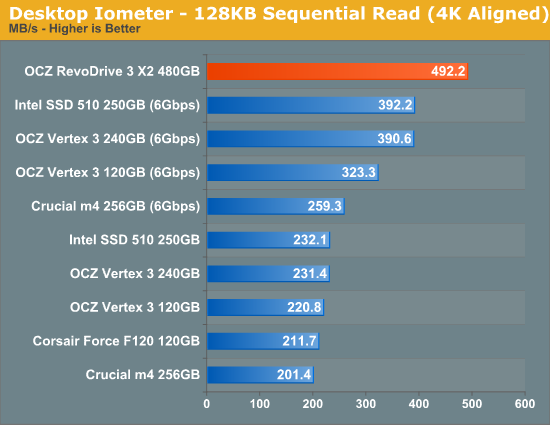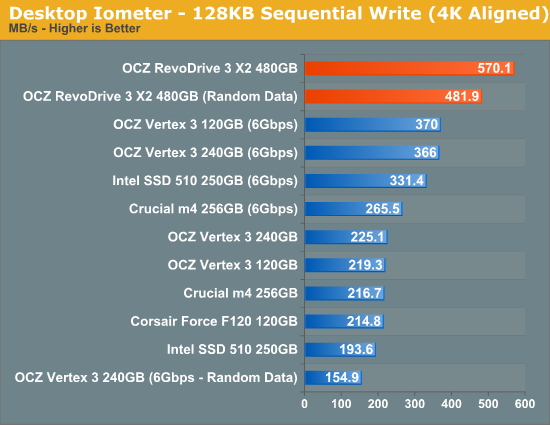 We're still going through the unimpressive tests here - we see some benefit for larger transfer sizes, but the real advantages come when you start loading up the RevoDrive 3...