Introduction
Promising the GPU prowess of ION with Atom-like power consumption, AMD's Fusion E-series (Brazos) Accelerated Processing Unit (APU) finally enables truly minuscule small form factor (SFF) home theater PCs (HTPCs). Besides full hardware acceleration for important codecs like H.264/AVC, MPEG2 and VC-1, audio enthusiast finally have an alternative to Intel HD graphics for multi-channel LPCM and HD audio bitstreaming for Dolby TrueHD/DTS-MA. Sporting a 1.6GHz AMD E-350, the ZOTAC ZBOX Blu-ray AD03BR-PLUS-U all-in-on HTPC provides a chance to find out how AMD's APU solution stacks up in the increasingly completive smallest-of-the-small HTPC market.
The ZBOX AD03BR-PLUS-U arrived in retail friendly packaging including a laptop-style power adapter, DVI-to-VGA (DSUB) adapter, manual, driver CD, and an OEM copy of CyberLink's BD Solution in the box. An operating system (OS) was not included though, so buyer's will need to purchase (or download in the case of Linux solutions) that separately. While the thought behind including BD Solution is appreciated, the revision of PowerDVD (PDVD 8) included on the disc is three versions behind the newest release (11) and lacks support for the ZBOX's HD audio over HDMI feature, so it's really just a stand-in until users purchase a more capable replacement. With that in mind, unless disc authoring is an important feature to you, I think a slightly lower MSRP is preferable to the outdated software bundle.
Zotac ZBOX AD03BR-PLUS-U Specifications
Dimensions
11.02" (280mm) x 7.36" (187mm) x 1.5" (40mm)
APU (CPU + GPU)
AMD E-350 (2x 1.6GHz CPU + Radeon HD 6310)
RAM
1x 2GB DDR3-1066 (two slots available, 8GB max)
Optical Drive
Slim slot loading Blu-ray (4x BD, 8x DVD-RW, 24x CD-RW)
Storage
Samsung 250GB (5400RPM 8MB)
Networking
Realtek GbE
Ralink 2.4GHz 802.11b/g/n
I/O
1x HDMI
1x DVI-I
1x TOSLINK (optical S/PDIF)
1x Mic, 1x Headphone
2x USB 3.0
1x USB 2.0
1x eSATA/USB 2.0
1x 6-in-1 Card Reader
Expansion
2x Mini PCIe (one available)
Looking at both the ZBOX and its specifications, including a 2GB SO-DIMM and a 2.5" 5400 RPM hard drive, it should be clear that this mini-PC has more in common with a laptop than a "normal" HTPC. Unlike most laptops, there is still a small window for upgrades with one mini PCIe slot (the other is filled with a 2.4GHz 802.11n card) and a free SO-DIMM available. The system is very compact, which pays obvious dividends in size, but this is also a limitation with the cooling solution being the most tangible, immediate artifact. As with most laptops, the ZBOX is very quiet under minimal load but fans quickly spin up when the system is stressed to produce an audible hum in environments with a low noise floor. That said, the form factor is generally a good match for an E-350 Fusion based system, but ZOTAC's [understandable] preference for product flexibility influences the placement and availability of external ports that hampers the execution more than I prefer in a dedicated SFF HTPC.

Taking a closer look at the I/O options on the front, we find a slot loading Blu-ray (BD) drive, 6-in-1 card reader, analog audio in (Mic) / out (Headphone), and USB 2.0 and USB 3.0 ports. On the rear of the unit are another USB 3.0 port, Ethernet, combo eSATA/USB 2.0, DVI-I (video only), HDMI, TOSLINK (optical S/PDIF), Kensington lock, and the power input. Depending on the intended use the port layout may not be an issue, but the lack of options on the rear creates a less visually appealing install in a few scenarios. Specifically, we have the following concerns:
Analog audio output is only available on the front, so users without an HDMI display or audio/video receiver (AVR) that accepts HDMI/TOSLINK will need to attach a 3.5"-to-stereo adapter to the front of the ZBOX
USB 3.0 ports are not able to reliably wake the PC from standby, so at least one device (keyboard, mouse, keyboard-mouse combo, or infrared receiver) must be installed on the front USB 2.0 port.
When using an eSATA device, either a USB hub (which can also cause resume issues) must be attached to the front or only one device can be used to wake from standby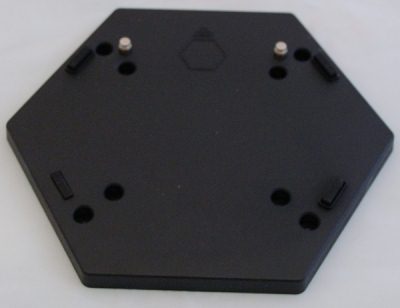 That said, the AD03BR-PLUS-U is mountable with VESA hardware provided, so that can be an attactive workaround to an unsightly dongle situation.
The ZBOX's American Megatrends BIOS has quite a few knobs and dials, but I only found the need to adjust two items. The first is that by default the "OnChip SATA Type" is set to "Native IDE"; unless you are planning to install Windows XP, AHCI is a better option because it supports features like NCQ, disk hot swapping, and TRIM (which is important for SSDs). The second is that I disabled the "Backlight Control", which is strictly a personal preference. When this setting is enabled a blue ring lights the right side of the ZBOX when it is on. This can be desirable in the right environment, but when enabled it also pulses slowly in standby (S3), and that's an unacceptable distraction in most locations. The BIOS and startup screen are available over HDMI and DVI, so it is easy to do all of the configuration and installation on a TV at full resolution (i.e. 1080p/720p) if desired.
It should also be noted that the current "release" BIOS has an issue where settings changes are not persisted reliably when power is removed, so a beta BIOS should be applied.