Dell Venue Pro - Keyboard and Screen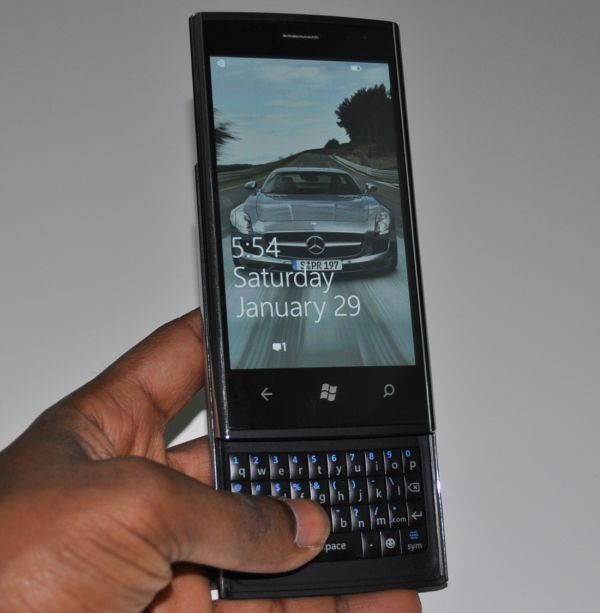 Slide up the Venue Pro's screen, and you get to the portrait QWERTY keyboard. There aren't too many portrait QWERTY sliders out there in the smartphone world - Palm has the Pre/Veer family, Motorola recently announced the XT300 Spice slider, Samsung supposedly has an Android portrait slider in the works, and that's basically it.
So the Venue Pro uses one of the more unique smartphone form factors out there, and as far as physical portrait QWERTY keyboards go, I think the Venue Pro is one of the best. My previous favorite was the BlackBerry Curve, but in my opinion the Venue Pro surpasses even that. The keyboard was very tactile, with good key sizing and spacing (always a concern with portrait QWERTY devices). Coming from the HTC G2's awesome landscape keyboard, it took me very little time to adjust to the Venue Pro's keyboard.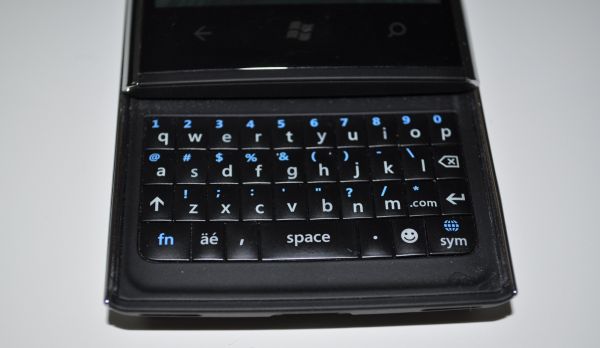 I did try out the Windows Phone 7 virtual keyboard, but there's not too much to report here - it's pretty similar to using the keyboard on a Focus or HD7. I prefer the physical keyboard, but the default Windows Phone 7 keyboard is definitely pretty good.
The screen is also pretty good - it's an AMOLED display, with a WVGA resolution. It's actually pretty dim compared to some of the other AMOLED displays we've seen, with the HTC-built AMOLED devices 10-20% brighter, the Focus 25% brighter, and the rest of Samsung's Super AMOLED displays 70-100% brighter than the Venue Pro. The colours are noticeably more vibrant than the HD7 when side by side, though a touch cooler than most LCDs.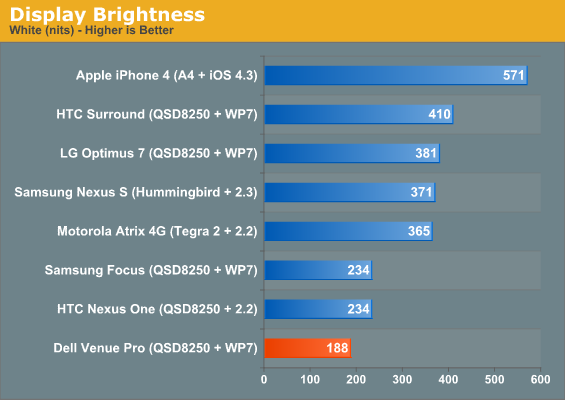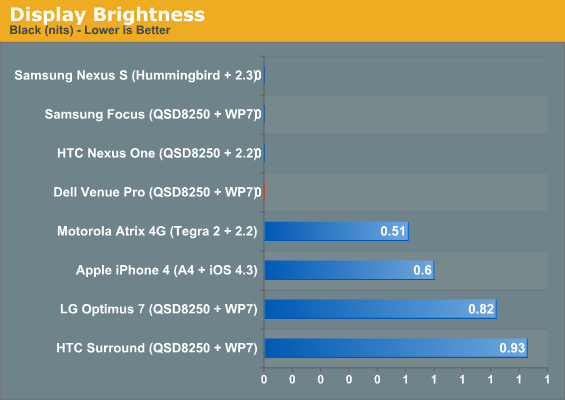 The 800 x 480 resolution on the 4.1" display gives it a pixel density of 228 pixels per inch. That's not quite as high as the Surround or other Windows devices with smaller screens, but not a problem overall. The curvature of the display is convex, in contrast to the slightly concave display in the Nexus S. In the Nexus S, the curve serves an ergonomic purpose, but the Venue Pro's curved display is purely aesthetic. It definitely plays into the rest of the Venue Pro's industrial design, and my initial concerns about the glare and reflections went unfounded.