Samsung Galaxy Tab - Size Really Does Matter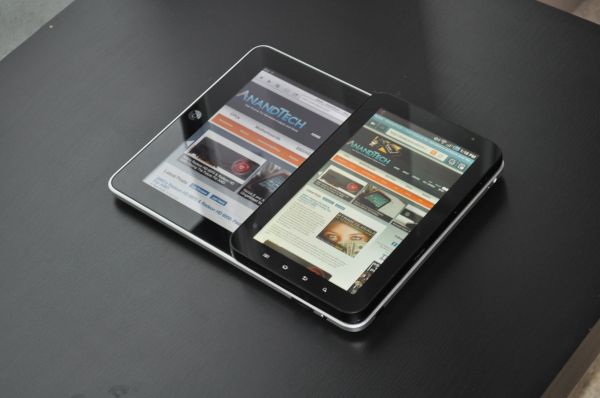 The Galaxy Tab is almost exactly half the size of the iPad.
So the Galaxy Tab, as one of the first 7" tablets to release, brings up a new concern in the tablet space - how much does screen size change things? This is the first real 7" tablet I've played with for any length of time, but my first reaction when I pulled the Galaxy Tab out of the box was "dang, this thing is a lot smaller than I expected". It's literally half the size of the 9.7" iPad, dimensionally. It's interesting to see two supposedly competitive devices have such different form factors, completely at odds with how the notebook market works.

The sizing thing is going to be a big deal for tablets going forward, and I think eventually we'll see the market split into two or three segments based on size. It looks like some companies are already choosing one camp or the other; Apple appears staunchly in the 10" camp after Steve Jobs ripped on the entire 7" form factor, RIM is going 7" for its PlayBook, Dell started with 5" and are adding 7" and 9" models, HP took the middle road with its 8.9" slate, Samsung is adding a 10" Galaxy Tab early next year. So we're going to be seeing tons of both 7" and 10" form factors on the market.

So why choose one form factor over the other? They'll likely have similar internal hardware and the same WSVGA resolution on differently sized screens, so it won't be on specs, and based on the current device pricing, I don't expect that to be terribly different either. So, really, it comes down to whichever suits your use cases better.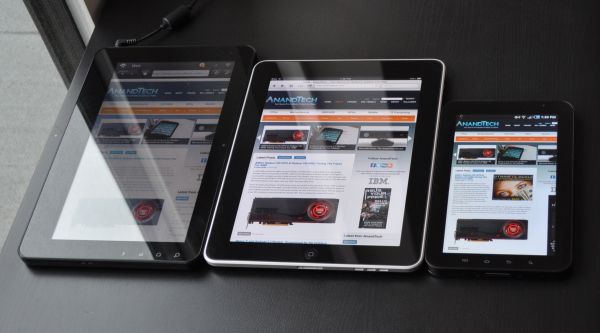 Three tablets, three screen sizes. Pick your form factor wisely.
Honestly, here's what I found: it's more comfortable to use the 7" tablet in portrait mode, whereas it's easier to use the 10"ers in landscape. This is true for both the 4:3 iPad or any of the 16:9 10" widescreen tablets. Part of it is in the keyboard - the 7" portrait keyboard is just comfortable enough to use with two thumbs, whereas in landscape its a bit too wide. The 10" has the opposite problem - too wide for two thumbs and too narrow for normal typing in portrait mode, but just about perfect with two handed typing in landscape. The difference is that with the 7" tablet, you can use it like a large smartphone, whereas the 10" tablets are more suited for use on a desk or table. The iPad and other 10" tablets are better as standalone netbook replacements, while the 7" Galaxy Tab almost feel like a device that's meant to be carried in addition to a notebook.