Introduction
Storage sits at the heart of every system, from a notebook right up to a rack filled with servers. It wasn't long ago that a hard drive was a fairly expensive component that offered significantly less capacity than the massive drives available today. Today, the IT consumer has to decide between SATA/SAS/Fiber Channel, and sizes ranging from 36GB up to 750GB (SATA). But perhaps the most interesting transition that has occurred in the enterprise storage arena in the last few years is the impact that the desktop market has had on the direction of the enterprise storage market.
A few years ago, the enterprise storage market was SCSI or Fiber Channel. If you wanted a chassis full of drives in a DAS (direct attached storage) configuration or in a SAN (Storage Area Network), it came with SCSI or Fiber Channel drives. At the time drives started at 9GB and topped out at 74GB and connected to an Ultra160 SCSI interface, or possibly a 2Gbit Fiber interface. Below is an excellent image from IBM (courtesy of StorageReview), that details 15 years of history for the hard drive.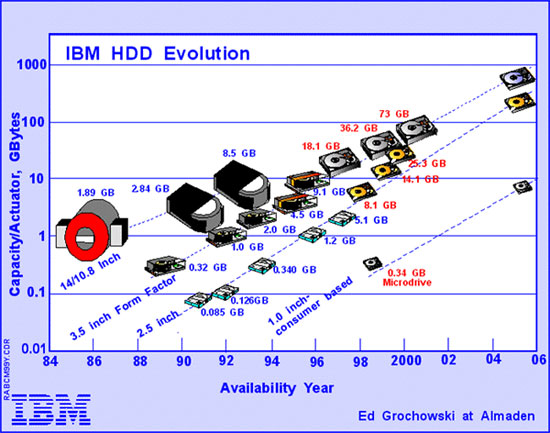 The evolution of today's IT storage
The desktop market has been driving storage higher and higher every year, which of course impacts the IT market, since IT has to back up those drives. Now the enterprise is full of SATA offerings for near-line storage, and even in some more expensive SAN products like
EqualLogic
. SATA offers decent performance for long term storage and even some small to medium sized back-end applications. However, it can't compete with the latest evolution in high-performance storage for the IT market, SAS (Serial Attached SCSI).
Serial Attached SCSI was introduced into the IT storage market in 2004, and has been growing exponentially every year. We are now at a point where Parallel SCSI is starting to fade very rapidly, with most new servers using SAS instead of Parallel SCSI. Even though there was a specification for Ultra640, most manufacturers skipped right over it and adopted SAS as the next SCSI evolution.