AM2/Core 2 Duo Latency and Memory Bandwidth
The introduction of AM2 merely increased the AMD latency advantage. AM2 latency was slightly lower than DDR latency on AMD.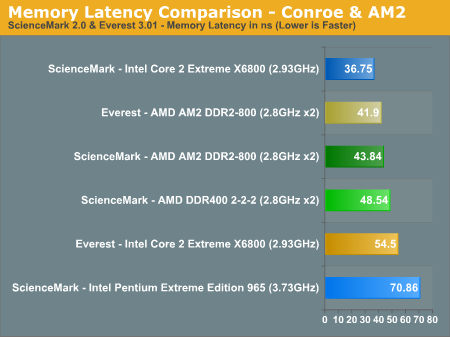 However, Core 2 Duo did what most believed was impossible in Latency. One of AMD's advantages is the on-processor memory controller, which Intel has avoided. It should not be possible to use a Memory Controller in the chipset on the motherboard instead and achieve lower latency. Intel developed read-ahead technologies that don't really break this rule, but to the system, in some situations, the Intel Core 2 Duo appears to have lower latency than AM2, and the memory controller functions as if it were lower latency.
Memory Bandwidth
The other part of the memory performance equation is memory bandwidth, and here you may be surprised, based on Conroe's performance lead, to see the changes Core 2 Duo has brought. Results are the average of ALU/FPU results on Sandra 2007 Standard (Buffered) memory performance test. We used the same memory on all three systems, and the fastest memory timings possible were used at each memory speed.

The results are not a mistake. In standard memory bandwidth, Core 2 Duo has lower memory bandwidth than either AM2 or Intel NetBurst. It is almost as if the tables have turned around. AMD had lower bandwidth with DDR than Intel NetBurst, and the Athlon64 outperformed Intel NetBurst. Now Conroe has the poorest Memory Bandwidth of any of the three processors, yet Conroe has a very large performance lead. It appears Conroe, with shallower pipes and an optimized read-ahead memory controller to lower apparent latency, makes best use of the memory bandwidth available.
Perhaps the most interesting statistics are that the huge increases in memory bandwidth brought by AM2 make almost no difference in AM2 performance compared to the earlier DDR-based Athlon64. With this perspective let's take a closer look at DDR2 memory performance on AM2 and Core 2 Duo. This will include as close to an apples-to-apples comparison of Core 2 Duo and AM2 as we can create.