Specifications
The HP L2335 is advertised as a business 23" display. We certainly have no problem using the L2335 for business, but in our opinion, this may be the ultimate gaming monitor under $1000. Like other Super IPS displays, the HP L2335 features a 0.258mm pixel pitch, 16ms response time and a relatively conservative contrast ratio and brightness. This is a true 8-bit LCD and our benchmarks should reflect that later on in the benchmarks of this review - almost a necessity in our book.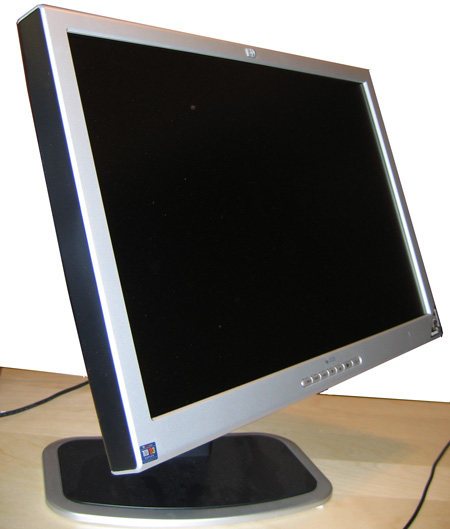 Hewlett Packard 23" L2335
LCD Panel
23" WUXGA LCD (Active Matrix)
pixel pitch: 0.258mm
Anti-glare coating
Super IPS Panel
Advertised Scanning Frequency
Horizontal: 30-94kHz
Vertical: 48-85Hz
Advertised Response Time
16ms (Typical)
Advertised Viewing Angle
170 / 170 (Horizontal / Vertical)
Advertised Contrast Ratio
500:1 (Typical)
Advertised Compatibility
1920 x 1200 (Native)
Advertised Brightness
250 cd/m2
Advertised Warranty
3 years parts, labor and on-site
Almost everything about this display is identical to the Dell 2005FPW except size and resolution. Viewing angle, response time and contrast ratio are all identical - a common trait, since both displays use panels from the same LG.Philips LCD family. The L2335 also features component, composite and S-Video inputs, a pivotable panel and Picture In Picture, features that we saw on the Dell 2005FPW lineup too.
It seems odd that we would pat a company on the back for advertising their product specifications to be the same as the OEM, but it feels so good to not see a company flat out lying about their specifications. If anything, HP may have been a little conservative in their specifications of the display, as the 170/170 viewing angle is slightly below what the panel manufacturer advertises (but we will get more to that in a minute). Consider HP's only real competitor in the 23" segment is Apple, and in the whole Ultra-Enthusiast market, they only really need to look out for Dell. Given Dell's move to tone down some of their "marketecture", it looks like the whole industry may be moving away from exaggerating their specifications. After all, LCDs are running out of room to innovate.
Even though the HP website claims that the L2335 display uses less than
100W during operation
, the actual number that we recorded with a Kill-A-Watt device in the lab was 73W during operation, and 4W in sleep mode. Compare this to displays like the Dell 2005FPW that uses 53W during normal operation.