Construction
As far as Samsung displays go, this is perhaps one of the least aesthetically pleasing displays that we have seen (next to the 910V). Plain looks aren't a bad thing, but the utilitarian black bezel, stand and control panel are
certainly
different
than most Samsung displays that we get to take a look at. Samsung's low end displays, like the "N" and "V" series, don't have much to boast for looks. The display does not rotate along any axis, but does tilt slightly. The display does not offer any screen pivoting features, like its near competitor the Hyundai ImageQuest L90D+.
Samsung SyncMaster 915N
Advertised LCD
19" SXGA LCD (Active Matrix)
pixel pitch: 0.294mm
Anti-glare coating
"B-TN II" 6-bit LCD Panel
Advertised Scanning Frequency
Horizontal: 31-80kHz
Vertical: 56-75Hz
Advertised Response Time
8ms (TrTf)
Advertised Viewing Angle
160 / 160 (Horizontal / Vertical)
Advertised Contrast Ratio
700:1 (Typical)
Advertised Compatibility
1280 x 1024 (Native)
Advertised Brightness
300 cd/m2
Advertised Warranty
3 years parts and labor
The "B-TN II" LCD panel is really nothing more than a glorified TN display. Samsung has already produced a panel based on this technology, the
SyncMaster 172X
. Unfortunately, this display was fairly pricy and had some difficulty competing with other displays in the same category. Needless to say, the 915N is virtually the same thing as the 172X on the inside, with some small differences to DSP and pixel pitch. The
MagicSpeed technology
advertised to lower response time isn't really anything spectacular; it is just the marketing name for low response time. As for the 8ms advertised response time, the 8ms actually only seems to refer to the Tr portion of the transient phase. The 915N is no different than the SyncMaster 172X as far as response time goes.
The SyncMaster 915N is a little different than other displays that we have seen as "some assembly" is required. This really entails just screwing the base of the monitor into the stand, but it would be very easy to assemble this display and not screw the base in (which would result in the monitor crashing down after a few minutes of use). The display also includes mounts for a VESA arm.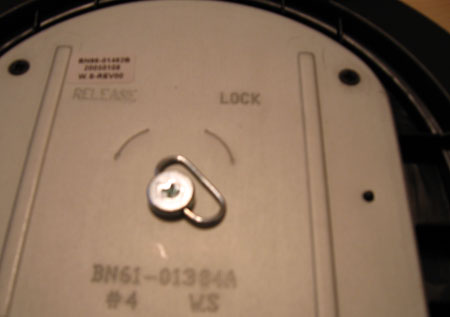 No external inverter is necessary for the 915N. The display houses everything, which puts a slight strain on cooling the display. Our Kill-A-Watt device measured the display at 27W, considerably less than any 19" and most 17" displays that we have reviewed. We were slightly surprised that Samsung didn't mention this more explicitly in their specifications – it seems to be a good selling point of the display.