Storage and Networking Performance
Networking and storage are two major aspects which influence our experience with any computing system. This section presents results from our evaluation of these aspects in the ECS LIVA Z3 Plus. On the storage side, one option would be repetition of our strenuous SSD review tests on the drive(s) in the PC. Fortunately, to avoid that overkill, PCMark 8 has a storage bench where certain common workloads such as loading games and document processing are replayed on the target drive. Results are presented in two forms, one being a benchmark number and the other, a bandwidth figure. We ran the PCMark 8 storage bench on selected PCs and the results are presented below.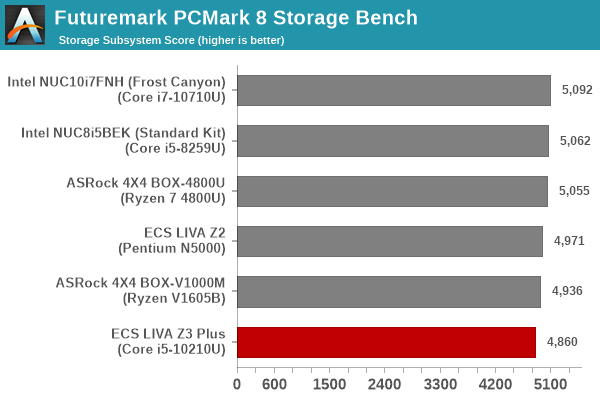 A four-channel SATA SSD controller with just 128GB of flash in 2020 is not going to set any records. This SSD can claim to be marginally better than spinning rust, but one should not expect storage intensive tasks to fly through (if you are planning to copy a 15GB file to the SSD, expect speeds to go down to the 50 MBps range within 10 - 15 seconds).
On the networking side, we restricted ourselves to the evaluation of the WLAN component. Our standard test router is the Netgear Nighthawk AX12 RAX120 configured with both 2.4 GHz and 5 GHz networks. The router is placed approximately 11 ft. away with a direct line-of-sight to the PC under test. A wired client (Zotac MI553, with an Akitio T3-10G NBASE-T Thunderbolt 3 adapter) is connected to the 5GbE port of the RAX120 and serves as one endpoint for iperf evaluation.
The RAX120 can be explicitly configured to connect over a DFS channel. This works in the absence of any radar presence in the vicinity. We configured the router to operate in Channel 64 (DFS) after ensuring that no nearby wireless networks were operating in that channel (in order to avoid benchmarking interference as much as possible). In such a scenario, the ECS LIVA Z3 Plus connected with the following parameters.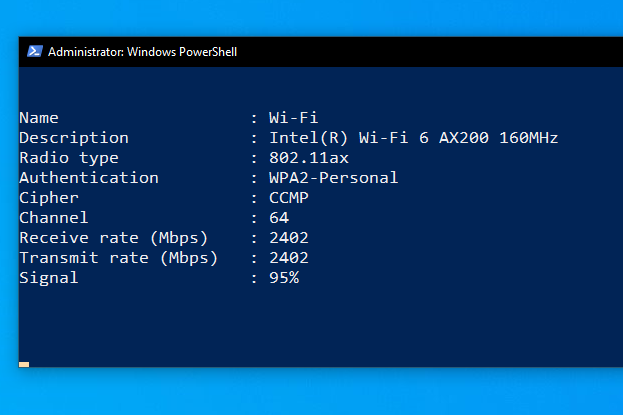 A script to run iPerf3 with 1, 2, 4, 8, and 16 parallel streams between the ECS LIVA Z3 Plys and the Zotac ZBOX MI553 was processed - the first set for TX alone, followed by another set for RX, and finally a third set with bidirectional traffic.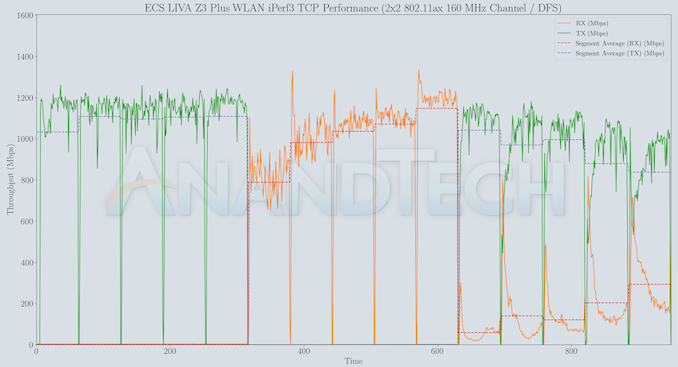 With DFS support, we can expect around 1.21 Gbps of best-case throughput via the AX200 in the LIVA Z3 Plus. The table below presents the iPerf3 benchmark results obtained in the above testing scenario.
Wireless Bandwidth - TCP Traffic - ECS LIVA Z3 Plus
(iPerf3 Throughput in Gbps)
Stream
Count
160 MHz Wi-Fi 6 (DFS)
TX
RX
1
1.145
-
2
1.151
-
4
1.137
-
8
1.143
-
16
1.167
-
1
-
0.824
2
-
1.023
4
-
1.082
8
-
1.109
16
-
1.213
1
1.099
0.060
2
1.007
0.144
4
1.033
0.124
8
0.941
0.218
16
0.883
0.309
The numbers presented above are slightly lesser than the average segment bandwidths noted, as the data in the graph is computed from the network interface's counters, while iPerf reports results based only on the traffic sent by it alone.