Low-Light: Where Software Beats Hardware
Low-light photography is where smartphones have really made great laps over the last few years with the advent of computational photography. Huawei was the first to introduce a dedicated Night Mode which uses machine learning to smartly stack several exposures together, followed by Google's own Night Sight which really pushed the boundaries of what we consider out of a smartphone in low light. Since then, a ton of other vendors have adopted their own low-light photography modes.
Hardware improvements also play a big role in the low-light improvements of recent years. We've seen better and bigger sensors with each generation, and although pixel count goes up this year, the ability of the sensors to bin several pixels together for light capture means that they're more performant than before.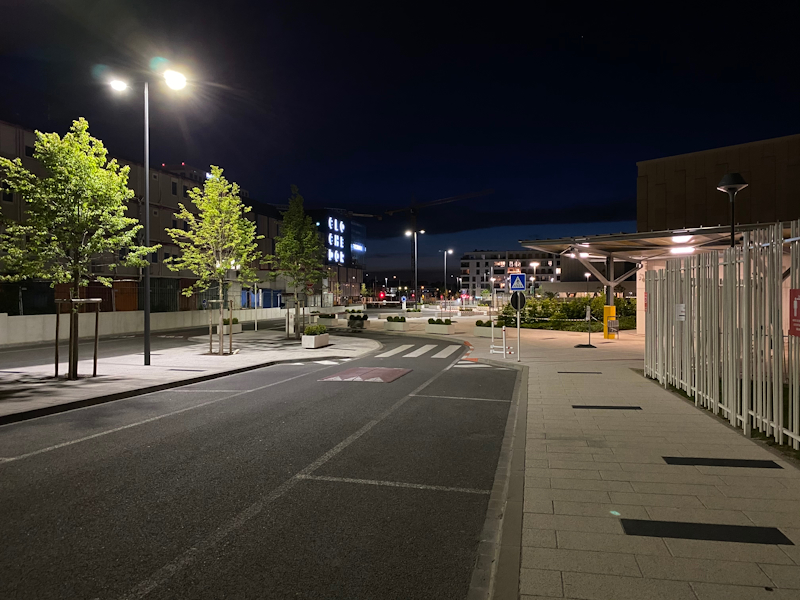 [ iPhone 11 Pro ] - [ iPhone SE ] - [ Pixel 4 ]
[ Galaxy S20U(S) ] - [ Galaxy S20+(E) ]
[ OnePlus 8 ] - [ OnePlus 8 Pro ]
[ V60 ] - [ Mi 10 Pro ]
[ Mate 30 Pro ] - [ P40 Pro ]
[ Reno3 Pro 5G ] - [ Reno3 Pro ]
[ X-T30 ]
When in low-light, but still in illuminated conditions, you're by default shooting in regular capture modes without making use of the night modes. This is generally a discussion topic by itself, no other vendor than Apple has a seamless automatic switch to night modes so it's always up to the user to correctly decide whether it's advised to use the computational photography or not.
Apple's iPhone 11 Pro results are fantastic here on both the main camera and on the 2x telephoto as I think the phone makes use of deep fusion to get increased amount of details. It's able to easily compete and hold up with the Huawei P40 Pro even though the latter has a vast hardware advantage with a much bigger and low-light optimised sensor.
The Samsung S20 Ultra comes in generally in third place thanks to its bigger sensor, edging out the S20+ as well as other phones. The Xiaomi Mi 10 Pro's sensor is similar to the S20 Ultra, it certainly has more resolution, but in this case the binning to 27MP gives it less dynamic range and low-light ability than the S20U's binning to 12MP.
The LG V60 is the next in the hierarchy in terms of main camera quality, producing a quite good shot. The OnePlus 8 Pro missed focus and thus it produced a blurrier picture than even the OnePlus 8, which is a pity for this scene.
Amongst the two OPPO phones the MediaTek variant with the bigger 1/1.7" 64MP sensor has a clear advantage although I don't quite like its noise suppression blotches in the darkest areas.
In terms of ultra-wide-angle module quality, the hierarchy here essentially just follows the hardware capabilities of the sensors. Huawei is the undisputed king here although it's weird to see the Mate 30 pro again outperform the newer P40 Pro. Tracking those two is the OnePlus 8 Pro with its similarly big sensor. Next up are the Samsung phones, after which all the other devices fare quite poorly.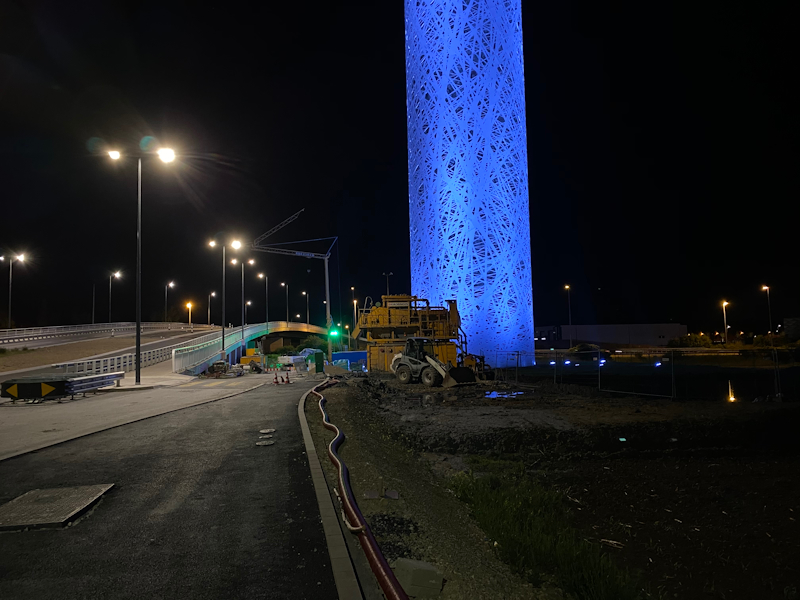 [ iPhone 11 Pro ] - [ iPhone SE ] - [ Pixel 4 ]
[ Galaxy S20U(S) ]
[ Galaxy S20+(E) ]
[ OnePlus 8 ]
[ OnePlus 8 Pro ]
[ V60 ]
[ Mi 10 Pro ]
[ Mate 30 Pro ]
[ P40 Pro ]
[ Reno3 Pro 5G ]
[ Reno3 Pro ] - [ X-T30 ]
In darker scenes, computational photography can be a great boost in quality.
The phone that does the best in night mode is actually the OnePlus 8 Pro. Unthinkable last year, the company has made huge strides in its computational photography to the point that they're amongst the best performers today. Apple, Google and Huawei are close thirds in their computational photography results and they're all pretty great. Xiaomi's night mode is also good.
The speciality about Huawei's phones such as the P40 Pro is that it really has no need for special low-light photography modes as the phones raw sensor power actually gives a much better and detailed shot in the default capturing mode, with the night mode not able to retain as much fine detail because of the picture stacking.
The LG V60's night mode is a bit weird as it's a lot more subdued than all the other phones, and doesn't seem to be computationally based like the others. The only difference I'm seeing here compared to auto mode is a darker black point. That's not to say the results are bad because in auto mode the phone gets quite better results than any of the other conventional phones.
The Samsung phones here both completely fell flat on their face and the night mode results are just horrendous messes in terms of tone-mapping and colours. I would prefer the auto-mode shots rather than the garbage output of the night mode.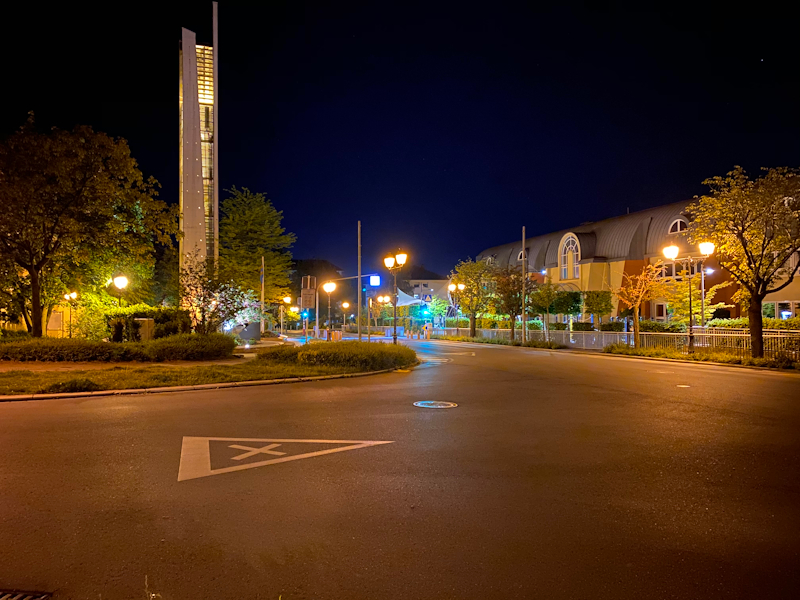 [ iPhone 11 Pro ] - [ iPhone SE ] - [ Pixel 4 ]
[ Galaxy S20U(S) ]
[ Galaxy S20+(E) ]
[ OnePlus 8 ]
[ OnePlus 8 Pro ]
[ V60 ]
[ Mi 10 Pro ]
[ Mate 30 Pro ]
[ P40 Pro ]
[ Reno3 Pro 5G ]
[ Reno3 Pro ] - [ X-T30 ]
Telephoto shooting in low-light is very tough because most camera modules just aren't optimised for that. Either the sensor isn't top-tier, or the optics have a higher aperture design in order to facilitate the longer focal length.
Apple for example won't even attempt to capture anything on the telephoto module in low light as it'll automatically switch over to the main camera and crop zoom from there. The same applies to OnePlus', Oppo's and Xiaomi's phones act the same as the telephoto modules aren't used in low-light. Well for the latter that's partly true, the 2x module doesn't engage, but the 5x module works, albeit the results are bad.
Huawei's telephoto module is unusable in low-light due to the narrow aperture, and enabling night mode switches it over to the main camera sensor.
Samsung's S20+ does ok at 2x zoom with the second wide-angle, and things improve to good results with night mode. The Google Pixel 4 is the only other phone giving good 2x results.
The S20 Ultra does pretty badly at 4x zoom with the telephoto module but it cleans up at lot through night mode, making this the best low-light shooter at this focal range. There's vertical light blooming coming off the bright lights in the shots and that's because of the periscope optics of the module.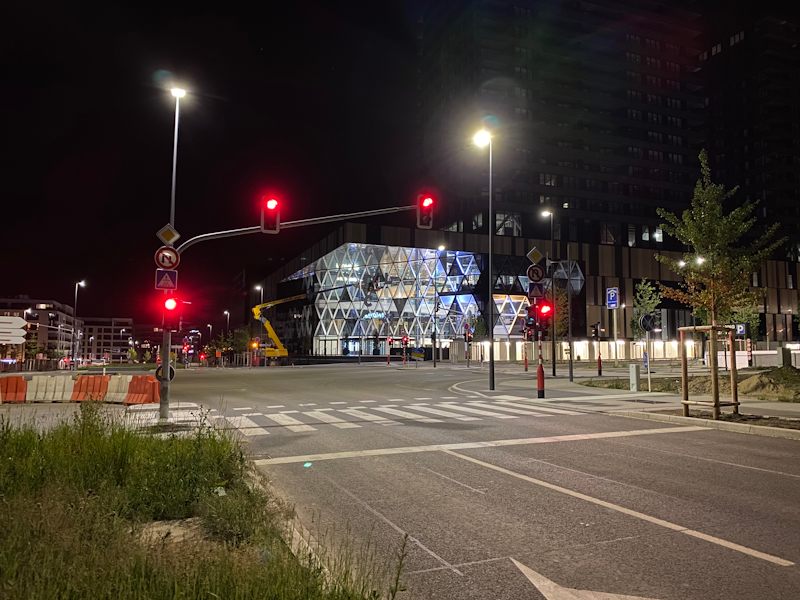 [ iPhone 11 Pro ] - [ iPhone SE ] - [ Pixel 4 ]
[ Galaxy S20U(S) ]
[ Galaxy S20+(E) ]
[ OnePlus 8 ]
[ OnePlus 8 Pro ]
[ V60 ]
[ Mi 10 Pro ]
[ Mate 30 Pro ]
[ P40 Pro ]
[ Reno3 Pro 5G ]
[ Reno3 Pro ] - [ X-T30 ]
In ultra-wide again in low-light, the Huawei Mate 30 Pro is the kind as for some reason its processing is far better than the P40 Pro, but for both phones I would say it depends on the scene as while night mode does bring out more shadows to light, it also blurs out details a ton and isn't nearly as sharp as the auto shots. Also, for some reason Huawei keeps cropping the 3:2 UWA to 4:3 aspect ratios, I don't really understand why they're doing this as it's almost completely neutering the reason to even shoot with this module in night mode.
Following the Huawei phones, it's again Samsung which seems to have a quite good handle in low-light on their UWA's. There's again processing inconsistencies between the Snapdragon and Exynos variants, this time the Exynos one looks quite bad and flat again, similar bad processing as in the water tower shot.
OnePlus's 8 Pro is doing very well here and competes with Samsung, with a much better processing in the night mode. The regular OnePlus 8 tracks it quite closely.
The OPPO, Xiaomi and LG phones' ultra-wides are a bit disappointing and are hampered by either a lack of night mode (LG & Xiaomi) on these modules, or just insufficient hardware capability to collect enough light. Apple's UWA in low-light is also completely useless as it also lacks any tooling to match the other phones.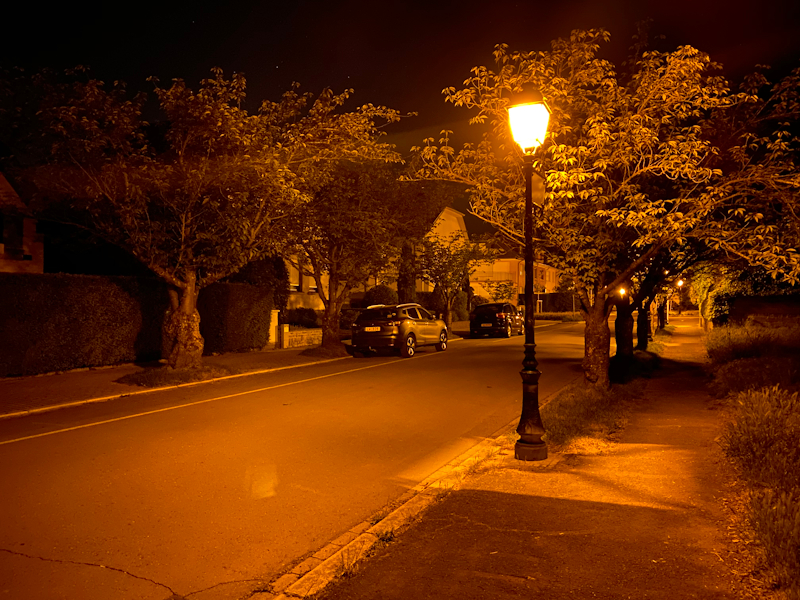 [ iPhone 11 Pro ] - [ iPhone SE ] - [ Pixel 4 ]
[ Galaxy S20U(S) ]
[ Galaxy S20+(E) ]
[ OnePlus 8 ]
[ OnePlus 8 Pro ]
[ V60 ]
[ Mi 10 Pro ]
[ Mate 30 Pro ]
[ P40 Pro ]
[ Reno3 Pro 5G ]
[ Reno3 Pro ] - [ X-T30 ]
Going further in low-light, a lot of the phones have traditionally had tons of issue with colour temperature, particularly with the sodium street lights in my neighbourhood. The iPhone 11 Pro, Mate 30 Pro and Qualcomm Reno3 all got some absurdly red tints to them. On the other end of the spectrum the Pixel 4 is way too aggressive with its white balancing in attempting to compensate for colour temperature to the point it's not really representative of the actual orange glow of the scene.
Samsung continues to have weird issues. The S20+ has a better exposure and handling of the scene than the S20 Ultra, albeit the Ultra has much better details.
I would say the Mi 10 Pro and the P40 Pro have the best results here with reasonable colours and exposures while retaining detail. OnePlus also does ok although the two phones differ from each other quite a lot and the colours aren't on point. LG although lacking dynamic range does a reasonable job with the composition.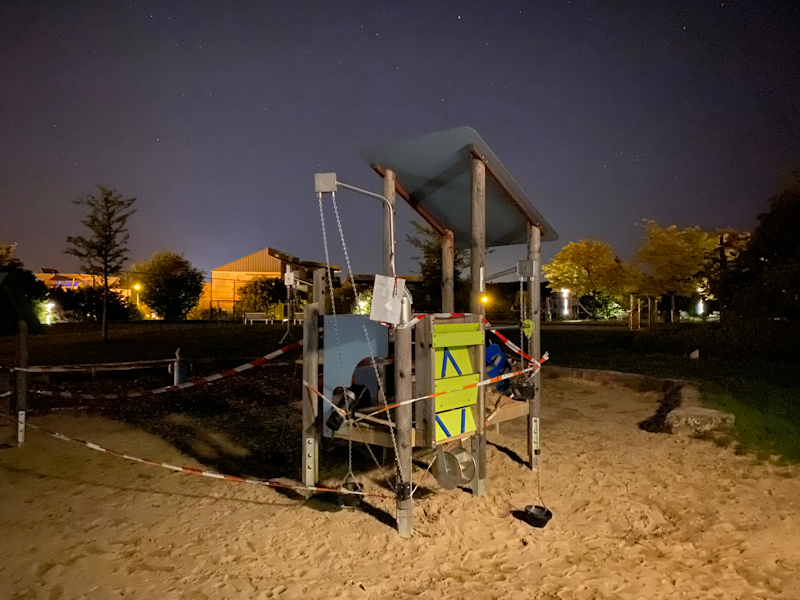 [ iPhone 11 Pro ] - [ iPhone SE ] - [ Pixel 4 ]
[ Galaxy S20U(S) ] - [ Galaxy S20+(E) ]
[ OnePlus 8 ] - [ OnePlus 8 Pro ] - [ V60 ]
[ Mi 10 Pro ] - [ Mate 30 Pro ] - [ P40 Pro ]
[ Reno3 Pro 5G ] - [ Reno3 Pro ] - [ X-T30 ]
Going further low-light, this scene is probably as low-light as you would ever consider a camera to have to capture something, and essentially all the phones are producing results that are much brighter than what the scene was in real life.
Huawei again is unbeatable in auto-modes thanks to the ability to capture shots at ISO51200 and ISO25600 which is what the Mate 30 Pro and P40 Pro are doing, even able to easily capture star constellations in the sky. Night mode adds more contrast and a bit more detail but nothing too big a leap. There's added sensor banding in the P40 Pro in this mode in the sky which doesn't look good, the Mate 30 Pro result is better.
Apple and Samsung are the next best performers – the iPhone's night mode is excellent and the only drawback is that it's not able to raise the darkest shadows with these remaining very black even in the final image. The S20+ here has better processing than the S20 Ultra, however the Ultra has better details.
Next, OnePlus 8 Pro does very well. The regular OP8 struggles more significantly and gives off purple noise in the end result. The Google Pixel 4's sensor here also hits its hardware limits and night sight can't recover details anymore.
The Xiaomi Mi 10 Pro look ok and realistic in auto mode. Night mode brightens things up but can introduce a lot of noise. The LG V60 struggles with gathering light and produces amongst the worst results. The two OPPO phones are doing ok in terms of exposure but lack detail, the hardware just isn't cutting it.
Overall Low-Light Photography
Generally, the low-light photography hierarchy between the phones and manufacturers remains quite unchanged and we didn't see too many big surprises.
Huawei remains king of low-light by a considerable margin, thanks to its unique optimised sensor hardware. You don't really need night mode at all on either the Mate 30 Pro or P40 Pro as both have the chops to get excellent low-light shots in auto mode. The ultra-wide-angle modules are also very good at low-light and amongst the best modules here, thanks to their hardware advantage.
Apple I would say is a close second in low-light, at least on the main camera module. Where the iPhones fall apart is on the ultra-wide angle and the telephoto is also non-existent in low-light.
Samsung has very big processing issues to address. Even back when we first reviewed the S20's I had mentioned that the new night mode on these phones can be actually worse than what we found on the S10 series, and even months later with the latest firmware this still seems to be the case. There's moments and scenes where the phones can really shine and get excellent results, but sometimes they just trip on themselves failing spectacularly. There's also a very big low-light difference between the Snapdragon and Exynos units, and the Exynos still seems to be consistently better in the shots.
Google's Pixel 4 is still quite good at low-light thanks to night sight. Sometimes the mode exaggerates the brightness a bit too much and tries to hard to colour balance things. In ultra-low light, the camera sensor's hardware disadvantage is more obvious as it clearly falls behind other phones.
LG's V60 is a mixed bag. In medium to lowish- light it still manages to capture acceptable pictures but also falls apart in scenarios darker than that. The company doesn't have a true computational photography night mode, or its impact is much less than other phones.
Xiaomi did ok most of the time but generally just falls a bit short of standing out, even though it has in theory a great camera sensor.
OnePlus's 8 Pro impressed a lot, and it's a huge leap for the company compared to what we've seen last year. The new nightscape night mode sometimes even manages to get amongst the best results of any phone. The regular OnePlus 8 isn't quite as competitive and here it's likely a matter of hardware disadvantage.
The two Oppo phones aren't too competitive in low-light, but that's a given considering they're not flagship devices.