DapuStor Haishen3
Shenzhen DAPU Microelectronics Co.—DapuStor for short— has a fairly ordinary business model for a smaller player in the enterprise SSD market: partner with a controller supplier and a NAND supplier, and write some custom firmware. In the case of the DapuStor Haishen3 series, the controller comes from Marvell and the NAND is from Kioxia (formerly Toshiba Memory).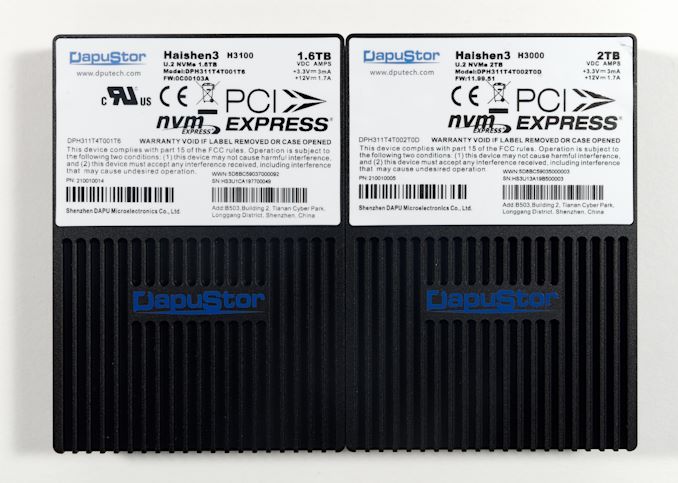 The DapuStor Haishen3 drives use Kioxia/Toshiba BiCS4 96-layer 3D eTLC, the most advanced NAND flash included in this review. We're testing both the H3000 and H3100 versions: 1 DWPD for read-intensive workloads, or 3 DWPD for more write-heavy mixed IO. DapuStor touts the power efficiency of the Haishen3 drives as one of the key selling points. As far as advanced features, the drives include support for multiple NVMe namespaces, and dual-port PCIe support for high availability when connected through appropriate backplanes. DapuStor is also willing to supply custom firmware enabling other advanced features like SR-IOV virtualization, streams/IO determinism, and Key-Value or Zoned namespace support. However, it's not clear how ready those options are—the Haishen3 is a very new product, and our samples were slightly delayed so that we could get the latest firmware.
DapuStor Haishen3 Series Specifications
Model
H3000
H3100
Controller
Marvell 88SS1098 Zao
Form Factor
2.5" 15mm U.2,
HHHL AIC
HHHL
AIC
2.5" 15mm U.2,
HHHL AIC
HHHL
AIC
Interface, Protocol
PCIe 3.0 x4 NVMe 1.3
Capacities (TB)
1
2
4
8
16
0.8
1.6
3.2
6.4
12.8
NAND Flash
Kioxia (Toshiba) 512Gbit BiCS4 96L 3D TLC
DRAM
Nanya 8Gbit DDR4-2666
Sequential Read (GB/s)
3.5
3.5
Sequential Write (GB/s)
1.3
2.4
3.3
3.4
1.3
2.4
3.3
3.4
Random Read IOPS
450k
710k
450k
710k
Random Write IOPS
38k
60k
108k
99k
140k
98k
170k
335k
300k
465k
Power
Draw
(Watts)
Typical
6.5
8.5
6.5
8.5
Max
9.5
13
15
9.5
13
15
Write Endurance
1 DWPD
3 DWPD
Warranty
5 years
The Marvell 88SS1098 "Zao" controller is their 8-channel solution for enterprise/datacenter SSDs, bringing lots of features that were missing from the 1093/1092 "Eldora" series controllers and left out of the newer 1100 series client SSD controllers. The 1098 isn't quite Marvell's top of the line SSD controller, but their 88SS1088 16-channel controller is a two-chip solution that's pretty much two 1098s connected by a 4GB/s link.
Our Haishen3 review samples use the 15mm U.2 form factor, but only have a single PCB internally instead of two staked. That makes the case a fairly large heatsink, with extrusions to allow close contact to the controller and NAND, and cutouts for the two large power loss protection capacitors.
DapuStor is also working on a Haishen3-XL series that uses Kioxia's low-latency 3D SLC NAND to compete against Samsung Z-SSDs, and that should be available very soon.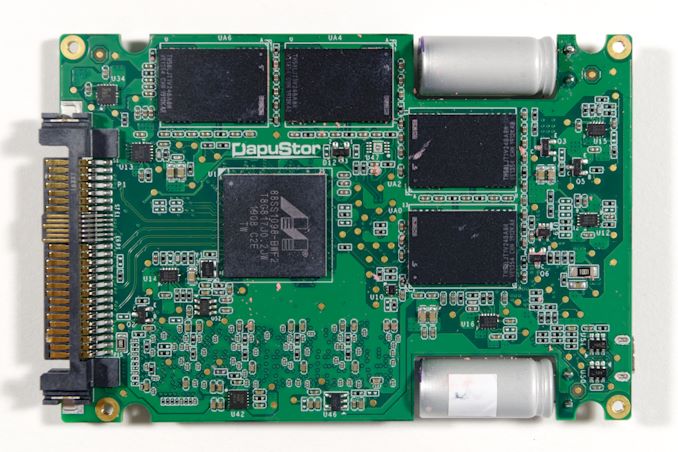 DERA D5007 Series
DERA is another Chinese brand we were only recently introduced to. They announced their second generation of enterprise SSDs at the end of 2018 and are now trying to enter the North American market after securing design wins with numerous major Chinese cloud and telecom providers.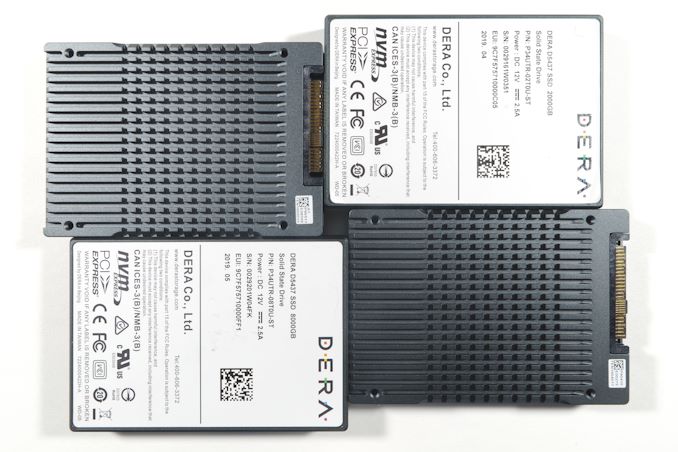 DERA is part of China's efforts to develop competitive home-grown technology. DERA has their own in-house TAI NVMe SSD controller that is used in the D5437 and D5457 SSDs we are testing today. Their NAND supplier is UNIC, which has been buying Intel 64L wafers since 2018 and doing their own testing, binning and packaging. UNIC eventually plans to be a distributor for Yangtze Memory's 3D NAND, but even though YMTC announced mass production of their 64L NAND back in November, they have not had any significant impact on the NAND market yet. (And probably won't any time soon, given that YMTC is based in Wuhan.) For DRAM, DERA is using Micron DDR3.
DERA D5007 Series Specifications
Model
D5437
D5457
Controller
DERA TAI-EN316801-P02
Form Factor
2.5" 15mm U.2 or PCIe HHHL AIC
Interface, Protocol
PCIe 3.0 x4 NVMe 1.3
Capacities
2 TB
4 TB
8 TB
1.6 TB
3.2 TB
6.4 TB
NAND Flash
UNIC2 (Intel) 512Gbit 64L 3D TLC
DRAM
Micron DDR3-1866
Sequential Read (GB/s)
3.3
3.3
Sequential Write (GB/s)
1.8
2.9
3.2
1.8
2.9
3.2
Random Read IOPS
820k
830k
830k
820k
830k
830k
Random Write IOPS
110k
160k
145k
240k
360k
375k
Power
Draw
(Watts)

Random Read
13.0
14.0
14.5
13.5
13.5
14.5
Random Write
15.0
18.0
18.4
15.0
18.5
20.0
Idle
7.0
Write Endurance
1 DWPD
3 DWPD
Warranty
5 years
As is typical, DERA's SSDs come in two versions that share the same basic hardware but use different overprovisioning ratios to optimize for high capacity and read-oriented workloads (D5437), or higher endurance and better write performance (D5457). These drives have most of the hallmarks of a top of the line enterprise SSD. The controller is a large 16-channel design, with a die size around 114 mm2. Internally, the U.2 versions use a folded PCB to provide plenty of space for NAND and DRAM, and the power loss protection capacitors are mounted on a daughterboard. The case design does allow for a little bit of airflow between the two PCB layers, but the power-hungry stuff still needs to be facing outward for contact with the drive case. The NAND packages on the inward-facing PCB surfaces use fewer dies per package, and when a particular capacity doesn't need to populate all of the pads for NAND, those interior spots are the ones left empty.
The DERA SSDs are limited to by the same PCIe 3.0 x4 interface as the rest of our U.2 drives, but the performance specifications are otherwise mostly higher than the other drives in this review—as are the power consumption ratings.