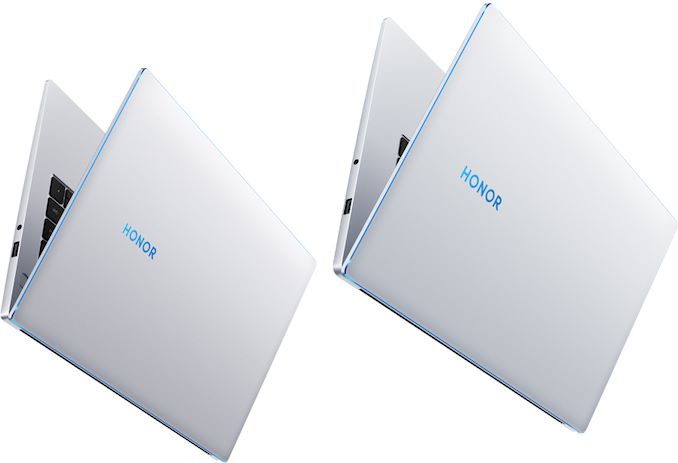 Right on the heels of the MateBook D announcement, Huawei's daughter company Honor has introduced its own MagicBook 14 and MagicBook 15 notebooks. The eye-catching machines look very similar to Huawei's machines, however they exclusively use AMD's Ryzen APUs.

Honor often favors stylish designs for their products, and MagicBook 14 and MagicBook 15 laptops are no exception. Both machines come in similar aluminum chassis with Mystic Silver or Space Gray finish as well as blue accents on the edges. As the names of the notebooks suggest, the systems feature 14-inch and 15.6-inch IPS display panels, with both panels offering Full-HD (1920x1080) resolutions. Meanwhile, since the bodies of the new MagicBooks are very similar to the chassis used by Huawei's MateBook Ds, the dimensions of the machines actually end up being the same: the 14-inch model is 15.9 mm thick, whereas the 15-inch model is 16.9 mm thick. As for the weight, the MagicBook 14 weighs 1.38 kilograms, while the MagicBook 15 weighs 1.53 kilograms.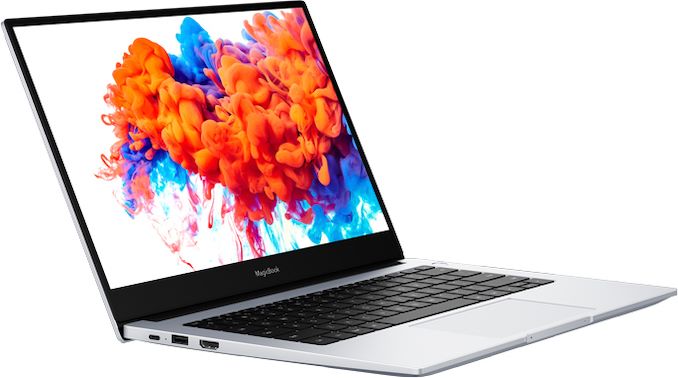 Inside the new laptops from Honor are AMD's quad-core Ryzen 5 3500U and Ryzen 7 3700U APUs. The processors are paired with 8 GB or 16 GB of DDR4 DRAM, as well as a 256 GB or 512 GB PCIe SSD. As far as connectivity is concerned, the new MagicBooks are equipped with Wi-Fi 5, Bluetooth 5.0, one USB 3.0 Type-C port, two USB 2.0/3.0 Type-A ports, an HDMI output, and a 3.5-mm jack for headsets. Just like the more expensive Huawei-branded analogues, these notebooks also have a fingerprint reader, a webcam that hides in a key, stereo speakers and a microphone array.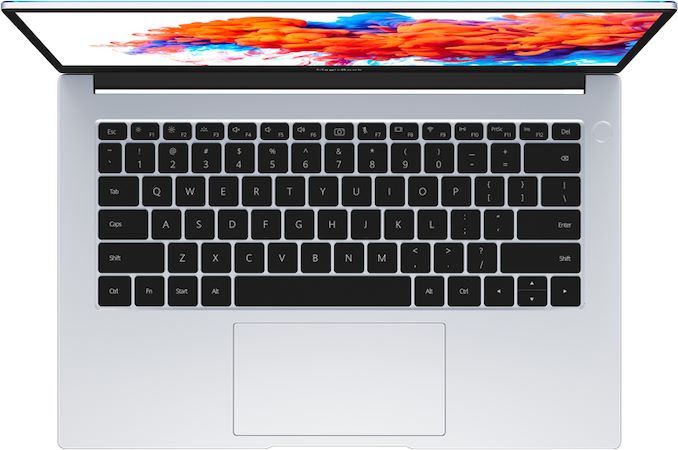 For some awkward reason, Honor decided to equip the MagicBook 14 with a 56 Wh battery, but install a lower-capacity 42 Wh battery into the larger MagicBook 15. In case of Huawei's MateBook D15 the tradeoff was explained (in part) by the presence of a 1 TB HDD inside the machine; but in case of the MagicBook 15 the design decision is a complete mystery at lease for now.
Honor's 2019 MagicBook 14 & 15
MagicBook 14
MagicBook 15
Display
14-inch 1920×1080
15.6-inch 1920×1080
CPU
AMD Ryzen 7 3700U - 4C/8T, 6 MB, 2.3 - 4.0 GHz, 15 W
AMD Ryzen 5 3500U - 4C/8T, 6 MB, 2.1 - 3.7 GHz, 15 W
Graphics
AMD Radeon RX Vega 10 - 640 SPs at 1400 MHz
AMD Radeon Vega 8 - 512 SPs at 1200 MHz
RAM
8 GB or 16 GB
SSD
256 GB or 512 GB PCIe SSD
Wi-Fi
Wi-Fi 5 (802.11ac)
Bluetooth
Bluetooth 5.0
USB
1

× USB 2.0 Type-A


1 × USB 3.0 Type-A
1 × USB 3.0 Type-C
GbE
-
Card Reader
-
Other I/O
HDMI, microphone, stereo speakers, audio jack
Battery
56 Wh
42 Wh
Dimensions
Width: 322.5 mm
Depth: 214.8 mm
Thickness: 15.9 mm
Width: 357.8 mm
Depth: 229.9 mm
Thickness: 16.9 mm
Weight
1.38 kilograms
1.53 kilograms
Additional Information
?
?
Price
?
?
Honor did not reveal pricing or availability dates for its 2019 MagicBook laptops, but it is safe to say that they will hit Chinese stores first and will cost less than Huawei's MateBook D notebooks featuring similar configurations.

Related Reading:
Source: Honor