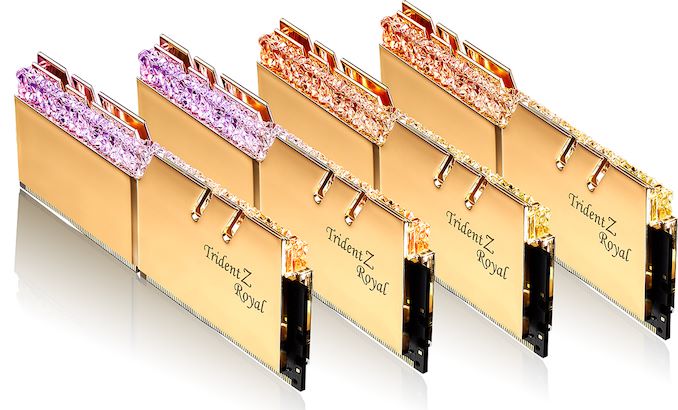 Bucking the trend of ever higher clocked DDR4 memory kits, G.Skill has introduced a new high-end memory kit that is focused on lower memory latencies. Compatible with both Intel and AMD platforms, the premium memory kit offers CL15 latencies at up to DDR4-4000 speeds.
G.Skill's Extreme Low Latency DDR4-4000 32 GB kit consists of four 8 GB modules based on cherry-picked Samsung's 8 Gb B-Die chips. The sticks are rated for 4000 MT/s CL15 16-16-36 at 1.5 V. The modules use G.Skill's custom PCB, feature an XMP 2.0-enabled SPD, and come with G.Skill's blingy Trident Royal Z heat spreaders with a crystaline RGB lightbar, or regular Trident Z with classic all-black heat spreaders.
The Extreme Low Latency DDR4-4000 32 GB kit has been validated both on AMD's X570/Ryzen 3000 platform (using MSI's X570 Unify motherboard) and Intel's Z390 platform (using MSI's MEG Z390 Ace motherboard). Keeping in mind that we are dealing with modules that work at clocks and latencies well beyond those recommended by JEDEC at voltages that are a whopping 25% higher than spec for DDR4 DIMMs, one will clearly need a high-end motherboard with a VRM that can deliver clean and quality power to the modules.

G.Skill will start sales of its Trident Z Royal 32 GB DDR4-4000 CL15 kit late in Q4 2019. Pricing has yet to be announced, but considering their high-end specifications, expect them to be expensive.
Related Reading:
Source: G.Skill