ASRock X570 Aqua
Starting off alphabetically with ASRock, we open our X570 chipset overview with one of the most impressive and talked about models displayed at Computex, the ASRock X570 Aqua. ASRock's product stack is well varied with models focused on gaming, content creators, professional, and enthusiasts, the X570 Aqua certainly positions itself as high-end with a solid feature set, an elegant aesthetic which resembles that of Robocop's armor, and offers users an element of exclusivity due to that fact ASRock will only make 999 pieces of the X570 Aqua available to consumers.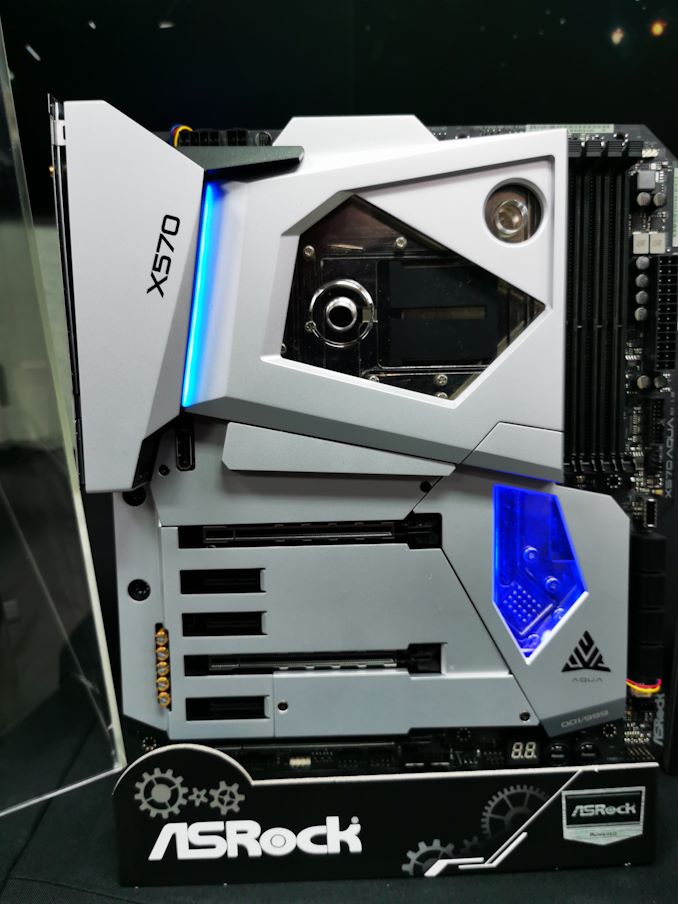 The first thing that stands out about the ASRock X570 Aqua is the full-cover PCB armor covering the vast majority of the PCB and the large CPU water block. The ASRock X570 Aqua is an E-ATX board which has a large water block which is designed to keep the CPU cooled, and also extends to cool the X570 chipset. The armor, and the backplate on the rear makes the board much heavier than other premium models we've come to see in recent times.
The feature set underneath the aesthetics is equally premium with an Aquantia AQC107 10 G LAN port, with an additional Intel Gigabit port included. Its Wi-Fi 6 capabilities come due to a Killer AX1650 802.11ax interface which also adds support for BT 5. A Realtek ALC1220 HD audio codec provides the onboard audio, while the rear panel also uses two Thunderbolt 3 Type-C ports. This limits the boards other USB 3.1 G2 capabilities and as a result, the X570 Aqua has six rear-panel USB 3.1 G1 type-A ports, but users can add an additional four with two USB 3.1 G1 headers, and four USB 2.0 ports with a pairing of USB 2.0 headers.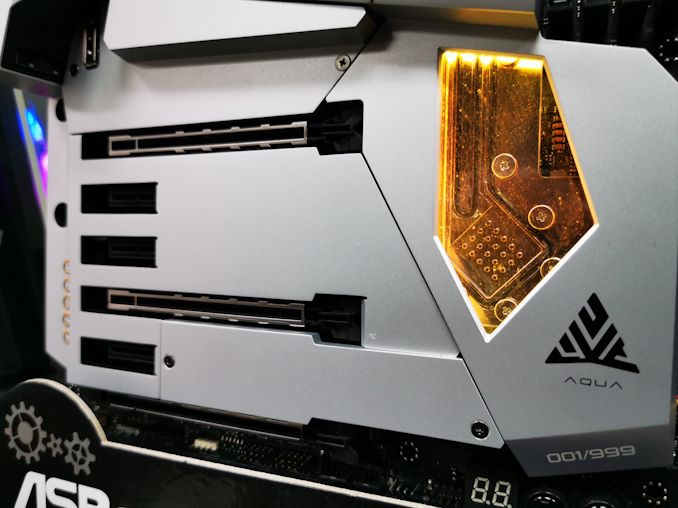 One of the main features of X570 is PCIe 4.0, and the ASRock X570 Aqua makes use of three full-length PCIe 4.0 slots which run at x16 x8/x8 and x8/x8/x4; also present is three PCIe 4.0 x1 slots. Storage includes two PCIe 4.0 M.2 slots and a total of eight SATA ports. ASRock gives the X570 Aqua some impeccable memory support which is listed as DDR4-4666.
The ASRock X570 Aqua is currently ASRock's flagship X570 motherboard in terms of features, and aesthetics. We know that the ASRock X570 Aqua will be limited to just 999 pieces worldwide, making its exclusivity one of its attracting features. The Aqua moniker signifies the targeted consumer of this board, in that only users looking to run a custom water cooled system with high-end components, will likely consider this model. This is likely to be a favorable model for case modders, or perhaps users looking to create an elegant water-cooled system with a form of exclusivity and individuality.
With an element of exclusivity, the ASRock X570 Aqua has an MSRP of $1000. This makes it the most expensive X570 model at launch, but this is expected due to the limited nature as it is limited to just 999 pieces worldwide. A heavy-set construction, the PCB covering armor and coupled with a top quality feature set make this a top option for modders, and water cooling enthusiasts.