Wallmont, Swivel, Pivot, Sound & Cable Management
The Shuttle XP17 is not very large on swivel and pivot options, since it does not have a base. However, Shuttle does have a trick up its sleeve with a rotating rear prop that allows us to pick the LCD up and tip it on its side into portrait mode. A nice feature, but one that will probably remain generally unused; people tend to not rotate their monitors into portrait mode, and it appears as though Shuttle has overlooked placing rubber soles on the leading edge of the LCD.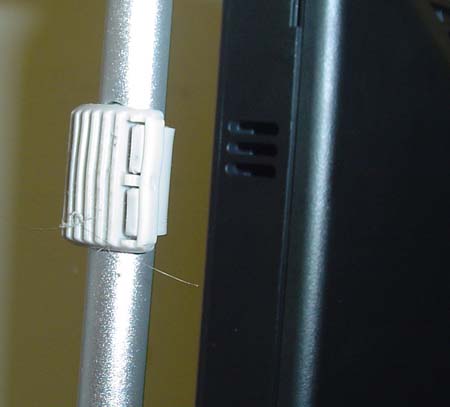 The entire base of the panel can be removed in one action to reveal a VESA wall mount. We need to remove four screws from the ear of the LCD in order to attach the mounting brackets.
Shuttle marketed this LCD as an accessory for its high end XPC machines, and fortunately, they thought through it enough to include a DVI input. Keep in mind, many LCDs that we have seen in the past (enough, though, labeled as high end or gamer/enthusiast) lacked a DVI input. Shuttle also includes both a DVI and an analog cable.
Cable management is virtually non-existant; the cables just plug into the rear of the unit.