Software
Das Keyboard developed their [Q] software specifically for their newer top-tier keyboards. The software's layout may initially seem a bit overwhelming but it actually is cleverly designed, requiring a minimal learning curve. Launching the software the first time will bring up an instruction video on the keyboard's cloud-based capabilities and notification settings.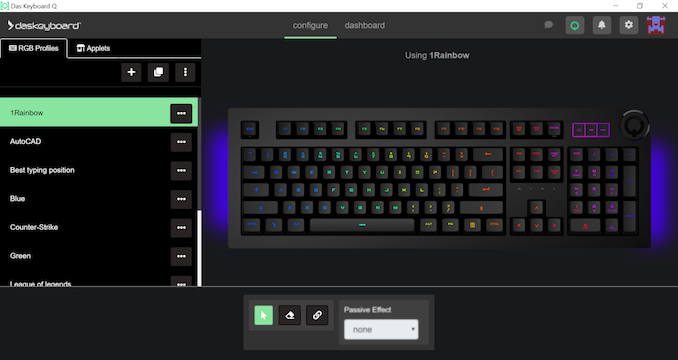 In the RGB profiles section, users can either choose one of the preprogrammed profiles or program their own. Per-key lighting programming is possible, with the ability to choose from either any RGB solid color or an effect. The list of effects is adequate, but creating keyboard-wide visual effects can be a tedious process. As for the pre-programmed lighting profiles, Das Keyboard is one of the very few companies that includes not only profiles for popular games but for professional applications as well, such as Adobe's Photoshop and Autodesk's Autocad. Sadly, the list of the default preprogrammed profiles is rather short, but profiles may be shared and imported, so it will probably grow over time.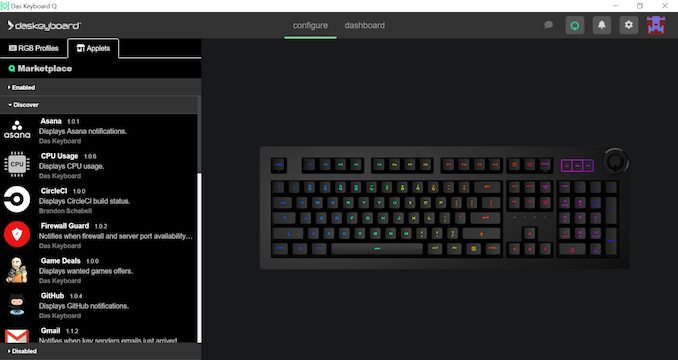 Cloud Connectivity & Notifications
There are dozens of available notification-based settings in the Signal Center, ranging from important email and calendar notifications, to smart device and security camera alerts, to simple break and workout reminders. There are actually so many that the gallery below covers only about half of them.
One of the most interesting notification settings is that the keyboard can display a notification when "your BMW is home". That way your keyboard can let you know when your (compatible) bimmer leaves home without you and when it gets back. It can also notify you if your (compatible) Samsung's refrigerator door is left open. There really is no shortage of notifications – from coffee makers to security cameras – with the utility of each being left as an exercise to the reader.
More advanced users can also program their own notifications. By default, the software suggests to use IFTTT (If This, Then That) for that, but it is also compatible with several open services and APIs, such as Zapier. Note that the Signal Center is marked as depreciated in the latest versions of the [Q] application, suggesting that users should stick to the applets available in Q's marketplace, yet the applets currently are rather few and limiting, which is probably why the software still offers access to the Signal Center anyway.
Despite the very high level of notifications and signaling capabilities, we should note that the Das Keyboard 5Q is not a programmable keyboard in terms of profiling and layout changes. There currently is no option to even perform simple key remaps, let alone advanced commands such as launching external applications and/or running macros.