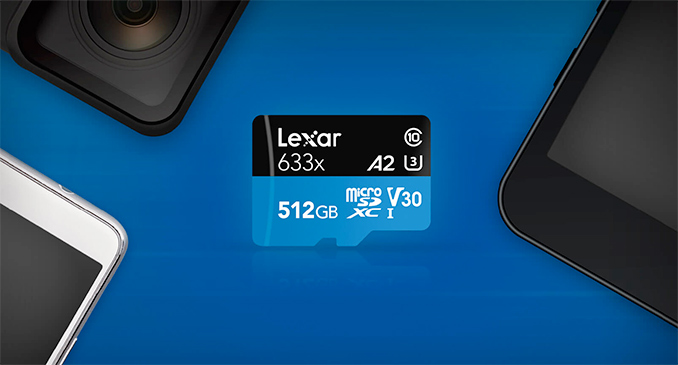 Lexar this past week introduced its new family of A2-class microSD cards, the Lexar High-Performance 633x A2. Supporting the highest Application Performance class, the new microSD card is designed in particular for smartphones that need additional storage space for applications. Overall the Lexar High-Performance 633x family of microSD cards is fairly diverse; the cards range in capacity from 16 GB to 512 GB in capacity, and not all of the cards meet an App Performance class standard. Indeed, only the new 512 GB card meets the A2 class standard, while the medium-sized cards are A1 class.
Under the hood, all the cards use the UHS-I bus and are rated for 95 MB/s – 100 MB/s reads as well as 45 MB/s – 70 MB/s writes. Most of the cards in the lineup support the Video Speed Class 30 spec, therefore offering at least 30 MB/s sequential write speeds. As for operating temperature range, it is pretty standard: from 0° to 70° C (32°F to 158°F), which is good enough for everyone except those using specialized devices to work in extreme conditions.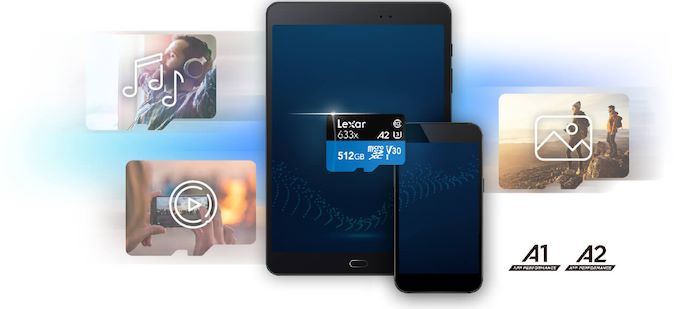 The key feature of the Lexar High-Performance 633x range is of course support for A1 and A2 App Performance specifications, for use with Android phones that need more space for applications. While A1 cards are pretty common these days, A2 cards are still rare partly because they require a more sophisticated (and expensive) controller and partly because not all of their features can be experienced on commonly available hosts.
As we've mentioned before, A2-badged microSD cards mandate a random performance of at least 4000 read IOPS and 2000 write IOPS (vs. 1500/500 read/write IOPS mandated by the A1). Meanwhile, A2-compliant controllers have to support such functions as command queuing (with a minimum depth queue of 2 and a maximum depth queue of 32) to optimize random read performance, caching to hit write performance targets, as well as self-maintenance capabilities. Though to get the most out of an A2 card, the host also needs to support command queuing to guarantee the device's read performance.
Lexar High-Performance 633x microSD Cards
512 GB
256 GB
128 GB
64 GB
32 GB
16 GB
Sequential Read Speed
100 MB/s
95 MB/s
Sequential Write Speed
70 MB/s
45 MB/s
?
Minimum Sequential Write Speed
30 MB/s
10 MB/s
Minimal Random Read Speed
4000 IOPS
1500 IOPS
?
Minimal Random Write Speed
2000 IOPS
500 IOPS
?
Operating Temperatures
0° to 70° C (32°F to 158°F)
Interface
UHS-I
Availability
Q4 2018
SDA Labels
A2, V30, U3
A1, V30, U3
A1, V10, U1
U1
Part Numbers
LSDMI512BBNL633A
LSDMI256BBNL633A
LSDMI128BBNL633A
LSDMI64BBNL633A
LSDMI32BBNL633A
LSDMI16BBNL633A
Lexar's High-Performance 633x family of microSD are already available from retailers like Amazon. The models featuring capacities up to 256 GB are priced up to $179.99. The top-of-the-range 512 GB A2-compliant model is expected to hit the market shortly at a price of $299.99.
Related Reading:
Source: Lexar