AnandTech Storage Bench - Heavy
Our Heavy storage benchmark is proportionally more write-heavy than The Destroyer, but much shorter overall. The total writes in the Heavy test aren't enough to fill the drive, so performance never drops down to steady state. This test is far more representative of a power user's day to day usage, and is heavily influenced by the drive's peak performance. The Heavy workload test details can be found here. This test is run twice, once on a freshly erased drive and once after filling the drive with sequential writes.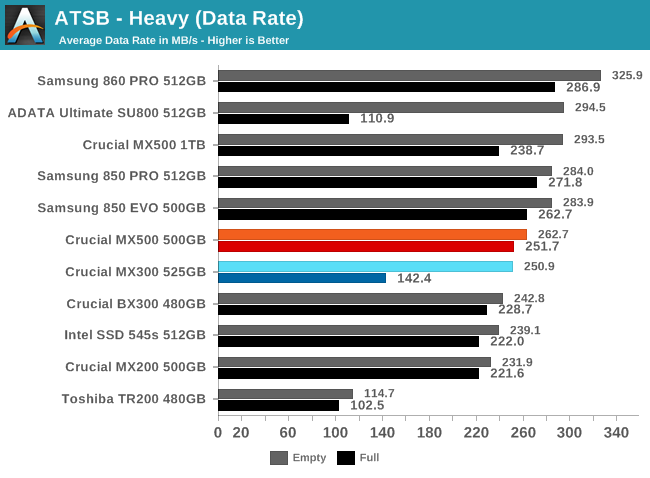 The average data rate of the Crucial MX500 on the Heavy test is barely improved over the MX300 when the test is run on an empty drive, but the full-drive performance is vastly better; the MX500 suffers very little when full. Compared to competing SSDs, the MX500 still isn't the fastest TLC SSD, but this time the Intel 545s is slower while the Samsung 850 EVO is the one that beats the MX500.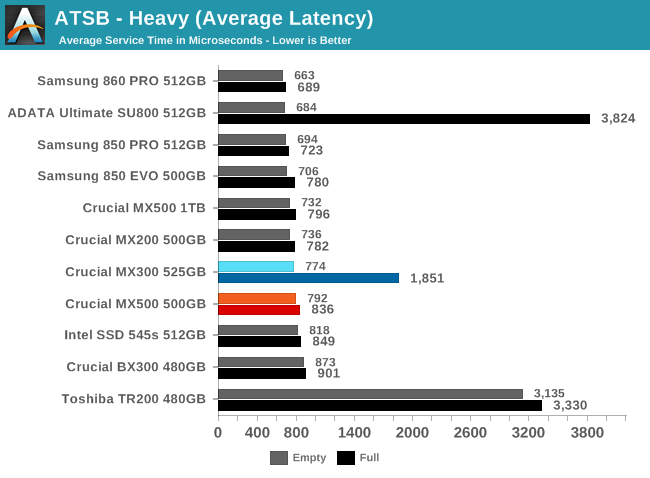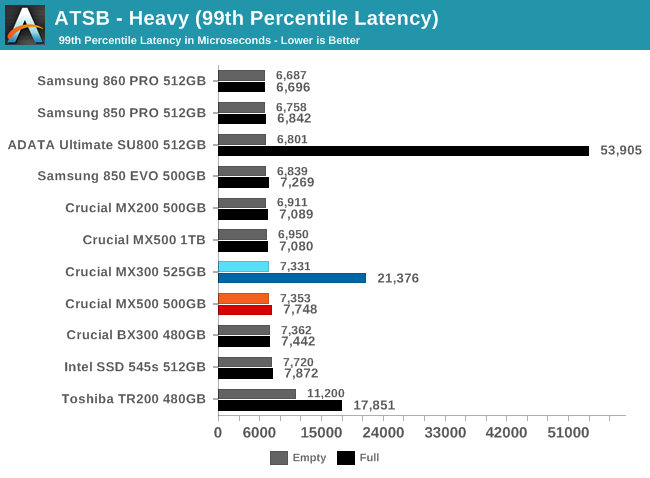 With only a few exceptions, the average and 99th percentile latencies of mainstream SATA SSDs are all in the same general range. The Crucial MX300 was one of the outliers with its poor full drive latency, but the MX500 resolves that problem.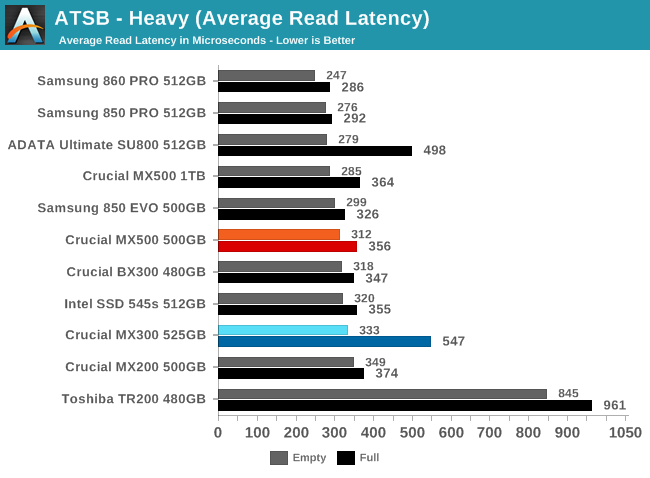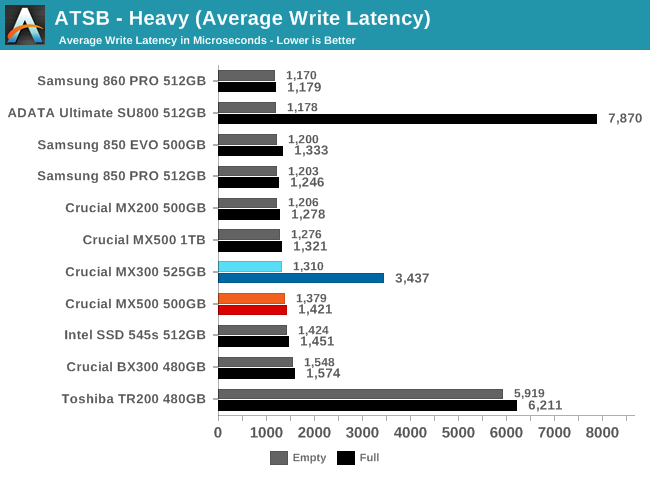 Average read and write latency scores from the Crucial MX500 are reasonable for both the full drive and empty drive test scenarios. The MX500 is still not the fastest TLC drive, but it is never very far behind.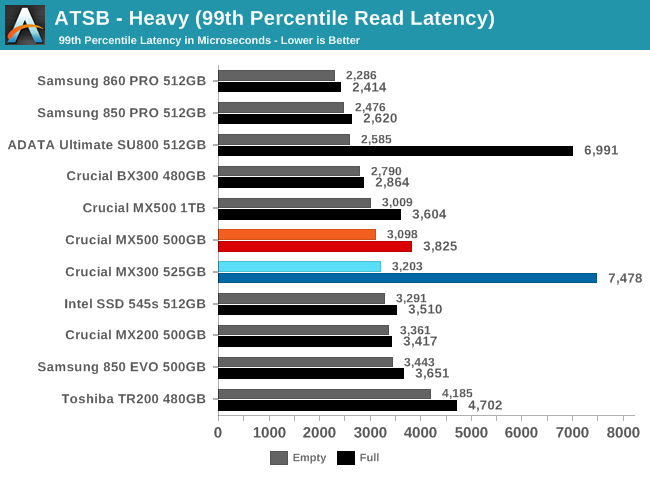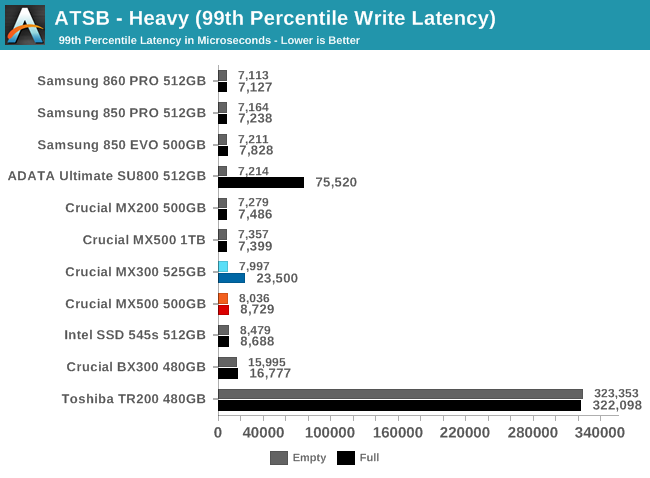 The Crucial MX300 had one of the worst 99th percentile read latency scores when full, but the MX500 has much better quality of service—though still marginally worse than other mainstream SATA SSDs. For 99th percentile write latencies, the MX300's full-drive problems weren't as severe as those suffered by competitors like the ADATA SU800, but the MX500 still straightens things out and ends up scoring better than the MLC-based BX300.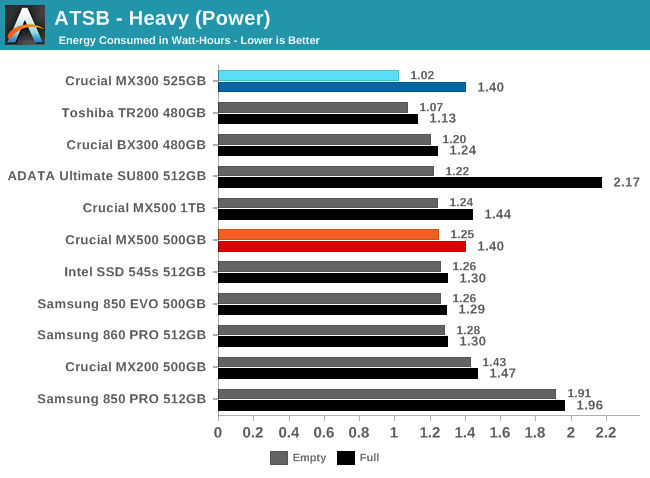 Energy usage for the MX500 over the course of the Heavy test has regressed compared to the MX300, but this only brings the MX500 in line with the rest of the mainstream TLC competition. Full-drive energy consumption is slightly higher than the other recent drives.