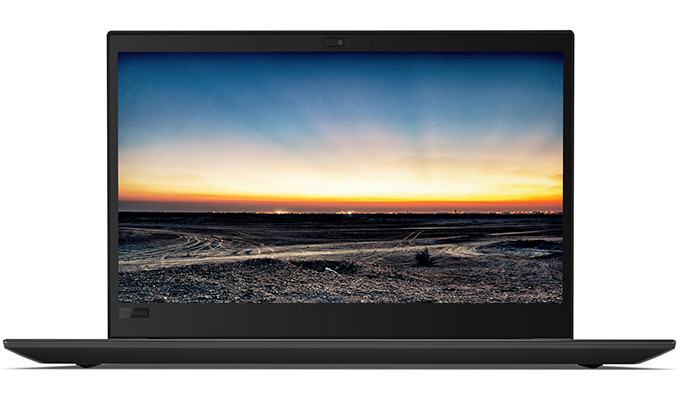 Lenovo this week refreshed its ThinkPad T500-series laptops for performance-demanding users. The new ThinkPad T580 integrates Intel's quad-core 8th Generation Core i5/i7 processors, faster memory, improved storage, optional GeForce MX150 GPU as well as a touchscreen option. The new machine has dropped some weight due to some changes in internal components, but its classic look remained the same.
The Lenovo ThinkPad T580 uses the same platform and chassis as the ThinkPad P52s announced a couple of months ago, but unlike its higher-end cousin, it does not come with a professional-grade GPU and therefore lacks certifications from ISVs developing professional software. The ThinkPad T580 is also based on Intel's quad-core 8th Generation Core i5/i7 processors with vPro technology, whereas the P52s yet has to offer the vPro option. Meanwhile, the 'professional' model may offer some higher-performance options, but in general the T580 and the P52s are very similar.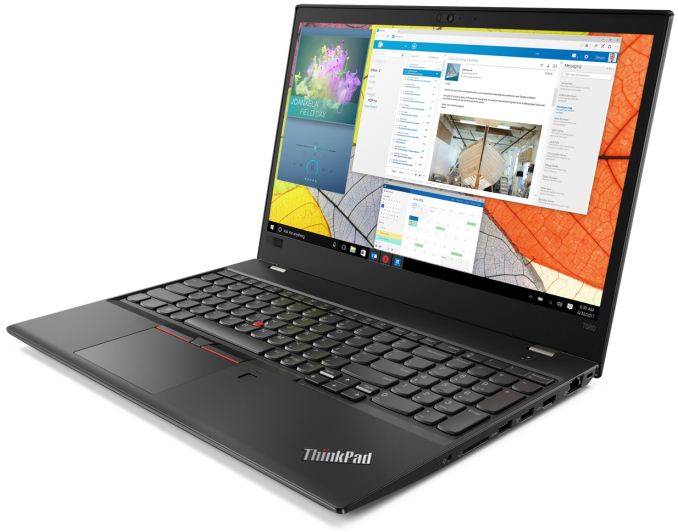 Apart from the new quad-core Core i5/i7 processors, the new ThinkPad T580 comes with up to 32 GB of DDR4-2400 memory, up to 1 TB PCIe SSD or a 2 TB HDD (no idea about the model, but given positioning of the P580, it is unlikely something SMR-based). SKUs with discrete graphics will use NVIDIA's GeForce MX150 GPU featuring the Pascal architecture as well as 2 GB of GDDR5 memory, all the other models will rely on Intel's HD Graphics 620. Speaking of graphics, it is impossible not to mention the display. Lenovo's previous-generation ThinkPad P570 is outfitted with a 15.6" panel with either an HD, FHD, or UHD resolution. With the P580, Lenovo will eliminate the 'HD' option (1366x768 would look a bit odd on a high-end laptop in 2018), but will offer a touch-enabled FHD panel in addition to non-touch FHD and UHD screens.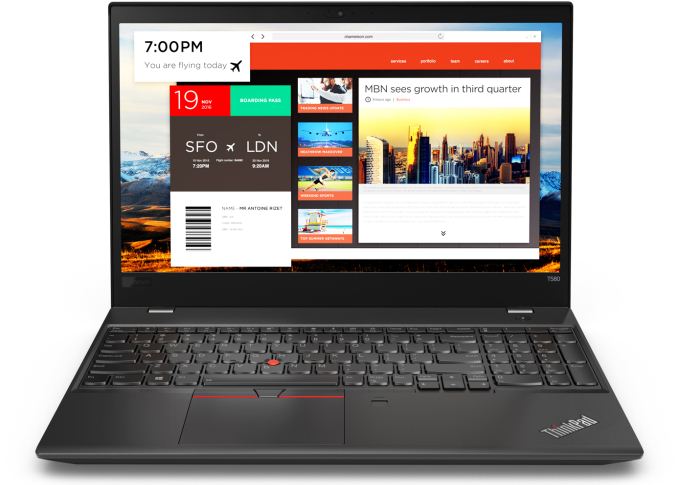 Connectivity features of the ThinkPad T580 are exactly the same as in the case of the P52s. The laptop has two USB 3.0 Type-A ports (one always-on charging), a USB 3.0 Type-C header (instead of the third USB-A), a Thunderbolt 3, an HDMI 1.4 output, a GbE, a TRRS audio jack for headsets as well as an optional card reader. Basic models are equipped with a 720p camera with a mechanical shutter, whereas advanced SKUs come with an IR camera supporting Windows Hello as well as a fingerprint reader. Wireless capabilities include a 2T/2R 802.11ac Wi-Fi + Bluetooth 4.2 controller, whereas beefy models may be armed with a global LTE-A modem.

Moving on to battery life. By default the ThinkPad T580 includes a fixed 4-cell 32 Wh front battery as well as a 3-cell 24 Wh removable battery on the back. The latter can be swapped for a 6-cell 48 Wh, or a cylindrical 6-cell 72 Wh battery. Once equipped with the largest battery, the T580 laptop will last for up to 27 hours on one charge (obviously, 27 is applicable to SKUs with an FHD screen with lowered brightness), according to Lenovo. As for weight and dimensions, the new notebook starts at 1.97 kilograms (down from 2.05 kilograms in case of the previous-gen) and retains its 20 mm (0.78") thickness.
Lenovo ThinkPad T580
ThinkPad T580
Processor Family
8th Generation Intel Core i5/i7 Processor with vPro
Memory
Up to 32 GB DDR4-2400
Network Connectivity
Gigabit Ethernet
Intel vPro 8265 2T/2R + Bluetooth 4.2
Optional global mobile broadband LTE-A
Internal Storage
SSD: Up to 1TB NVMe SSD or
HDD: Up to 2TB (5400 RPM)
Graphics
Intel HD Graphics 620 or
NVIDIA GeForce MX 150 with 2 GB GDDR5
Expansion Slots
N/A
Display
15.6"
FHD (1920x1080) IPS
FHD Touch (1920x1080) IPS
4K UHD (3840x2160) IPS
Ports and Connectors
2 x USB 3.0 (1 Always-on Charging)
1 x USB-C
1 x Intel Thunderbolt 3
1 x RJ45 Gigabit Ethernet
1 x HDMI 1.4
1 x Side Docking Connector
1 x Mic/Headphone Combo Jack
1 x Smart Card Reader
Dimensions / Weight
0.79" x 14.4" x 9.95" / From 4.34 lbs (1.97kg)

The ThinkPad T580 will be available this month starting from $1079. Lenovo has not announced details about the entry-level configuration.
Related Reading: