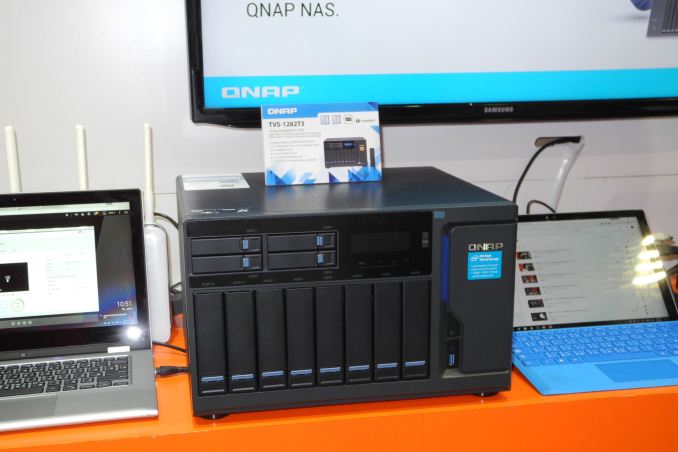 As part of my usual CES vendor visits, I caught up with QNAP and took a look at the new products and QTS features slated to enter the market over the next couple of quarters. The products that caught my eye included a new series of Thunderbolt-enabled NAS units, a couple of products targeting the IoT / residential wireless gateway space, a NAS unit with an optical drive slot, and a 16-bay Xeon D NAS in the tower form factor. On the software side, QNAP also demonstrated a new QVR Pro Surveillance Station integrating the Surveillance Station package into the QTS OS along with a host of improvements. The DJ2 Live live-stream broadcast platform was also in action at the booth. I won't go much into the software announcements - Interested readers can refer to the press release, and there really is not much to add beyond that on those aspects.
Thunderbolt NAS Units
We last looked at QNAP's offerings in our coverage of their TVS-x82T launch back in May 2016. One of the questions I had asked at the launch event was about the non-availability of Thunderbolt 3 (the TVS-x82T series came with Thunderbolt 2 ports). At CES 2017, QNAP introduced the first set of NAS units with Thunderbolt 3 support - with the TVS-1282T3 being the flagship in that segment. Sporting 8x 3.5" bays and 4x 2.5" bays along with 2x M.2 SATA SSD slots, the unit can be configured with either a Core i5-7500 or Core i7-7700 CPU. Available I/Os include 2x Thunderbolt 2 as well as 2x Thunderbolt 3 ports, 2x 10GBASE-T and 4x GbE network links, five USB 3.0 ports (one in front, four in the back), two microphone inputs, and two speaker outputs as well as a 3.5mm audio line-out. There are four SODIMM slots, allowing end-users to configure the system with up to 64GB of RAM.
QNAP also introduced the 2.5"-only TVS-882ST models - The TVS-882ST2 has Thunderbolt 2 ports, while the TVS-882ST3 has Thunderbolt 3 ports. Unlike the flagship TVS-1282T3, these units use the high-end Skylake mobile CPUs (Core i7-6700HQ or Core i5-6442EQ). The brochure for the TVS-882ST series also brings out the two Thunderbolt usage scenarios - as a direct-attached storage unit (with the expansion units allowing as much as 400TB to be accessed directly), or a 10Gb switch (with the virtual switch feature that can act as a Thunderbolt to Ethernet converter) to create a 10Gbps interface for the system connecting to it. The second feature makes a separate Thunderbolt to 10Gbps converter unnecessary.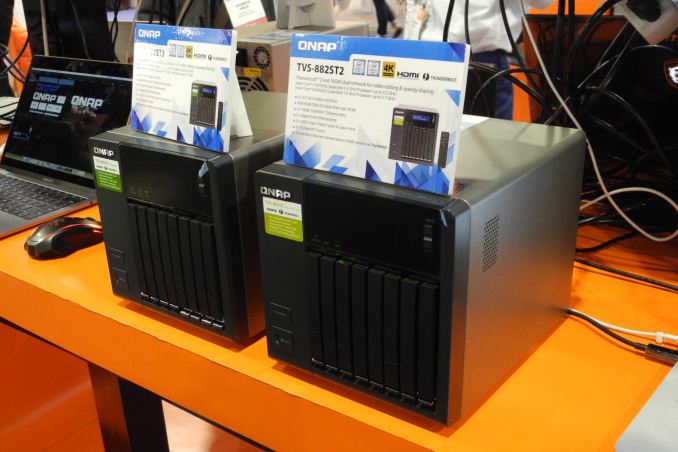 Detailed specifications of the units in both series, as well as some of interesting information from QNAP's product brochures are reproduced in the gallery at the end of this piece.
NAS with Blu-ray Writer Support
The TVS-882BR is a 8-bay NAS with a SATA expansion bay that can either support two slim optical drives or one 5.25" optical drive. It is based on a Kaby Lake platform, supports PCIe NVMe SSDs and also two M.2 SATA SSD slots. There are three PCIe 3.0 expansion slots and three display outputs.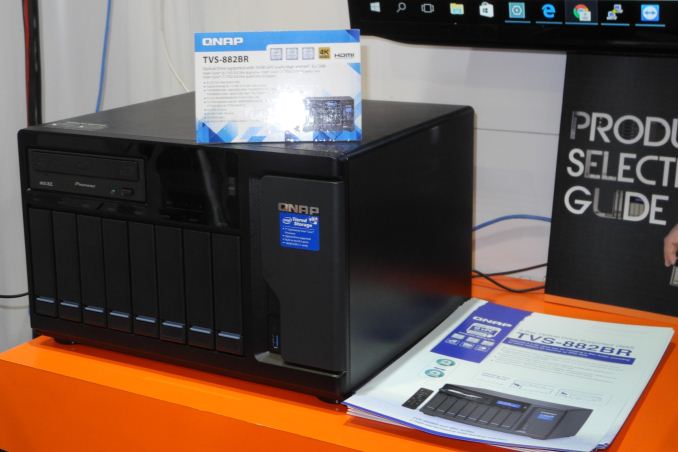 The device is intended for use-cases where data on the NAS needs frequent backing up to optical media. The specifications of the various members in this lineup are summarized in the gallery at the end of this piece.
16-bay Xeon D NAS
The TS-1685 lineup is one of the most comprehensive set of Xeon D-based COTS NAS units in the market today. There are nine different tower models carrying either the Xeon D-1521 or the Xeon D-1531, with choice of either ECC or non-ECC DDR4 RAM. Based on demand, QNAP indicated that versions using Xeon D-1548 could also make it to the market. Some units carry a 550W internal PSU (instead of 250W), and can support a discrete GPU such as the AMD Radeon RX480. This is particularly useful for GPU compute, as well as a 3D accelerator for virtual machines.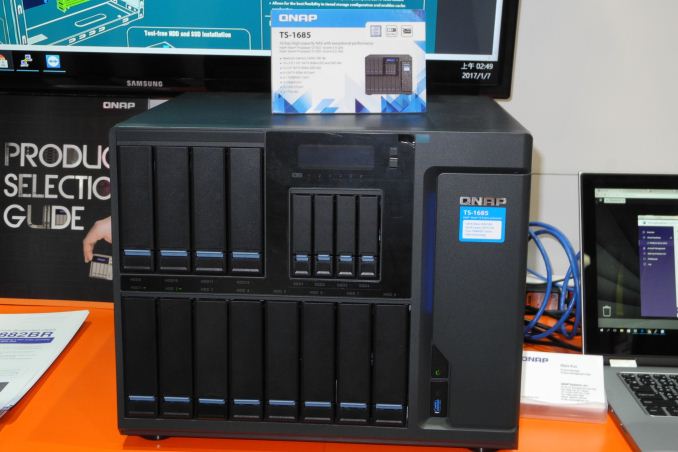 There are a total of twelve 3.5" bays and four 2.5" bays. On the board, there are six M.2 SATA SSD slots (supporting 2242 to 22110 form factors) with heat sinks on top as well as thermal pads at the bottom. There are four GbE ports and two 10GBASE-T ports. The three spare PCIe expansion slots (two 3.0 x8, one 2.0 x4) can be used for 10/40 GbE adapters, discrete GPUs, PCIe NVMe SSDs or USB 3.1 Gen 2 cards.
QNAP is marketing the TS-1685 as a Super NAS, and the above specifications completely justify the tag. More details are available in the pages from the brochure included in the gallery at the end of this piece.
Intel AnyWAN Designs - QBoat Sunny IoT Server and TGX-150 Gateway NAS
QNAP had two products at CES that were a bit of a departure from the traditional NAS units. Even though they have been focusing on IoT from a NAS perspective for some time, the IoT-focused QBoat Sunny caught us by surprise. Running QTS Lite (a stripped down version of the QTS NAS OS), it is meant as a platform for IoT developers to create a local IoT / home automation controller.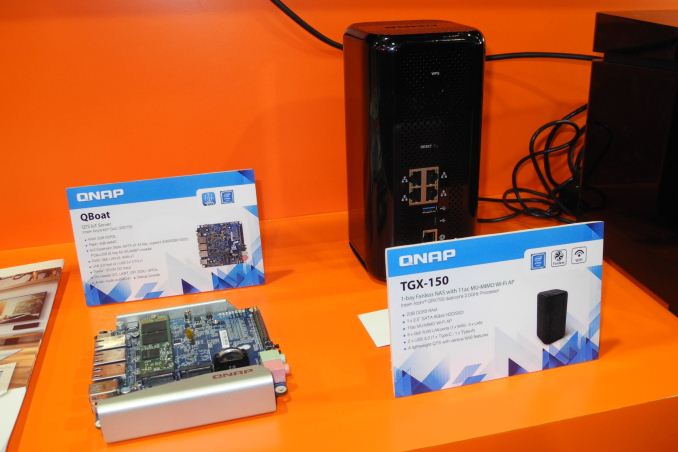 Synology is currently shipping their second generation wireless router, the RT 2600ac. Even though they are not trying to bring cutting-edge products to the market, they seem to have got a toehold in the market. In the set of NAS vendors who are trying to move to the larger consumer Wi-Fi router space, QNAP is throwing its hat in the ring with the TGX-150. It looks like a traditional Wi-Fi router (1x WAN, 4x LAN) and has Intel radios for a 802.11ac MU-MIMO Wi-Fi access point. This device also runs QTS Lite.
The interesting aspect of both of these products is the usage of the Intel AnyWAN GRX750 network processor / SoC. To the best of our knowledge, this is Intel's first design win in the consumer Wi-Fi router space (one traditionally dominated by SoCs from Qualcomm, Broadcom, and Mediatek).
The detailed specifications of the QBoat Sunny and the TGX-150 are included in the gallery below (along with the specifications of all the new product lines discussed above).
QNAP's CES 2017 announcements make it clear that it is going to be difficult for any other vendor to match the wide range of hardware platforms they have on offer. It is surprising that no other NAS vendor has tried to attack the NAS / DAS / iSCSI SAN combo market that QNAP is targeting with their Thunderbolt NAS units. Multimedia-editing production houses can definitely use those types of units effectively. On the IoT / residential gateway side, QNAP's use of an Intel platform is surprising, given the prevalence of ARM-based SoCs in that market. However, without concrete pricing information or performance numbers, it is difficult to draw conclusions. The Intel AnyWAN platform seems great on paper for the applications. It might well turn out to be a credible competitor to the established platforms in the market.