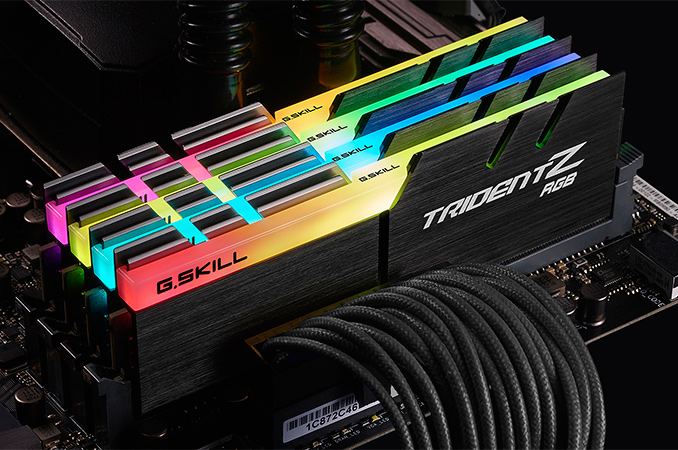 G.Skill this week has announced a new addition to its Trident Z family of high-performance DDR4 memory modules aimed at modders. The new Trident Z RGB will feature software-controllable RGB LEDs on top of the modules. The DIMMs will require no additional connectors and will work in all DDR4-capable computers running Windows.
The new G.Skill Trident Z RGB modules will be based on the company's custom 10-layer PCB, will feature speed bins up to DDR4-4266 and XMP 2.0 SPD profiles to appeal to users seeking for both style and high memory performance. The DIMMs will use Trident Z's aluminum heat spreaders, however now equipped with RGB light bars on top (as opposed to metallic bars in case of regular DIMMs). Previously the company offered Trident Z modules with different color schemes, and the addition of RGB illumination is G.Skill's next step.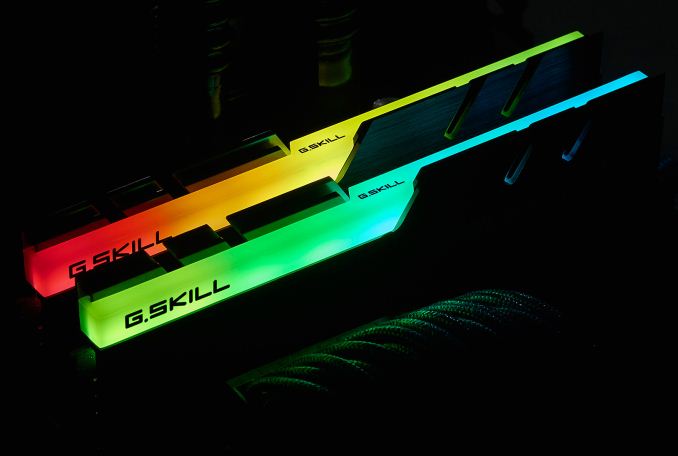 The manufacturer says that the Trident Z RGB will display a rainbow of colors in a wave-style lighting effect by default, but users will be able to customize lighting and design their own lighting effects using a special program that controls the light bars. G.Skill does not reveal how exactly those LEDs work or controlled, but most probably the company uses one or two of the "spare" RFU (reserved for future use) pins that DDR4 modules/slots have and/or 12 V supply pins not used on consumer DIMMs to control and power the LEDs.
G.Skill's Trident Z RGB will not be the first DDR4 memory modules on the market to feature light bars. For example, Corsair introduced its Vengeance LED DIMMs this summer. However, G.Skill will be the first to offer software-controllable RGB light bars on its memory modules and bring additional levels of freedom of expression to modders. You can watch G.Skill's Trident Z demo video at the company's YouTube channel.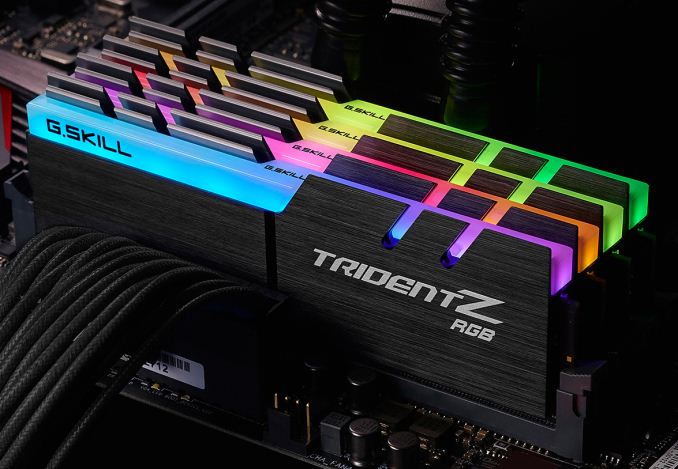 G.Skills plans to start selling the new Trident Z memory modules with RGB lighting sometimes in mid-January 2017, so chances are there might be some at CES early next month. The manufacturer does not disclose prices of the upcoming Trident Z RGB DIMMs and it is hard to predict how much will those lighting effects cost to end users. Software to configure the lighting is set to become available from February 2017.
Related Reading:
Source: G.Skill