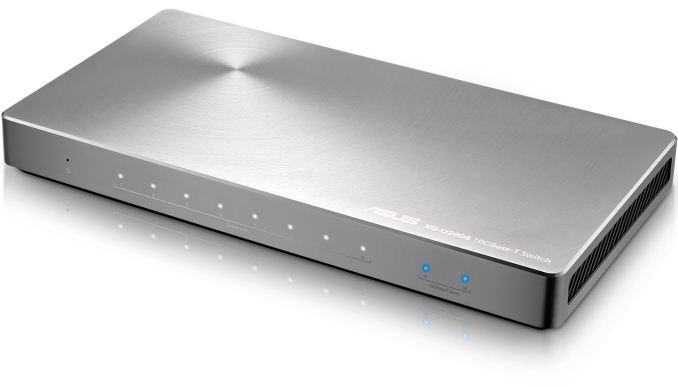 Back at CES, we saw what looked like a first budget-style entry into the 10GBase-T networking arena for low-cost, high-speed RJ-45 networking that would be backwards compatible with most of an enthusiasts home network infrastructure. At the time I was told it would be $300, but I misread the brochure and thought it said ten 10G ports. When I realized it said two ports 10GBase-T with another 8x1G ports, it still looked pretty interesting to say the least. ASUS is now formally announcing the launch of the hardware, called the XG-U2008, for $250 available at Newegg today.

At CES we saw a brushed aluminium switch, with the aim focused more on the premium and prosumer market. The styling of the switch on release essentially matches the one we saw at the show. There isn't much in the way to say about the switch – it is unmanaged, offers two 10GBase-T ports and eight 1G ports, with the latter also supporting 100 Mbps standards. The total switch fabric affords a rated 56 Gbps bandwidth as well as up to 16 KB jumbo frames and a 2Mb memory buffer. The external adapter is rated at 18W, and it measures 1.06-inch high.

Putting this into perspective, we recently did a quick news post rounding up all the motherboards with 10GBase-T preinstalled and noted that the additional cost of the switch and the motherboard puts the cost per port for 10GBase-T around $100-$150. Aside from the $200 extra per motherboard for one or two ports, an 8-port switch comes in at around $700 (or a 16-port for $1400). Compared to the larger and more expensive switches, this switch only has two 10G ports, meaning that the only options for connectivity will be between a 10G NAS and a bigger 10G switch, or a 10G PC and a 10G NAS - ASUS marks down that for a PC-based LAN, a couple of servers could be on the 10G ports instead.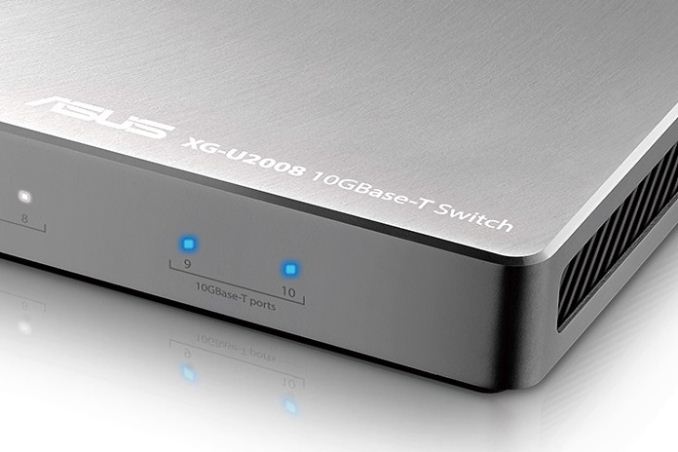 Options for low-cost 10GBase-T switches mean that it's a minimum $700 for a few ports, which for most users is not particularly low cost. Bringing at least two ports in a 10G switch for $250 brings the cost of ownership right down and more palatable, although only having two ports has some limitations. The fact that it's available straight away from Newegg for anyone (in the US) is a plus.
Source: ASUS Edge Up, ASUS Product Page, Newegg