Display Analysis
Different people value different aspects of a smartphone more than others, but I think everyone can agree that it's important for a smartphone to have a nice display. A smartphone's display is the portal through which the user can interact with the interface, and if that display is dim or has poor color characteristics that will have a persistent and negative impact on the user experience.
Many users have differing preferences as far as display color is concerned. We can all agree that a display should be sharp, bright, and have good black levels, but with color different users may like different things. To avoid that sort of subjectivity, we target the sRGB color gamut which is the standard used for essentially all digital content, including both content on the web and video content provided via streaming and existing home media. To analyze a display's quality relative to the sRGB standard, we use X-Rite's i1Pro 2 spectrophotometer for measurements, and SpectraCal's CalMAN 5 software for collecting data.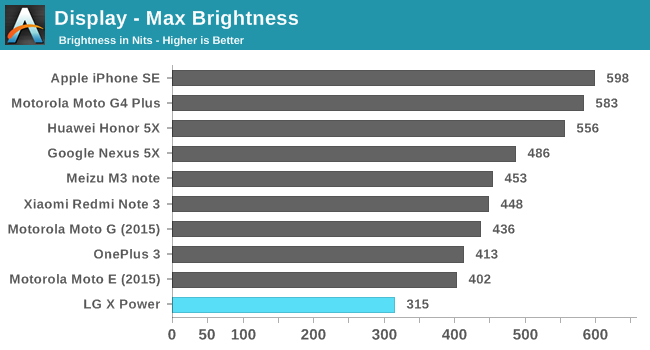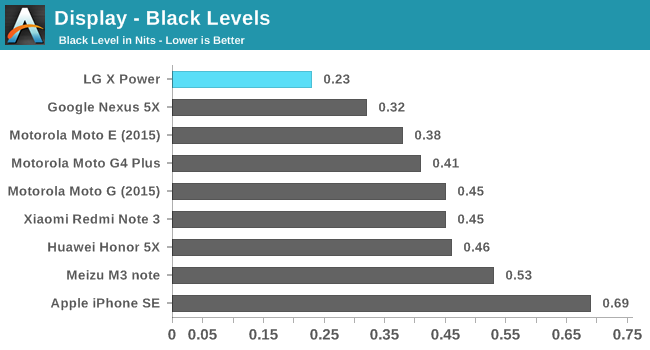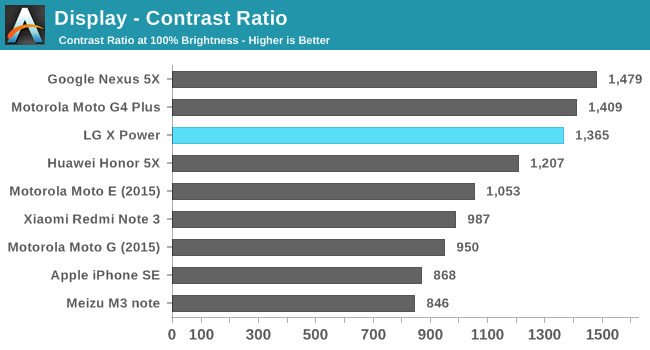 The LG X Power appears to do well with its black levels, but that has to be evaluated in the context of the peak brightness, which is incredibly low. I haven't come across a device that can't break 400 nits in quite some time, and at this point if you're coming in well below 425-450 nits you're not up to par with the competition. On top of the low brightness, the LG X Power's glass is pretty reflective, and the combination of those two factors make it essentially unusable outside.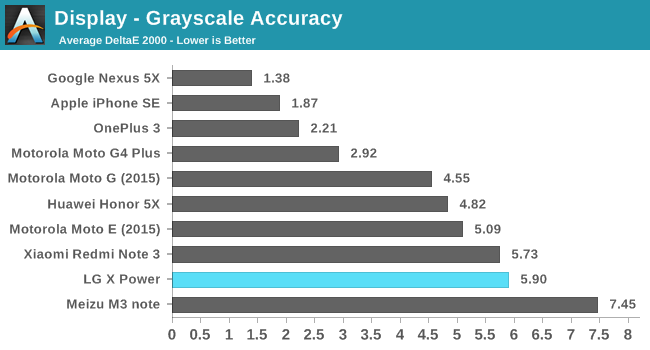 Greyscale accuracy on the LG X Power is very poor. The first thing that stands out is the gamma curve. LG is ramping up gamma as you move past 50% white in order to alter the steps between each level. This can make the display look a bit punchier as one might say, with the saturation of colors increasing more quickly past that point. Displays often do this to avoid looking very dull when they can't cover the sRGB gamut, and I'll talk more about that in a moment.
Going back to the greyscale, the second issue is just how far the display shifts toward blue. All shades in the greyscale beyond pure black have a noticeable blue tint, and from 20% grey onwards the unbalance of red and blue components is quite severe. As far as the average person's definition of grey goes, it wouldn't really be wrong to say that the LG X Power isn't actually capable of showing that color. When I consider the low peak luminance, I can't help but wonder if this is all part of LG compensating for poor display efficiency by clamping brightness and setting the display to a blue-shifted white where the LED backlights will be more efficient. Whatever the case may be, the end result is a very blue looking display that isn't visually appealing at all.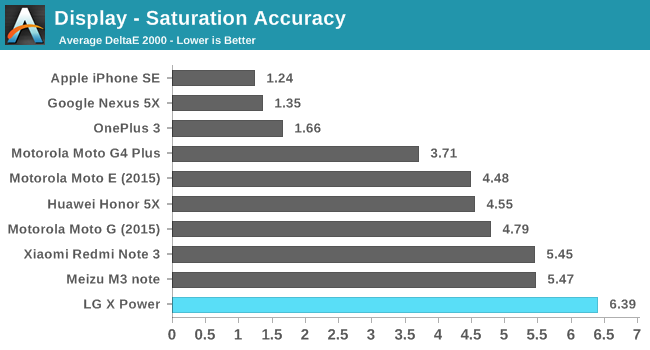 Recently there was a bit of controversy over my review of the OnePlus 3 where I criticized its target gamut as being irrelevant and wider than sRGB without any color management. It sparked a debate about user preferences, and whether users actually preferred displays that show oversaturated colors. Whether you prefer oversaturation or accuracy, I think everyone can agree that sRGB isn't exactly the widest gamut, and that nobody is going to like a display that is actually less saturated than sRGB.
The saturation sweep test exposes the true problem with the LG X Power's display, which is that it falls into that category of undersaturated displays that nobody really likes. It's a narrow gamut display, and it cannot accurately reproduce any colors because the range of colors has been compressed into an area much smaller than the sRGB gamut. What should be 100% red is a lot closer to where 80% should be, and 80% is where 60% should be, and so on. This is true for any colors that depend on red or blue, which is to say, every color that isn't green. Green isn't doing so well either because the hue is thrown off by the display's shift toward blue.
In the end. the average DeltaE for primary and secondary saturations is about 6.4, which is a very significant error. The undersaturation makes the display appear so lifeless, with every color being much duller than on other smartphones. You only need to look at Google's app icons to see that the red, green, blue, and yellow are just not as lively as you're used to seeing. LG tries to combat this by ramping up the gamma as you move past 50% saturation, but there's no escaping the fact that the LG X Power cannot display a great number of colors that every other phone can.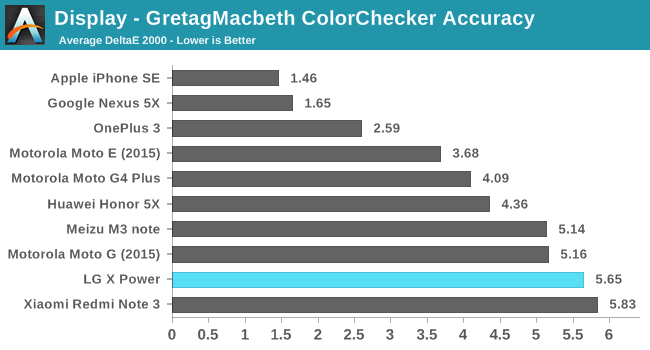 The issues with both the greyscale and saturation tests leave little chance of performing well in the GretagMacbeth ColorChecker test. The average error is 5.66, with both shades of grey and color mixtures exhibiting high levels of inaccuracy. Luminance is generally not the issue here; issues with chroma and hue are the main source of error, which makes sense when one considers the blue shifting in the greyscale and the narrow gamut.
I'm really disappointed by the LG X Power's display. I have no idea who at LG decided that it was acceptable to ship a narrow gamut display in a smartphone, but they were sorely mistaken. This display should never have been put in a 2016 smartphone, even a relatively inexpensive smartphone like the LG X Power which costs about $130. You've been able to get full sRGB coverage, 400+ nits of brightness, and a decent level of accuracy on $100 smartphones for nearly two years, so there's absolutely no excuse for LG shipping such a dim and dull display on the LG X Power.