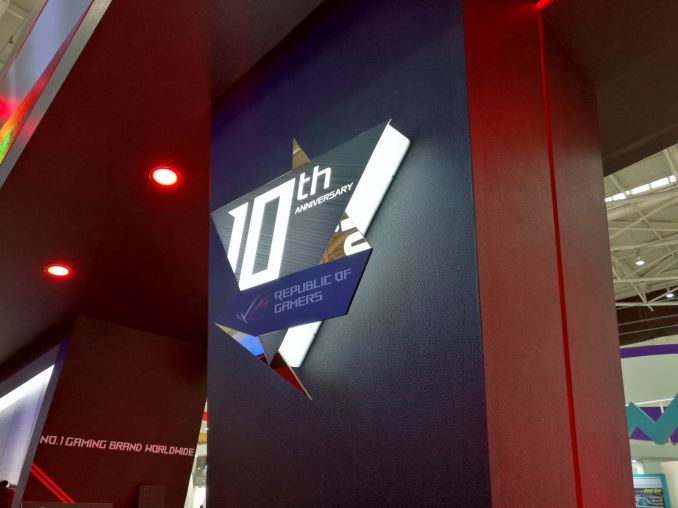 For anyone following our Live Blog coverage at Computex this year, ASUS had two large press events in quick succession in different parts of town. The first focused on the mobile lineup of launches, in an event called Zenvolution (playing off of the Zen line of products) where Jonney Shih played rapid fire with the new Zenbook 3, Transformer 3/Pro 3, ZenFone 3 devices, and a $599 home assistant robot called Zenbo. A few hours later, over the other side of town, was the annual Republic of Gamers event held in a local nightclub where Jonney Shih presented a sequence of 10th-anniversary products. The following day we made a bee-line to the show floor booth before the official opening time and went through a number of the major releases.
Marking 10 Years of ROG
We reported back in January and CES that ASUS was celebrating ten years of the Republic of Gamers brand, marking a now noticeably profitable success for the company and a very well-known fixture for users looking at gaming branded products. At the time, we headed up a round-table with two of AnandTech's most recent former Senior Motherboard Editors (who both now work at ASUS) to go into detail about why ROG exists, what it means for users, and I also put to them a dozen or so questions from our readers.
However at the time, CES was a relatively minor show for ASUS: as a company, it was decided to cancel the intended press events and make Computex a little more special, as anything announced at CES would have launched after Computex anyway. That led the way for Computex being the primary focus for the announcements this year, not only for the Zen product line of smartphones and notebooks, but also for the Republic of Gamers. We saw the announcement of a mix of 10 Year anniversary products, prototypes, and updates over previous generations of products. ASUS also wanted to make it special, and invited a series of 'super fans' to the show as well as a number of gaming teams that ASUS sponsors.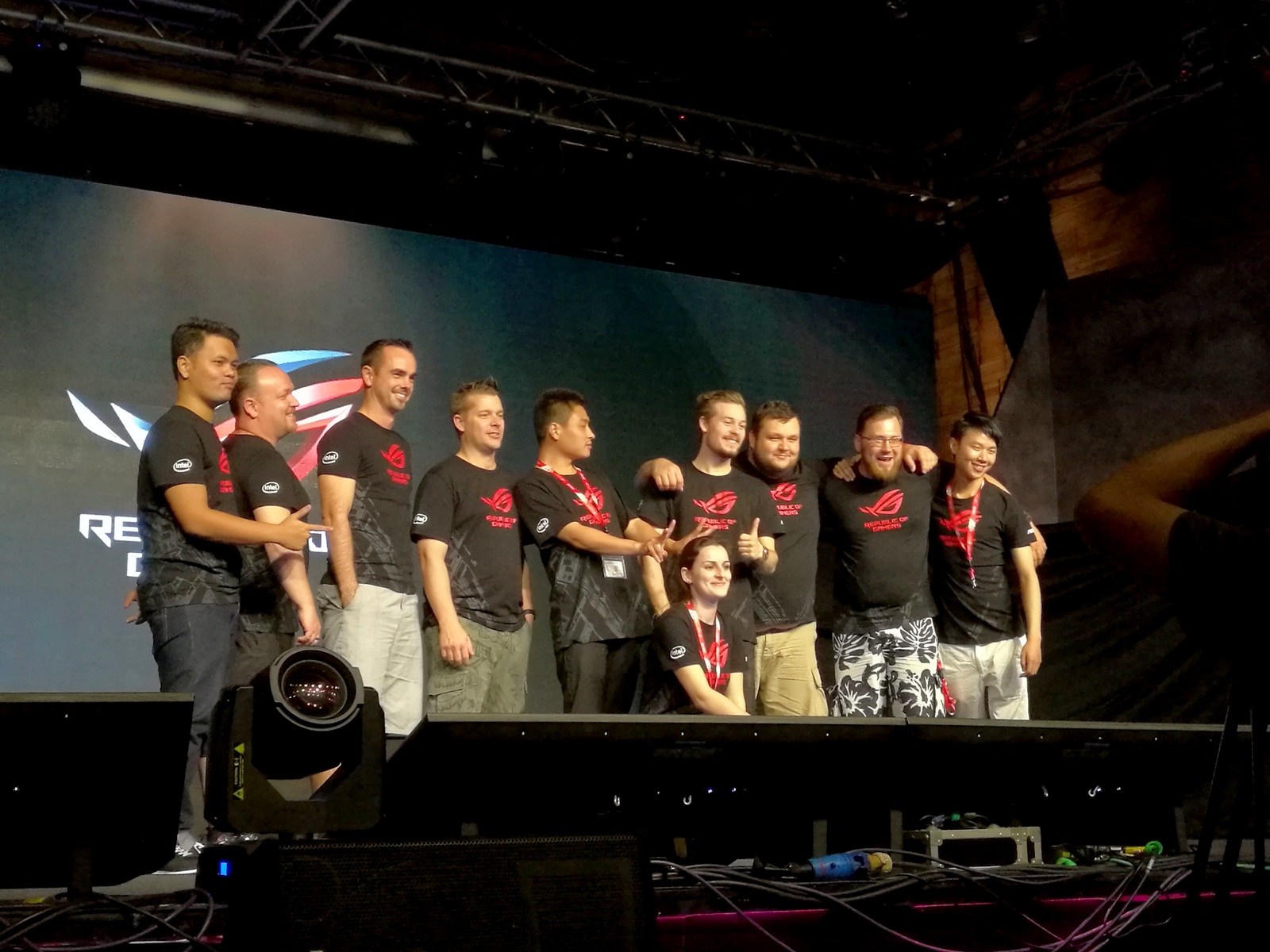 Among the super fans were a few overclockers, one of which is a former team member of mine in the most prominent overclocking leagues, as well as an ROG user who had acquired all (or almost all) of the ROG motherboards that have ever been released, with a total expenditure exceeding $10,000. He also had a few GPUs for good measure.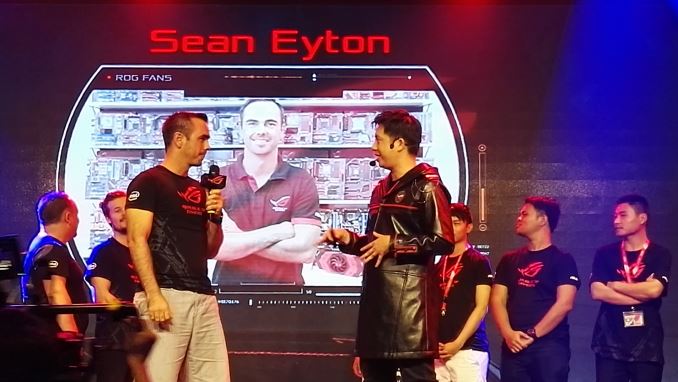 The ASUS '10 Years of ROG' press event felt somewhat eerie: if someone in attendance had no idea of what ROG was, it felt almost like a cult leader of an army, and sure enough ASUS' Chairman, Jonney Shih, came out in a knee length custom leather jacket, cap, and the title 'ROG Commander-in-Chief'. Follow lots of low-frequency bass lines, a laser and smoke show, and technology reveals by ROG Generals, and you might not realize that this is actually just a product launch. When it has one, every brand enjoys a loyal following when users invest their money into that brand or product line, and it was clear that ASUS enjoys extrapolating the ideals of their following to a user army-like status.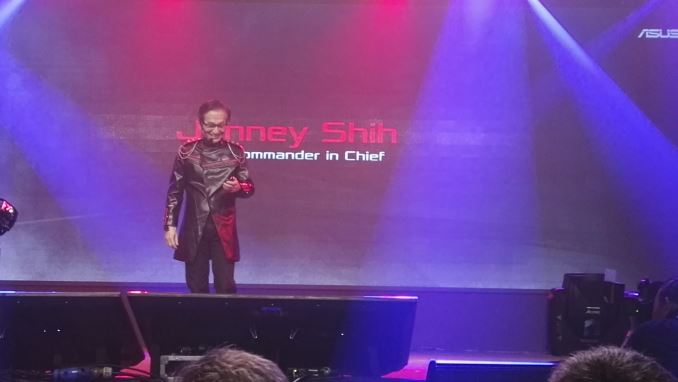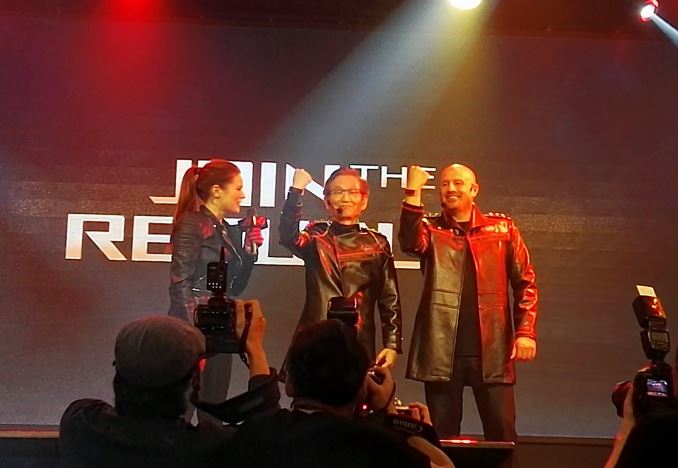 Nonetheless, the product announcements were thick, fast, and lacking in just enough detail to force the press to crowd the limited samples on hand on display in the nightclub. At the time when the press event finished, Billy went for a stroll around the new products (as all the other media charged the demonstration area) while I closed up a few emails, but we waited until the following day and was able to browse the ASUS ROG Booth before the official opening time and before the mêlée of other press descended on what felt like the biggest booth at the show.
We saw a number of new products, and a big part of the show in general was the attention to detail by users who modify cases (or modders for short) that companies commission special show builds for. ASUS had a number of these on display as well, ranging from elegant to crazy. This includes custom system-integrator and retailer designed systems, such as the newest tri-loop cooled 8Pack designed system claiming to be the fastest overclocked system you can buy in the world. We interviewed 8Pack at an OverclockersUK event a couple of years ago, which you can read here.
So, in no particular order…