GPU Performance
There have been significant increases in smartphone performance over the past few years, and this applies to all segments of the market. While it's not entirely clear what will come after Cortex A53 in the low end and mid range segments - Snapdragon 650 currently skews towards the higher-end of the market - it's a safe bet that CPU performance will continue to improve. GPU performance has also seen improvement, but perhaps not to the same degree as CPU performance. The GPU performance of low end devices isn't quite where I'd like it to be, although hopefully this will change with Snapdragon 415's entry into the market. For the time being, GPU performance is something that separates mid range devices like the Honor 5X with its Adreno 405 GPU from lower end devices like the Moto E and even the Moto G which use Adreno 306.
Since Adreno 405 is very well known by this point, and there are fewer software related factors to influence GPU performance than CPU performance, I'm really not expecting any significant deviation from the performance of other phones with the same GPU. However, with the Honor 5X pushing a 1080p display it is interesting to see how the performance when running at native resolution is impacted when moving from a 720p to 1080p display.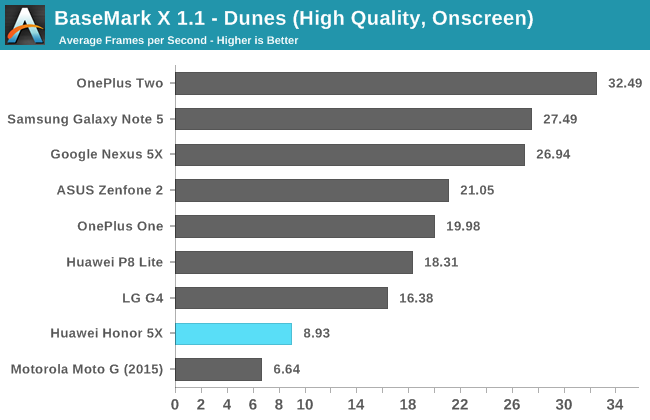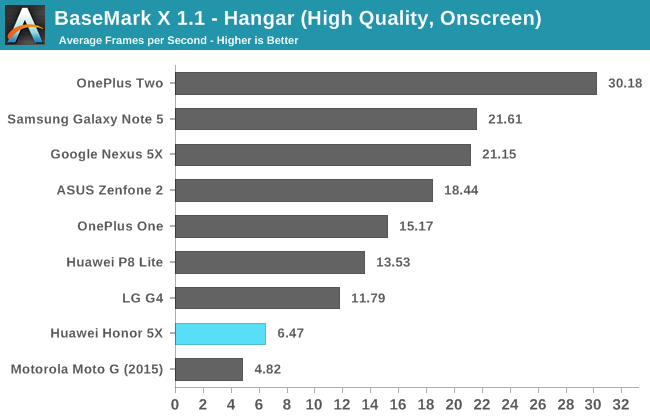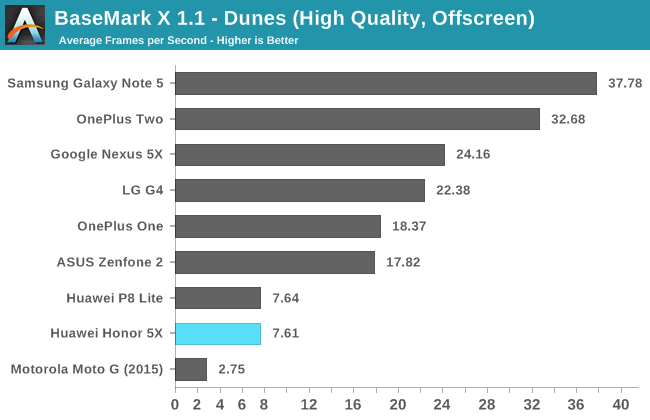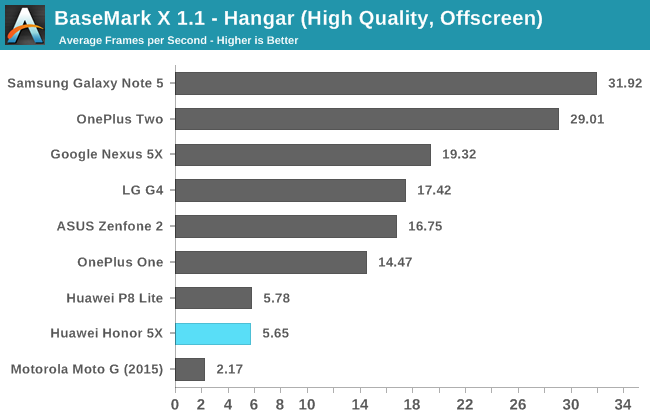 As expected, the Honor 5X tracks extremely closely with the P8 Lite in BaseMark X's off screen tests. Compared to the Moto G which uses Adreno 306 we see that the Honor 5X is roughly 2.7x faster on average, which is a very significant performance improvement.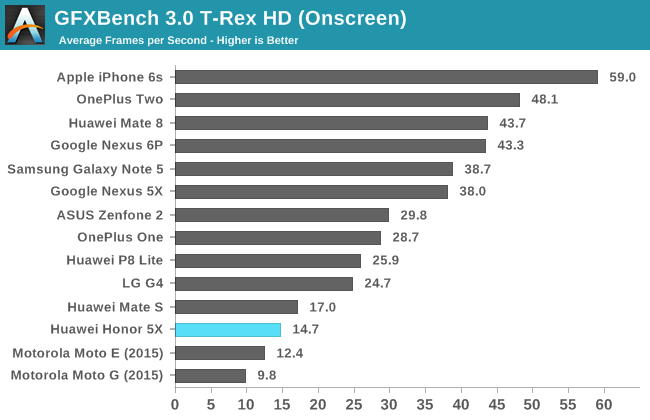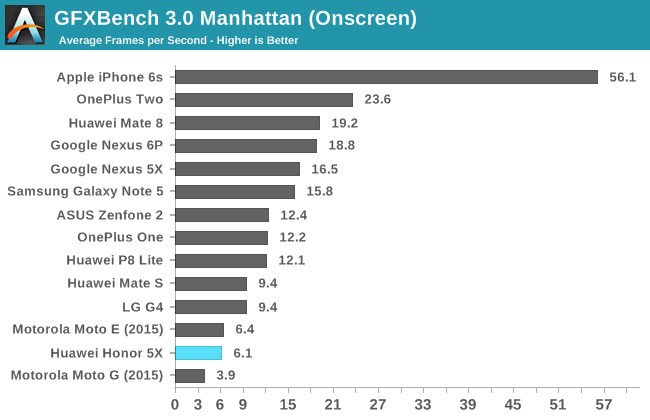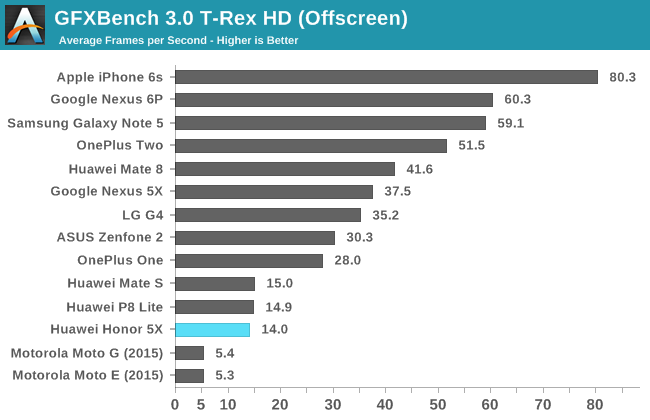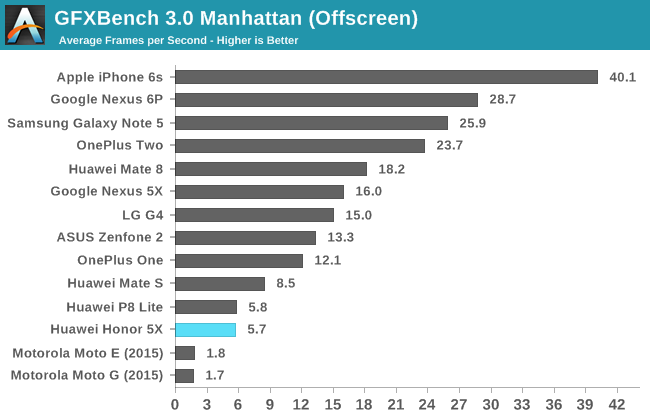 Like the results from BaseMark X, Adreno 405 performs anywhere from 2-3x better than Adreno 305/306 in GFXBench 3.0. On screen results are lower than the P8 Lite due to the Honor 5X's higher resolution display, but off screen results are essentially identical. It's worth noting that T-Rex HD is a pretty old test by now, and these mid range and low end smartphones aren't able to get anywhere close to playable frame rates at their native resolutions. Displays have definitely outpaced GPU improvements in this segment of the market, and it'll take quite a while for the GPUs to catch up.
It's interesting to note that the anomalous ASUS Zenfone 2 is still way more powerful than anything else at $200, including the Honor 5X. However, ASUS's relationship with Intel puts them in a special position, and relative to the average $200 smartphone I think the Honor 5X is about as good as it gets for GPU performance.
NAND Performance
Considering that many high end smartphones haven't moved to UFS or other high performance storage solutions, it's a safe bet that eMMC is going to stick around in mid range and low end smartphones for the foreseeable future. We've already seen how devices shipping with slower storage controllers can be bottlenecked by slow storage performance, and this is an even larger problem among less expensive smartphones where it's just not feasible to include the best NAND solution on the market. Huawei themselves has had issues with NAND performance in the past, and they've improved significantly with recent smartphones, so one would hope that this holds true for the Honor 5X as well.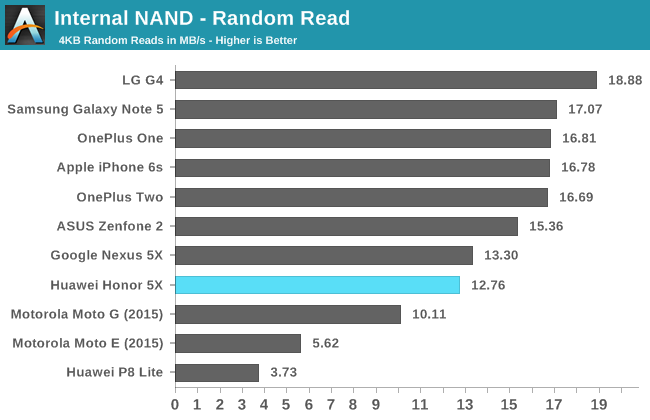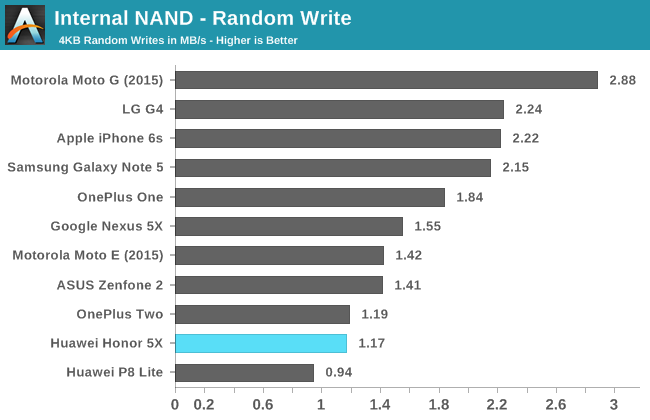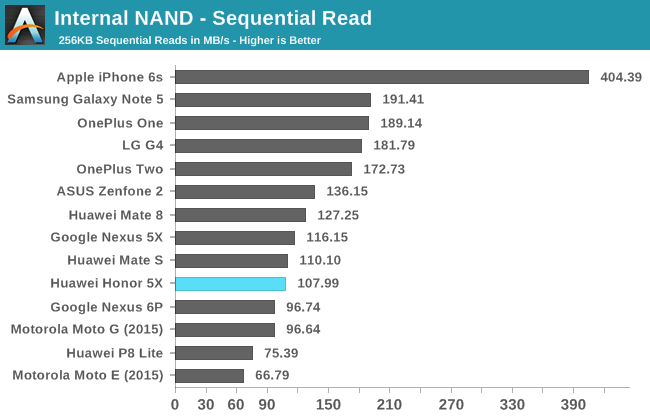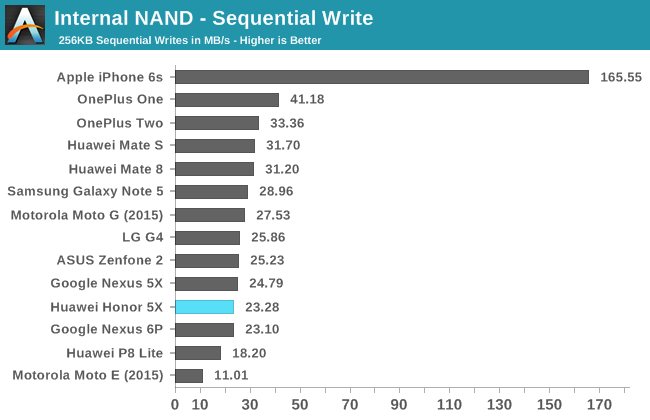 The Honor 5X's NAND performance is in line with what you get from other low end and mid range smartphones. You can't really expect mind blowing NAND performance from these devices, but one can hope that we're at the point where the NAND is fast enough to not be the bottleneck in the system. There's significant improvements across the board compared to the P8 Lite, which is good to see as the P8 Lite performed extremely poorly for a $250 device. I think many of these mid range devices could stand to improve on random write speeds, but that's a more general discussion for another time.