As a consumer, more competition can be a good thing. Competition in manufacturing brings innovation and might help drive core pricing down, whereas competition in selling pits retailers against each other to see who will accept the lowest profit margin. In the US, Newegg is a big name when it comes to computer components and pre-built PCs, but also sells hand blenders, sporting goods and toys. It also allows third-party sellers to get in on the act, and as such you can navigate to Newegg to purchase a dust pan and brush.
For users outside the US, sometimes Newegg's deals seem almost ridiculous. Part of that is because of the different tax regime, but sometimes there are US only parts (laptops spring to mind) that are unavailable elsewhere. Back at Mobile World Congress in February, I met with Newegg. I was told (with glee) that Newegg would be coming to Europe and other regions over the course of the next few months. Last week the official announcement was made: Newegg is now selling to the UK and Australia. If I log in to Newegg today I can get UK pricing: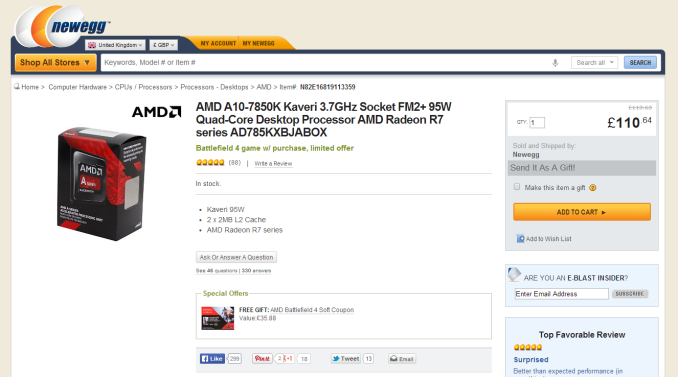 All promotional codes I can find seem to work with any UK purchase. There are some initial downsides, mostly related to import tax. The price you see on the product page is not necessarily the price you pay.
In the UK, when importing goods from outside of Europe, the government (via the postal service) will levy up to a 20% tax plus an admin fee. For those in the US, normally the price we see is the price we pay in the UK, so that might come as a shock to UK buyers. Eligible items will show as above with the pricing and an 'add to cart'. Shipping, as you might imagine coming from the US, is not free. But moving through to the checkout adds the following: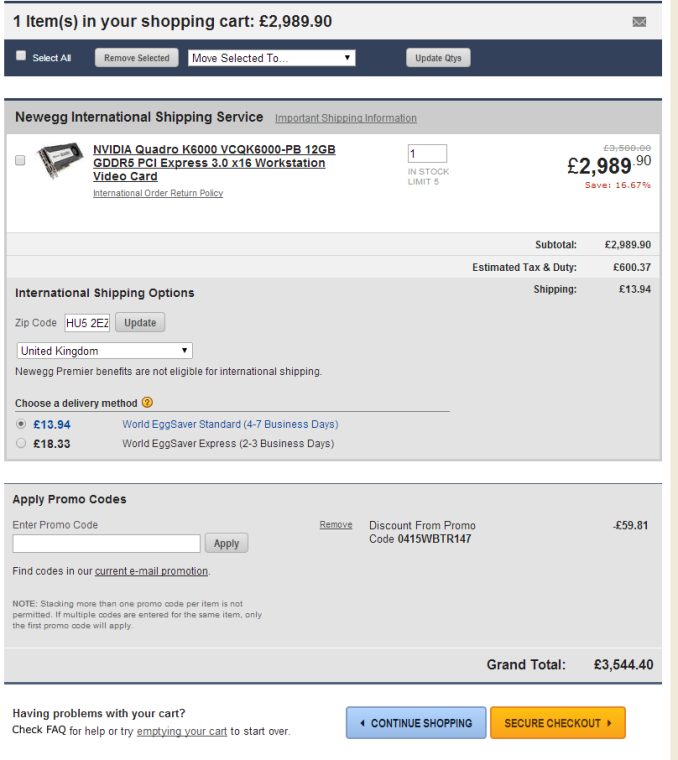 As you see here, the K6000 is normally £3500, but reduced to £2989.90 due to a Newegg sale. The tax and duty comes to £600.37, with £13.94 shipping and discount code brings the total to £3544.40, just above the original price. The way Newegg will work is that they will charge the consumer in advance for taxes and duties so that items will not be held in customs and delivery targets can be met. Hopefully this will be met by the delivery services and any discrepancies will not cause issues to the buyer. I notice that tax from the shipping cost is not taken into account. I have been charged tax on shipping to the UK before, and I discussed this with Newegg. Newegg stated that the aim is to include all the costs at the point of sale, such that items are quickly sent through to the buyer.
Distance selling is stage one of Newegg's expansion, with further stages to come. These stages should be centered around selling to the rest of Europe, as well as locating a warehouse in the region. Newegg has not given me any definite indication of what the plans are or timeframe for such plans, but the end goal is to bring what is sold in the US to the global market.
One question that I have seen asked since this news was released is whether the market (in the UK at least) needs another retailer. This goes double for one aiming to sell long distance. Without a specific deal at Newegg, most items (or the several I had looked at) work out around the same price (due to taxes) but take a few days longer to post, and thus it makes more sense to purchase locally. For those rare items that we cannot get in the UK, at least there is now an outlet. But with SCAN, OverclockersUK, Aria, Dabs, eBuyer and even Amazon in the mix, it might be hard for Newegg to gain a profitable foothold beyond distance selling.
Currently Newegg is offering a small selection through the website, with aims to expand the offering during the course of 2014. This will include access to Rosewill, Newegg's in-house brand. More information can be found via Newegg's blog post about the expansion.