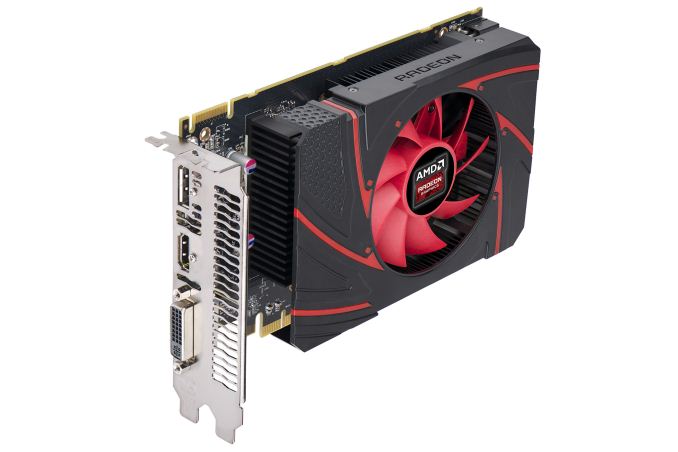 Squeezing in one final product announcement before the end of the year, today AMD is announcing the latest addition to the Radeon R7 family and the counterpart to the existing R7 260X, the R7 260. The R7 260 will be the near-obligatory lower tier part for the R7 260 series, featuring a lower performance Bonaire part in order to further bring down the price of Bonaire and fill in the gap between 260X and 250.
Looking quickly at the specs, whereas R7 260X is a fully enabled Bonaire part, R7 260 will be a cut down version of Bonaire, making it the first time AMD has shipped Bonaire in a less than full configuration. AMD has cut off two CUs, bringing the SP count down to 768 SPs and the texture unit count down to 48. Meanwhile clockspeeds have also been reined in slightly, with 260 topping out at 1GHz for the GPU clock and 6GHz for the memory clock. This puts theoretical performance at around 80% of 260X in GPU bound scenarios, and 92% in memory bound scenarios.
Unfortunately, but as to be expected, memory capacity will also be taking a hit to meet AMD's price requirements. For the 260 AMD and will be outfitting the card with 1GB of VRAM versus 2GB on the 260X. The 260X was just fast enough to benefit from 2GB, so we expect that the 260 will be in something of a twilight zone in that respect, being a good fit for 1GB in some scenarios and capable of putting 2GB to good use in other scenarios.
AMD GPU Specification Comparison
AMD Radeon R9 270
AMD Radeon R7 260X
AMD Radeon R7 260
AMD Radeon HD 7770
Stream Processors
1280
896
768
640
Texture Units
80
56
48
40
ROPs
32
16
16
16
Core Clock
900MHz
?
?
1000MHz
Boost Clock
925MHz
1100MHz
1000MHz
N/A
Memory Clock
5.6GHz GDDR5
6.5GHz GDDR5
6GHz GDDR5
4.5GHz GDDR5
Memory Bus Width
256-bit
128-bit
128-bit
128-bit
VRAM
2GB
2GB
1GB
1GB
FP64
1/16
1/16
1/16
1/16
TrueAudio
N
Y
Y
N
Transistor Count
2.8B
2.08B
2.08B
1.5B
Typical Board Power
150W
115W
95W
100W
Manufacturing Process
TSMC 28nm
TSMC 28nm
TSMC 28nm
TSMC 28nm
Architecture
GCN 1.0
GCN 1.1
GCN 1.1
GCN 1.0
GPU
Pitcairn
Bonaire
Bonaire
Cape Verde
Launch Date
11/13/13
10/11/13
01/14/14 (Est)
02/15/12
Launch Price
$179
$139
$109
$159
Going hand-in-hand with lower performance will be lower power consumption. AMD's official specifications state that power consumption for 260 is 95W, down from 115W on 260X. This means 260 will still require 1 PCIe power connector – Bonaire's simply too big for sub-75W operation in a desktop SKU – but it will still be felt in very low power builds where every watt matters.
Meanwhile in an unusual move, AMD is announcing the 260 now, but won't be launching it until "mid-January", almost exactly a month from now. AMD doesn't typically announce mainstream/value cards ahead of time, and admittedly we're at a bit of a loss as to why they're doing this now given the approaching holidays. Cards at this end of the spectrum don't have the same pent-up demand as on the high-end, so AMD doesn't have to contend with the rumor mill and price/positioning challenges as they do at the high-end as exemplified by the 290 series.
In any case, while the 260 won't be available until next month AMD has already announced the product's MSRP, placing it at $109. This is $30 less than the 260X and about $20 more than the R7 250, closing that relatively significant gap in AMD's 200 series product lineup. At this price the 260 finally replaces the 7770, which has been retailing around $110 for the last few months. This is one of the few cases where AMD will be outright replacing a GCN 1.0 part with a GCN 1.1 part, with 260 bringing with it TrueAudio and power management functionality that the Cape Verde based 7770 did not feature.
Elsewhere, at $109 the expected competition will be NVIDIA's GTX 650 and GTX 650 Ti, both of which regularly hover near that price point depending on what rebates are involved. As a reminder the bulk of AMD's discrete video card business is below $150, so while cards like the 260 don't attract the same level of glory or attention as high-end cards, from a volume standpoint they're AMD's bread and butter and are positioned accordingly.
Finally, as is usually the case for parts in this price range this is a pure "virtual" SKU from the start, so while AMD has a reference solution for testing and validation (pictured above), partners will be doing custom designs right away. We don't have any further product details in-hand yet, but we'd expect all of these to be dual slot open air coolers, similar to the reference design and other cards in this power range.