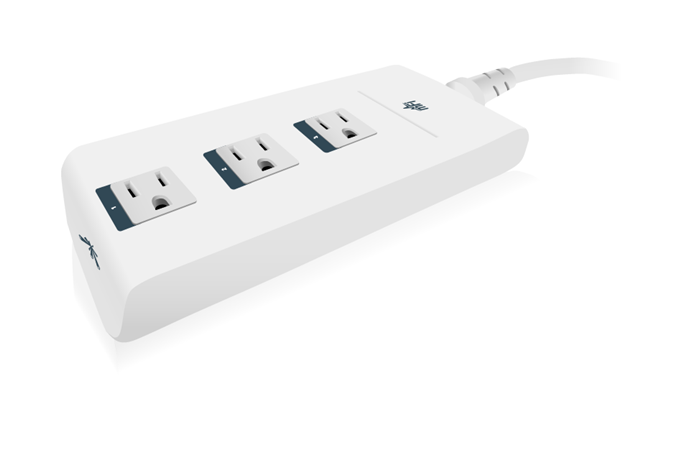 Introduction
The Internet of Things (IoT) revolution is happening right now. As smartphones proliferate, consumers want the ability to control devices in an automated and easy manner. Remotely switching a power outlet is one of the basic building blocks of an automation system (home or business building). Last year, we reviewed Visible Energy's UFO Power Center, a standalone device which combined energy awareness and home automation in a striking package. Today, we are looking at Ubiquiti's mPower mFi power strip. This is a device with similar features (ability to turn on/off an outlet over a wireless network and measure the power consumed by a device connected to an outlet). However, it caters to a very different market segment.
Ubiquiti Networks - Background
Ubiquiti Networks started off as a manufacturer of wireless products for enterprises, aiming mainly at emerging markets. We have generally found that their kits cost much lower than the competition (and it is attributed mainly to the fact that they don't employ a dedicated sales / marketing team). A couple of years ago, Ubiquiti started looking into expanding their product portfolio. One of the under-served product categories amongst businesses (Ubiquiti's target customers) is that of building automation. As home automation picks up steam, building automation (a term that I will use to talk about home automation technologies from the perspective of an office building) can be expected to follow. Ubiquiti launched the mFi product category to catch this wave. Ubiquiti calls the mFi as the reinvention of machine-to-machine (M2M) communication.
mFi - A Platform for Building Automation
The mFi product category consists of three main products, the mPort, mPort Serial and mPower. A number of sensors (under the mSensor category) are also included, and these interface with the mPort units through a Cat 5 cable. These include door sensors, motion detectors (both wall and ceiling varieties), temperature and current sensors. The mPort Serial provides a remote serial connection for any other devices controllable through a serial interface. Control of multiple such devices is integrated in a management software called mFi. Written in Java, it is compatible with multiple platforms.
Introducing the mPower
The product we are going to cover in detail today is the mPower. It comes in three variants, all of which support connection to a Wi-Fi network. The fundamental difference is in the number of switchable outlets. The mPower Mini has one, the mPower has three and the mPower Pro has eight. The mPower Pro also has a wired network port. Simply put, the mPower units allow the outlets to be turned on / off over the network using the mFi management software as well as a web interface. Essential statistics about each outlet (VRMS, IRMS, power factor and active power) are also reported through both avenues.
The mPower retails for around $60. The mFi controller software is bundled free with the unit. The mPower Pro (8-outlet version) retails for around $100, which represents better value per outlet. However, the Pro units were not easy to source since Ubiquiti had some supply constraints. Ubiquiti's products are not present in the usual retail channels. Instead, they are sold by B2B vendors (who sometimes have a presence on Amazon). The specifications of the mPower, as provided by Ubiquiti, are presented in the table below.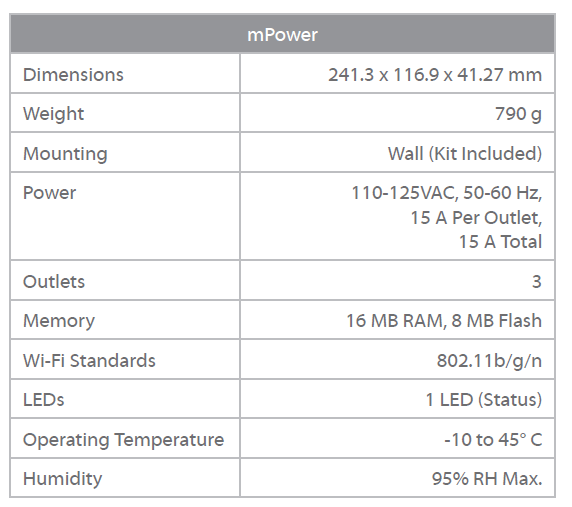 In the remainder of this piece, we will look at the setup and usage impressions, followed by details of the mPower platform. We will also present one of our custom applications developed for the mPower, thanks to its open platform. This will be followed by a few concluding remarks summarizing the pros and cons of the unit.