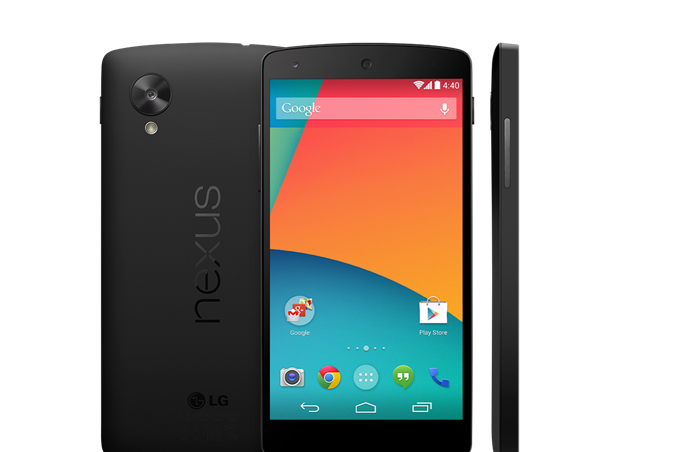 It's been leaked, teased, and practically dissected for a while now, but today Google is finally making the Nexus 4's successor official. The Nexus 5 is finally formally announced, and it looks as though all of the initial information we had about it was indeed spot-on. Starting today, the Nexus 5 is available for purchase on Google Play for $349 (16 GB) and $399 (32 GB) in either black or white in the US, Canada, France, Germany, Italy, Spain, U.K., Australia, Korea and Japan, followed by offline availability (non Google Play) in Europe, Central/South Americas, Asia, CIS and the Middle East will begin in mid-November.
Let's start with the device itself. Although Nexus 5 is the spiritual successor to the Nexus 4, its industrial design borrows a lot from the recently announced Nexus 7. The two share a similar rotated landscape "nexus" logo emblazoned on the back, and are simple plastic with soft touch finishes. The Nexus 5 also appears to eschew the shaped, rounded glass edges which were very highly praised on the Nexus 4 for a more traditional flat panel and lip approach. Although the Nexus 5 does appear to share a lot of its hardware platform with the LG G2, there's no rear mounted buttons or emphasis on narrow bezel, rather the Nexus 5 appears to be a lot more pragmatic.
LG Nexus 5
SoC
Qualcomm Snapdragon 800 (MSM8974)
4x Krait 400 2.3 GHz, Adreno 330 GPU 450 MHz
Display
4.95-inch IPS-LCD 1920x1080 Full HD
RAM
2GB LPDDR3 800 MHz
WiFi
802.11a/b/g/n/ac, BT 4.0
Storage
16/32 GB internal
I/O
microUSB 2.0, 3.5mm headphone, NFC, SlimPort,
Wireless Charging (Qi)
OS
Android 4.4 KitKat
Battery
2300 mAh (8.74 Whr) Internal
Size / Mass
137.84 x 69.17 x 8.59mm
Camera
8 MP with OIS and Flash (Rear Facing)
2.1 MP Full HD (Front Facing)
Cellular Banding
(D820) North America: GSM: 850/900/1800/1900 MHz
CDMA: Band Class: 0/1/10
WCDMA: Bands: 1/2/4/5/6/8/19
LTE: Bands: 1/2/4/5/17/19/25/26/41

(D821) Rest of World: GSM: 850/900/1800/1900 MHz
WCDMA: Bands: 1/2/4/5/6/8
LTE: Bands: 1/3/5/7/8/20
True to its name, the Nexus 5 is topped with a 5-inch 1080p LCD display, a step up from the 4.7-inch 1280x768 display which was in the Nexus 4, and following with the ever inflating display size trend. The display also boasts in-cell touch which we've come to expect this generation.
Dimensions show the Nexus 5 getting roughly 4 mm taller and 0.47 mm wider, but thickness actually decreases by 0.51 mm and weight by 9 grams versus its predecessor. Platform is based on a Snapdragon 800 (MSM8974) SoC running at the higher 2.3 GHz bin we've seen before, with Adreno 330 graphics and the same 2 GB of LPDDR3 at 800 MHz we saw in the LG G2. This isn't the 8974AB with 550 MHz Adreno 330 clocks which it still is a bit early for. On the camera side there's an 8 MP rear facing camera (no word on optical format or pixel size quite yet), but it does include the same LG Innotek module with OIS from the G2, it just has an 8 MP CMOS behind it. There's still photo sphere for 360 degree stitched panoramas, in addition the Nexus 5 adds a new HDR+ mode which fuses simultaneously captured images into one HDR image, though I'm not sure how this differs from existing HDR options.
Storage also moves up a notch to 16 and 32 GB options, something the Nexus 4 was criticized for skimping on with its 8 and 16 GB options, oh and there's obviously no SD card support since this is a Nexus device. Battery is the 2300 mAh 3.8V capacity we suspected, which works out to 8.74 watt hours, although one thing the Nexus 5 has over the G2 that it seems to share a platform with is a QFE1100 envelope tracker which offers 20 percent power savings on the cellular power amplifiers.
On the LTE side we see the FCC leaks and schematics leaks were spot on. There's a considerable set of LTE band coverage for the USA, including Band 17 and 4 for AT&T, Band 4 for T-Mobile, and 25, 26, and 41 for Sprint (making this another Sprint Spark device), and of course LTE roaming band equivalency with the pentaband WCDMA we've come to expect with newer devices. The only thing that's missing on the USA variant is no Verizon (which should not be a surprise to anyone), and no Band 7 for Canada. Just like the new Nexus 7 LTE situation, there's two variants, as I speculated publicly online (LG-D820 is USA, LG-D821 is rest of world), and the rest of world variant has the obligatory Band 3, 7, 20, and so on that makes sense for most markets. This is a dramatic step up from the Nexus 4 which only included hidden Band 4 LTE with appropriate baseband software.
Of course, the Nexus 5 comes with Android 4.4 KitKat, which includes a new dialer that offers suggestions and Caller ID by Google with business matching. In addition the rumors about Hangouts were true, which now supports sending and receiving text messages directly. Similar to the Moto X there's now also the ability to search by saying "OK Google," though I'm not sure if this also is possible with the device in a screen-off mode (Update: from the home screen).
Google made the Android 4.4 platform highlights page live, and we have some details as well. On the Android 4.4 KitKat front, there's now more emphasis on optimizations for devices with smaller amounts of RAM, specifically 512 MB devices. I had heard about this rumor a while ago and there are now tools for developers to detect when they're running applications on devices with low memory and accordingly manage processes. OEMs now also have greater liberty to change things for lower-end devices with less RAM. On the NFC side, there's now support for host card emulation, allowing applications to put the NFC controller in a mode that emulates a card for purposes like transit passes or loyalty programs. Android also now adds support for a printing framework with support for PDF export, Google cloud print, and local WiFi printing services. Also new are lower power sensor batching modes which helps keep the AP in a low power state longer, and new step detector and step counter sensor support. There's also of course the new SMS provider for allowing third party applications to deliver and receive SMS messages. WebView has also changed to Chromium from WebKit finally, and includes a new version of V8 for JavaScript.
Google will update Nexus 4, 7, 10, the Samsung Galaxy S4 and HTC One Google Play edition devices to KitKat with an OTA update in the coming weeks, signaling EOL status of the Galaxy Nexus. As an aside it would've been quite in-line with Google's stated 512 MB platform target if 4.4 had come to both Nexus S and Galaxy Nexus devices as well.
We're incredibly excited about the Nexus 5 and hope to have the full review as soon as possible.
Source: Google