The mini-ITX motherboard market seems like a fast growing segment. It has many applications in terms of small home servers, work machines, HTPC devices, mobile gaming desktop machines, and much more. With most home users / non-enthusiasts using only one PCIe device and perhaps 1-2 SATA ports, a mini-ITX board makes perfect sense for a smaller system and perhaps a lower power footprint. In this review, we take five of the Z77 mITX boards on the market today for a grand sweep using the HD 4000 enabled i3-3225. Enter into the test bed the MSI Z77IA-E53, the Zotac Z77-ITX WiFi, the ASRock Z77E-ITX, the EVGA Z77 Stinger and the ASUS P8Z77-I Deluxe.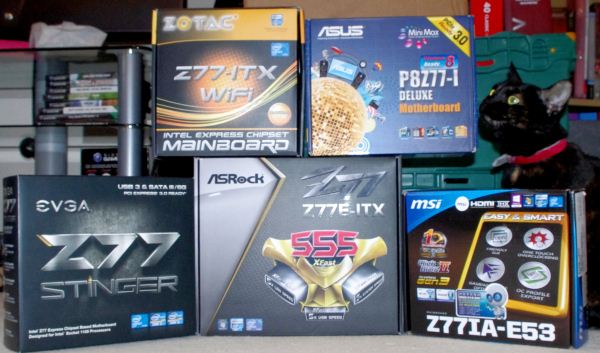 I can haz mini-ITX?
Basic Design of a mini-ITX
When a motherboard manufacturer chooses to design a mini-ITX board, a lot of questions come in to play, as with any motherboard production. Ultimately it comes down to the market they wish to target, where it may sell the most units, and how much of a margin can it make while still being a competitive product. As we noted with the Gigabyte H77N-WiFi, sometimes a motherboard will be commissioned by a system integrator, then the design will be put on general sale. In the case of Gigabyte, an Asian buyer had specific requirements regarding ports, controllers and socket location – Gigabyte made this motherboard and then decided to also sell it world-wide. In this scenario, the intended market has already been sold to – any additional sales are a positive step for the product.
The mini-ITX form factor measures 17 cm x 17 cm (6.69" x 6.69"), thus PCB space is at a premium in order to put all the Z77 chipset functionality on board. Some features are fixed, such as the socket and chipset area required on board. The rest is up to the manufacturer. Some questions to consider are:
- PCIe x16 or something smaller?
- Full sized DDR3 or SO-DIMM?
- How many SATA ports from the Chipset, do we add controllers?
- How many USB ports from the Chipset, do we add controllers?
- What choice of Audio/Network?
- What video connectivity for the IO?
- Where to put the battery?
- What are our core priorities?
These are not trivial answers. Change one and you have an entirely different product which could be aimed at a different market. As a result of these questions, we end up with a variety of different products in this review.
The Z77 chipset, by default, has the option to provide the following:
- Any three digital video outputs plus one analogue output (despite only certain combinations being usable in multi-monitor setups)
- Up to two SATA 6 Gbps ports
- Up to four SATA 3 Gbps ports
- Up to four USB 3.0 ports
- Up to twelve USB 2.0 ports
In many of the motherboards in this review, we will see different combinations of the video outputs, with some doubling up on HDMI, or others combining DVI-D and VGA to make a combined DVI-I port. Every motherboard uses the two SATA 6 Gbps from the chipset, but at least one board uses a SATA 6 Gbps controller for a pair of eSATA ports on the IO panel. Most motherboards use only two out of the four SATA 3 Gbps ports on offer – sometimes one of the extra ones gets partitioned into an mSATA. Every motherboard uses all four USB 3.0 ports, sometimes in the form of an onboard header, or perhaps an extra controller is used to push the total up to six. No motherboard uses all the USB 2.0 ports, and makes a conservative estimate as to how many headers would be considered reasonable usage in a mITX case.
No one board is a catch-all scenario. There will be readers here that will have a different take on these motherboards than I do depending on how they want to use these products, and hopefully both opinions will be respected. If you are in the market for a mITX motherboard, I highly suggest thinking of a list of features you cannot do without – such as network controller, audio codec, numbers of ports, what sort of CPU cooler or GPU you will be using, or how long your PSU power cables are, for example. Each board has a different take, and the one that fits your scenario may not be one that I recommend, due to reasons XYZ that I found during testing.
A Side Note about Overclocking
While one of the features of the Z77 platform over H77 is overclocking, this is a little at odds with the mITX premise. Small form factor scenarios do not often react well with heat, especially paired with inadequate cooling or large heat producing GPUs. As detailed in several of Dustin's ITX case reviews, sources of localized temperature may not always be a good thing, especially when paring it with smaller cases, or even hitting the high 90s Celsius with the Bitfenix Prodigy. With the Antek ISK 100 case for example, only the integrated graphics will be of use. There will be some users that will use a mITX with some epic cooling system with their i7-3770K or similar, I will admit. But for this review, to keep in line with our previous 7-series mITX motherboard reviews, we are using the HD 4000 enabled i3-3225. It offers direct competition to the A10-5800K in terms of CPU power, and should be a fun battle now we have more data points for comparison.
It should be noted that I thoroughly enjoyed testing these motherboards and many thanks to MSI, Zotac, ASRock, EVGA and ASUS for participating in our roundup. First up is the MSI Z77IA-E53.