We're hard at work on our review on the new iPad but with a fair bit of display analysis under our belts I thought a quick post might be in order. One of the major features of the new iPad is its 2048 x 1536 Retina Display. Apple kept the dimensions of the display the same as the previous two iPad models, but doubled the horizontal and vertical resolution resulting in a 4x increase in pixels. As display size remained unchanged, pixel density went through the roof: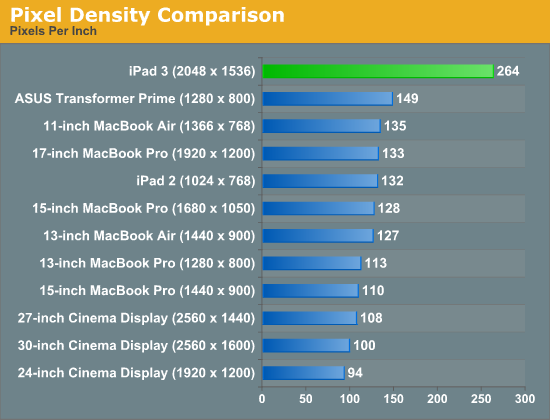 Although the iPad 2 has a fairly high pixel density compared to most of Apple's Mac/display lineup, you're more likely to hold a tablet closer to your eyes which made the low resolution/pixel density problematic. The new iPad addresses this issue as you can see from the chart above. I can't focus closely enough to the panel to actually make out pixels on the new iPad, much less at a normal viewing distance. With the aid of a macro lens we can definitely identify individual pixels. The improvement over the iPad 2 display is striking: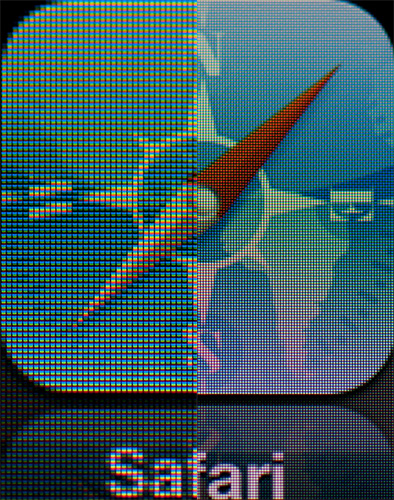 To the left we have the original 1024 x 768 panel, and to the right we have the new Retina Display. At this distance you can still identify individual pixels, an ability that quickly vanishes at normal viewing distances. The Music app icon is an even better example of what you gain from the newer display as it has more high contrast edges that appear more aliased on the 1024 x 768 panel: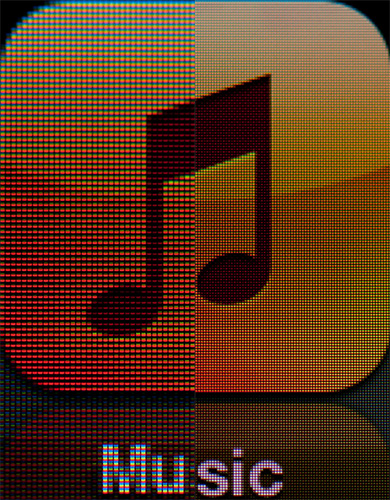 The old iPad's 1024 x 768 resolution was fairly bothersome when it came to reading text on web pages or books. Most Android tablets standardizing on 1280 x 800 offered an advantage in that respect, albeit not delivering significantly higher pixel density. The new iPad completely resolves this issue. Hover over the links below to see roughly the same paragraph of text from our retail Radeon HD 7870 review on the iPad 2, new iPad and ASUS Transformer Prime: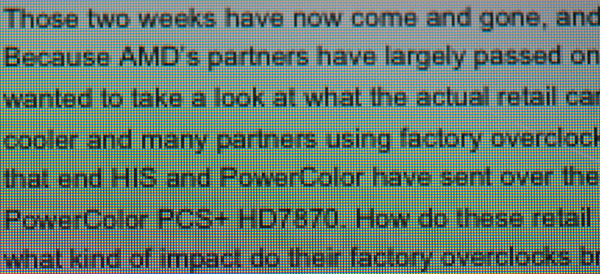 While it's still obvious that you're looking at a screen and not an e-ink display, the pixels perform a good disappearing act on the new iPad.