Audio and Video Formats and Options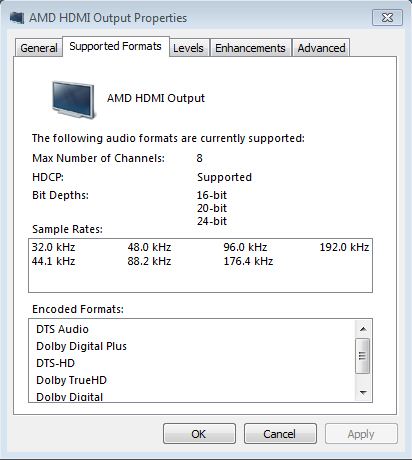 AMD was the first to add HD audio support to its discrete GPU lineup, but limited its integrated solutions to S/PDIF like performance (stereo PCM and Dolby Digital/DTS bitstreaming). The Fusion family of APUs changes that, with their integrated HDMI audio solution finally matching the feature set introduced in Intel's previous generation "Clarkdale" IGP. HD bitstreaming was tested with the currently available versions of commercial BD players including CyberLink PowerDVD 10/11, Corel WinDVD 2010, and Arcsoft Total Media Theatre (TMT) 5. We also tested with the FOSS DirectShow filters ffdshow and LAV Audio. Each option performed as expected, with the exception of the current "gold" release of TMT (5.0.1.87); that requires a patch, scheduled for release in early June, to bitstream HD formats. Multi-channel LPCM is supported, so that is a lossless workaround available to current owners. It should be noted, however, that like many other PC platforms, audio intended for the left/right surrounds is incorrectly mapped to the left/right rear surrounds when playing 5.1 content in a 7.1 configuration.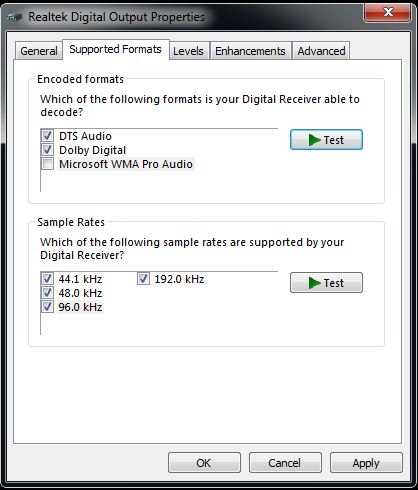 Rounding out the audio options, the ZBOX also includes an optical S/PDIF (TOSLINK) output on the system for those without an HDMI equipped AVR. The TOSLINK provides Dolby Digital, DTS, WMAPro, and stereo PCM. WMAPro requires support from the AVR, which the Denon AVR-1909 used in testing does not provide.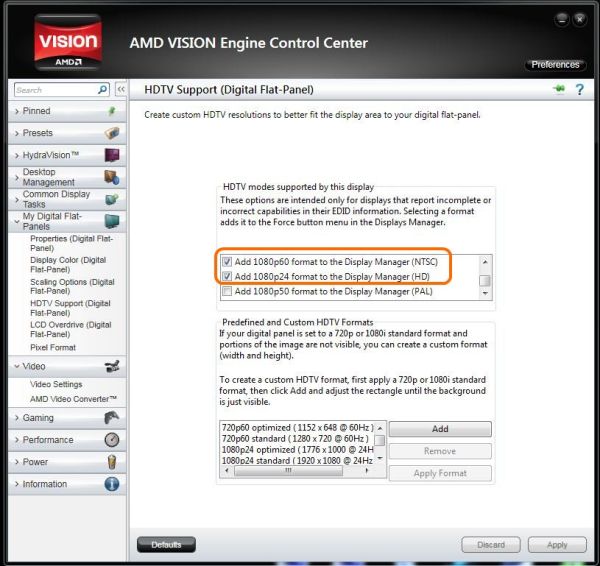 The AD03BR-PLUS-U was tested with an HDMI equipped Panasonic TC-P58VT25 plasma and an older Samsung HLN437W DLP via DVI. Both displays were properly detected when connected, with the correct resolution/refresh rates available in the configuration utility. If your HDTV has missing resolutions, it should be possible to add them using the screen displayed above.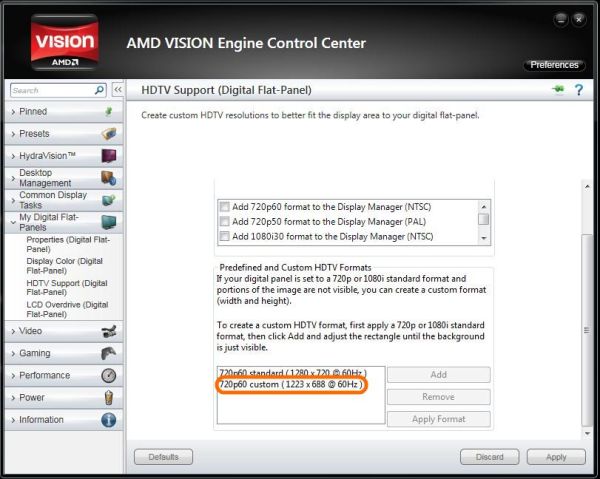 Like all rear-projection TVs, the Samsung DLP does not have a 1-to-1 pixel mode, so 1280x720 (720p) displays with a slight overscan. AMD provides the ability to create a custom resolution, found lower down the same configuration screen, and it's very easy to use for those who want to make the entire desktop visible.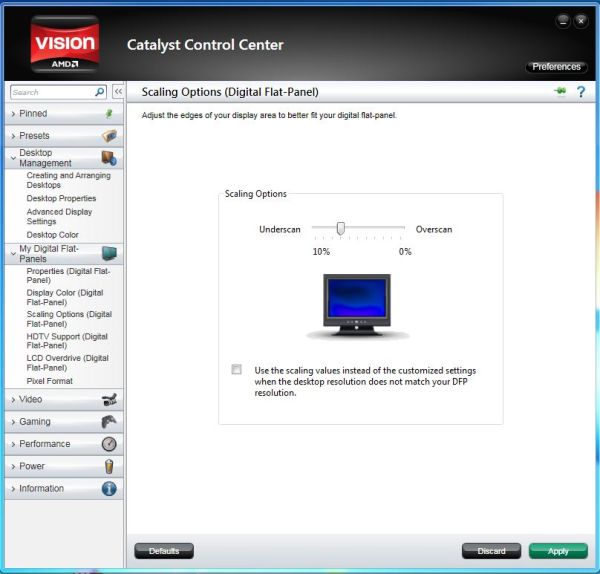 Unfortunately, AMD assumes that every display is not set to natively map pixels (which to be fair, most TVs do not by default), so the first time it was connected to the Panasonic the opposite correction was required. Interestingly, this setting must be set per refresh rate. When switching from 59Hz to 23Hz before watching a movie I had to adjust it a second time.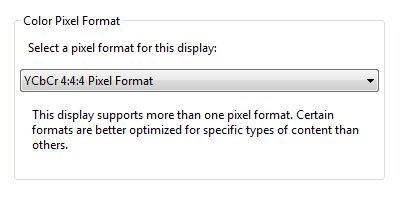 The default pixel format when connected via HDMI is YCbCr 4:4:4 (10-bit), which was good because it was the only format where levels could be made consistent across every application without using RGB Full (0-255). That requires specific calibration, making it unsuitable in situations where the input must be shared with a non-RGB full device. The driver does not display this setting for DVI users so RGB Full is used.
All of the commercial players operating in disc mode (i.e. physical disc, BDMV, or ISO playback) output correctly with YCbCr or RGB, but file mode was inconsistent when YCbCr 4:4:4 or RGB Full was not set. These results are in line with what was experienced with Enhanced Video Renderer (EVR) based applications like Windows Media Center, SageTV and MPC-HC. These only output correct video levels (16=black, 235=white) when the application forces PC levels (0-255) internally, something that requires two conversions for video content unless using RGB Full output.
Each of the EVR based applications listed previously has a setting to enable 0-255 output, with MPC-HC's being the easiest (a simple toggle in the user interface). Windows Media Center and SageTV require the registry changes below:
Windows Media Center: HKLM\SOFTWARE\Debug\ehPresenter.dll, NominalRange (DWORD) = 1
SageTV: HKLM\ SOFTWARE\Frey Technologies\SageTV\DirectX9, EVR0To255Range (DWORD) = 1
Historically, AMD has provided the best level of refresh rate precision by default, but unfortunately that is not the case with the E-350's 6310. As you can see from the pictures and video tracking accuracy for 24p content, it certainly can hit the target, but it has issues maintaining the correct frequency over time. In most cases, the drift was not bad enough to notice, but at times audio/video sync was an issue for brief periods.