Introduction
Acer is a name that should be familiar to anyone that has been around the computer industry for a long time. Originally founded in 1976, they have been providing PCs, laptops, servers, displays, and other computer electronics equipment for a long time - a few of us here at AnandTech can recall running Acer PCs back in the glory days of the 286 and 386! Acer currently ranks as one of the world's more recognizable PC brands, with expertise in manufacturing, IT services, as well as consumer products.
We have looked at several high-end LCDs recently, and perhaps not surprisingly we found that the 24" and larger LCDs have all been good offerings overall. However, not everyone is interested in spending a lot of money on a high-quality LCD. Acer manufacturers a lot of LCDs, and they tend to be more value oriented offerings. Today, we take a look at their 22" AL2216W (AL2216Wbd is the full model name) and we will see where it does well along with some of its shortcomings.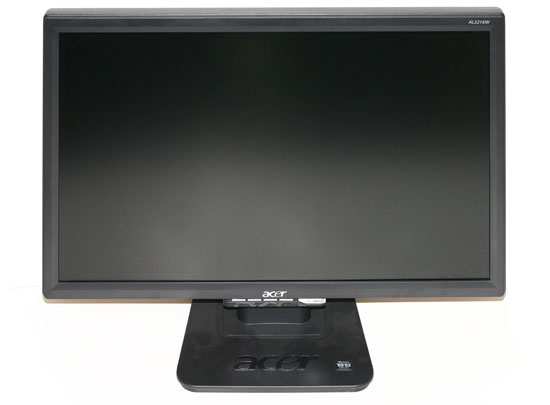 22" LCDs are a more recent introduction to the display market, and the AL2216W is one of the first (if not the very first) such models. These displays strike an interesting balance between size, resolution, and cost that should appeal to a large number of users. Like the 20" widescreen LCDs, they have a native resolution of 1680x1050. As they are 10% larger in viewable area that means the pixels aren't quite as small. Depending on your perspective, that can be either a good thing or a bad thing. Those with exceptional eyesight would probably prefer a higher resolution, while others are going to be happy with a larger display and a lower native resolution.
The resolution also has a few other benefits, however; specifically, gamers might like the slightly lower resolution as it will allow some of the slower GPUs to be able to drive the LCD at its native resolution. Not surprisingly, quite a few graphics cards struggle to provide acceptable frame rates at 1920x1200, so the net result is you get a larger display that may prove more acceptable for gaming, especially in the midrange sector. Perhaps price is the most attractive aspect of these displays, as they typically don't cost much more - and sometimes less - than 20" models and they are about half as expensive as the cheapest 24" LCDs. Be forewarned that to reach this lower price point some other amenities have been trimmed, and whether or not you desire these extras may determine whether or not you would be happy with something like the Acer AL2216W.
We have also been working on refining our LCD reviews over the past several weeks. With the help of user feedback, we have made a few more changes to the way we review LCDs. Specifically, we're going to be doing some additional testing and provide results that will hopefully answer any remaining questions. If you have read the previous reviews of the
Gateway FPD2485W
and
Dell 2407WFP and 3007WFP
, we will be looking at those displays yet again on the new tests.