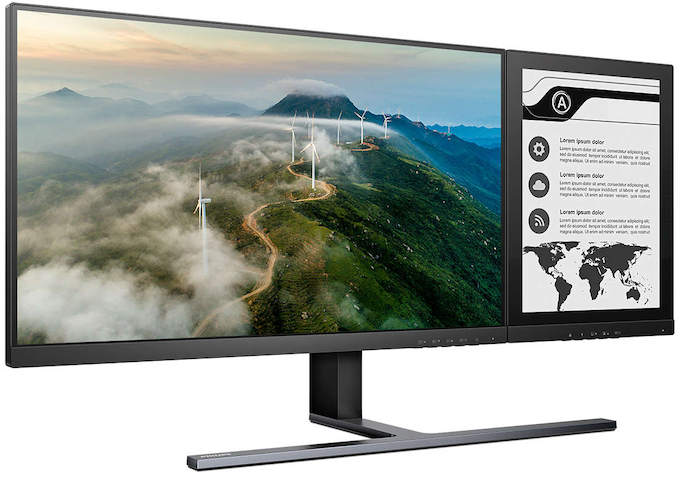 Although E Ink technology has remained a largely niche display tech over the past decade, it's none the less excelled in that role. The electrophoretic technology closely approximates paper, providing significant power advantages versus traditional emissive displays, not to mention making it significantly easier on readers' eyes in some cases. And while the limitations of the technology make it unsuitable for use as a primary desktop display, Phillips thinks there's still a market for it as a secondary display. To that end, Philips this week has introduced their novel, business-oriented Dual Screen Display, which combines both an LCD panel and and E Ink panel into a single display, with the aim of capturing the benefits of both technologies.
The Philips Dual Screen Display (24B1D5600/96) is a single display that integrates both a 23.8-inch 2560x1440 IPS panel as well as a 13.3-inch, greyscale 1200x1600 resolution E Ink display. With each display operating independently, the idea is similar to previous concepts of multi-panel monitors; however Phillips is taking things in a different direction by using an E Ink display as a second panel – combining two otherwise very different display technologies into a single product. By offering an E Ink panel in this product, Phillips is looking to court the market for users who would prefer the reduced eye strain of an E Ink display, but are working at a desktop computer, where an E Ink display would not be viable as a primary monitor.
As you might expect from the basic layout of the monitor, the primary panel is a rather typical office display that's designed for video and productivity applications – essentially anything where you need a modern, full color LCD. The secondary E Ink display, on the other hand, is a greyscale screen whose strength is the lack of flicker that comes from not being backlit by a PWM light. Both screens act independently, but since they are encased into the same chassis, they are meant to work together. For example, the secondary monitor can display supplementary information in text form, whereas the primary monitor can display photos.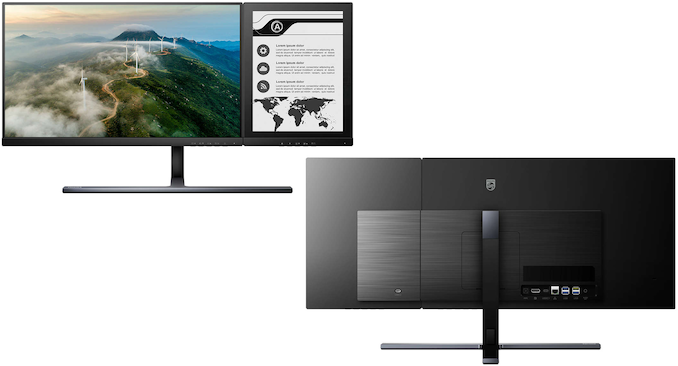 Ultimately, Philips is pitching the display on the idea that the secondary screen can reduce the eye strain of the viewer while viewing documents. It's a simple enough concept, but one that requires buyers to overlook the trade-offs of E Ink, and the potential drawbacks of having two dissimilar displays directly next to each other.
Under the hood, the LCD panel on the Deal Screen Display is an unremarkable office-grade display. Phillips is using 23.8-inch anti-glare 6-bit + Hi FRC IPS panel with a 2560x1440 resolution, which can hit a maximum brightness of 250 nits while delivering 178-degree viewing angles. Meanwhile, the E Ink panel is a 13.3-inch 4-bit greyscale electrophoretic panel, with a resolution of 1200x1600. Notably here, there is no backlighting; the E Ink panel is meant to be environmentally lit (e.g. office lighting) to truly minimize eye strain.
When it comes to connectivity, the primary screen is equipped with a DisplayPort 1.2 and a USB Type-C input (with DP Alt mode and USB Power Delivery support), a USB hub, and a GbE adapter. Meanwhile, the secondary screen connects to host using a USB Type-C connector that also supports DP Alt Mode, and Power Delivery.
Specifications of the Philips Dual Screen Display
24B1D5600/96
Primary Screen
Secondary Screen
Panel
27" IPS 6-bit + Hi FRC
13.3" E Ink 4-bit
Native Resolution
2560 × 1440

1200 × 1600

Maximum Refresh Rate
75 Hz
?
Response Time
4ms
?
Brightness
250 cd/m² (typical)
?
Contrast
1000:1
?
Viewing Angles
178°/178° horizontal/vertical
high
HDR
none
none
Dynamic Refresh Rate
none
none
Pixel Pitch
0.2058 mm²

0.2058 mm²

Pixel Density
123 ppi
150 ppi
Display Colors
16.7 million

greyscale

Color Gamut Support
NTSC: 99%
sRGB: 99%
4-bit
Aspect Ratio
16:9
3:4
Stand
Height: +/-100 mm
Tilt: -5°/23°
Swivel: 45°
Inputs
1 × DisplayPort (HDCP 1.4)
1 × USB-C (HDCP 1.2 + PD)

1 × USB-C (HDCP 1.4 + PD)

Outputs
-
-
USB Hub
USB 3.0 hub
-
Launch Date
Q2 2023
The Philips Dual Screen Display has a rather sleek stand which can adjust height, tilt, and swivel. It makes the whole unit look like one monitor rather than like two separate screens. Though to be sure, the E Ink portion of the display can be angled independently from the LCD panel, allowing the fairly wide monitor to contour to a user's field of view a bit better.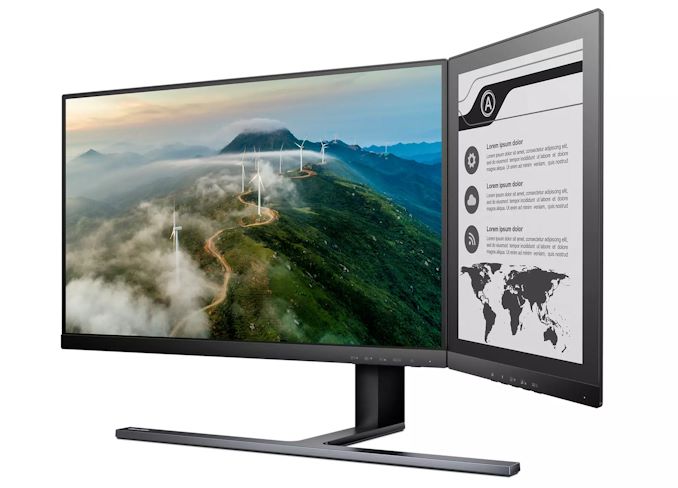 When it comes to pricing, Philips's Dual Screen Display is available in China for $850 (according to Liliputing), which looks quite expensive for a 24-inch IPS LCD and a 13.3-inch secondary screen. Though as this is a rather unique product, it is not surprising that it is sold at a premium.
Source: Phillips