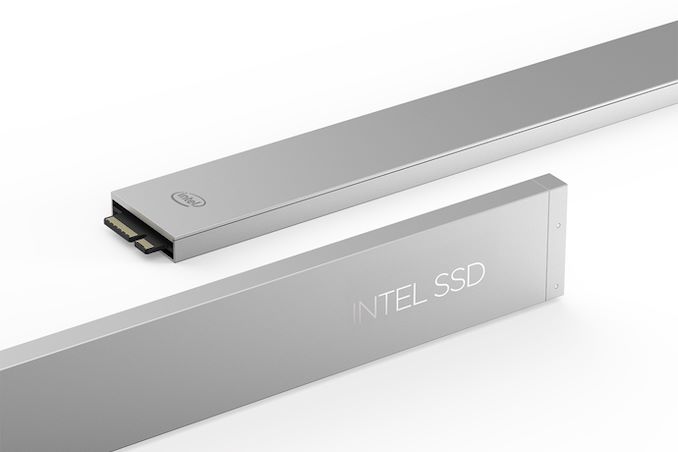 Slipped in to the briefings for Intel's mountain of announcements today are two new enterprise SSDs at opposite ends of the product line: a new Optane SSD and a new QLC NAND SSD.
Intel Optane SSD DC D4800X
The new Optane SSD DC D4800X differs from the existing P4800X by adding support for dual-port PCIe operation (for high availability) when attached through a PCIe fabric that provides redundant data paths. Most of Intel's NAND-based enterprise NVMe SSDs have dual-port counterparts, but this is the first time this feature has shown up in the Optane product family.
Dual-port support is a relatively niche feature, to the point that many of the current-generation dual-port drives aren't listed on ark.intel.com, and we don't have detailed specifications. Performance will be a bit constrained when using just one of the PCIe 3.0 x2 links, but most of Optane's advantages in latency and random IO throughput will be retained. While the performance-oriented P4800X is available in both U.2 and add-in card form factors, the dual-port capability only makes sense for the hot-swappable U.2 form factor (and potentially EDSFF in the future).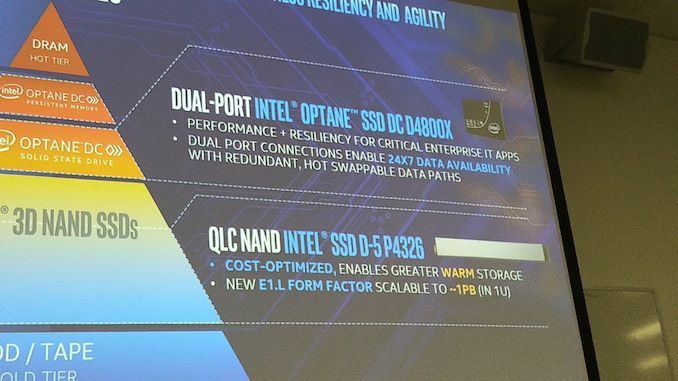 The addition of the dual-port Optane drive indicates that Optane SSDs are reaching a broader audience that now includes mission-critical systems that need high performance but aren't seeking maximum performance to the exclusion of all other factors.
Intel SSD DC D5-P4326
Intel's lineup of enterprise/datacenter SSDs that use four bit per cell QLC NAND flash memory is also expanding. Joining the 7.68TB SSD D5-P4320 announced last fall is the new SSD D5-P4326 with 15.36TB and 30.72TB usable capacities. Intel claims these are the first drives in production that comply with the EDSFF E1.L form factor standard, derived from Intel's earlier "Ruler" concept. The smaller 15.36TB capacity is also available in 2.5" 15mm U.2 form factor. That 15.36TB model was mentioned earlier this year as available for "limited deployments", but Intel is now ready to scale up their efforts.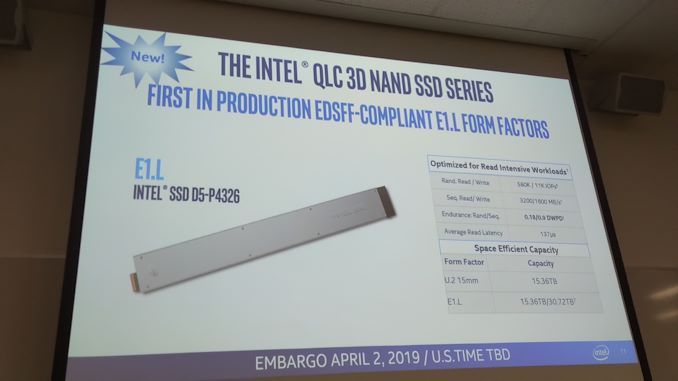 Compared to Intel's 7.68TB P4320, the larger P4326 drives have improved random read and sequential write performance, while sequential read performance is unchanged and steady-state random write speeds fall significantly to just 11k IOPS. These drives offer the lowest performance and endurance but highest density in Intel's SSD product line: the 30.72TB model allows Intel to reach the goal of 1PB (raw capacity) of flash storage in a 1U server, thanks to the slim EDSFF form factor. Performance per TB is down relative to the smaller P4320, so the P4326 is even less suited for storing hot data, but it still offers a compelling performance advantage over mechanical hard drives, and the write endurance does scale in proportion to capacity: 0.18 drive writes per day for random I/O, and 0.9 DWPD for sequential I/O.
Source: Intel