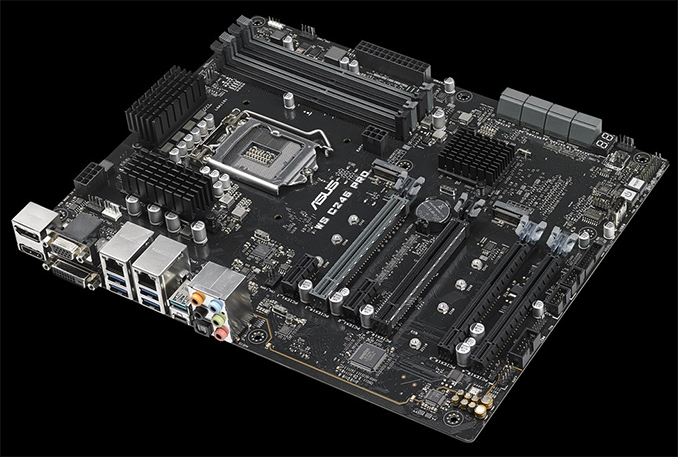 ASUS has introduced its first Intel C246-based motherboard for Intel's Xeon E processors. The WS C246 PRO platform is aimed at rather serious machines that use up to four PCIe 3.0 x16 expansion cards, up to eight SATA storage devices, and two M.2 SSDs. For those who plan to use SAS storage with the motherboard, ASUS will also offer optional eight-port SAS 12G RAID cards.
The ASUS WS C246 PRO motherboard is based on Intel's C246 chipset (codenamed Cannon Point-H WS) and therefore supports Intel's Xeon E-2100-series processors for entry-level servers and workstations as well as Intel's 8th Gen Core i3/i5/i7 chips along with their low-cost Pentium Gold and Celeron counterparts. The mainboard is outfitted with an eight-phase CPU VRM that uses solid-state inductors and capacitors to maintain steady operation during protracted workloads and also to ensure a long lifespan for the product. The WS C246 PRO is not equipped with a TPM module, but there is a connector for it, so workstation OEMs can install it themselves. As for remote management, the platform supports the WFM 2.0 spec as well as ASUS' proprietary ACC IT management platform.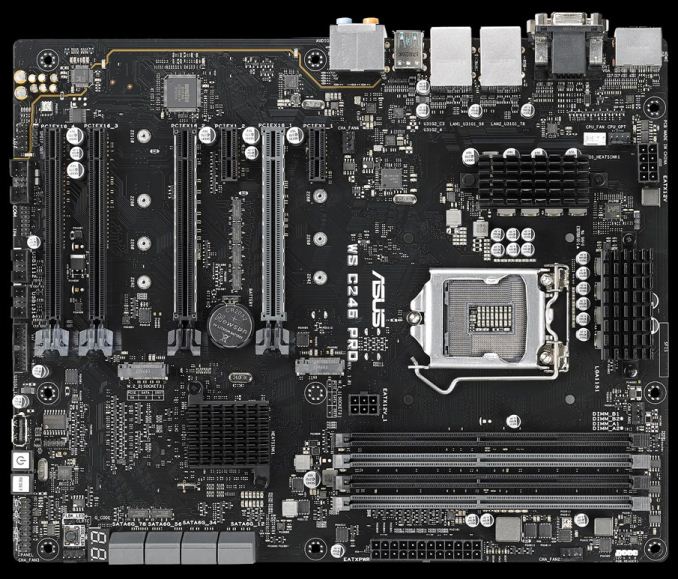 Memory support is something that all Intel C246-based motherboards are going to have in common. Just like the rest of the C246 pack, the WS C246 PRO has four DDR4 DIMM slots supporting up to 64 GB of DDR4-2667 DRAM with or without ECC, depending on the CPU and modules used.
Things start to get interesting with PCIe slots configuration of the WS C246 PRO. The motherboard has four PCIe 3.0 x16 (electrical) connectors that can work in x16/x8, x8, x4 and x4 modes (logical). The first two are controlled by the CPU, whereas the remaining two rely on the C246 PCH. One of the reasons why ASUS outfitted the motherboard with so many electrical PCIe 3.0 x16 slots is the fact that it will supply the motherboard with its PIKE II 3008-8i 8-port SAS 12G RAID or PIKE II 3108-8i 8-port SAS 12G HW RAID controllers to parties interested in using SAS storage devices. Both HBA cards use a PCIe 3.0 x8 interface, so Intel needed to ensure that there are enough slots not only for SAS controllers, but for whatever other cards a customer may need to use (a high-end PCIe SSD, for example). In addition to PCIe 3.0 x16 slots, there are also two PCIe 3.0 x1 slots.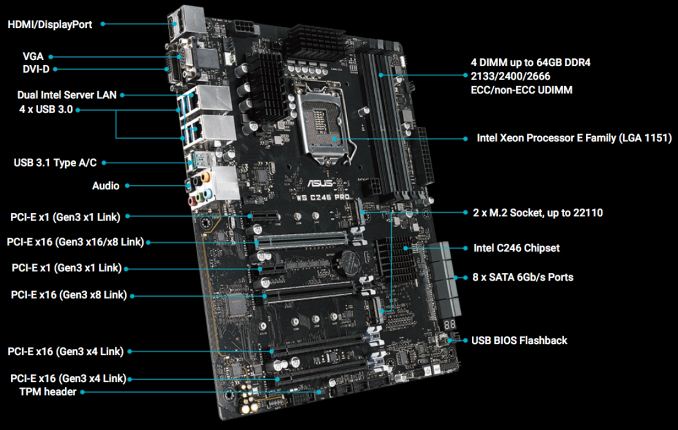 Moving on to other storage capabilities of the WS C246 PRO. The motherboard comes with eight SATA connectors as well as two M.2 slots supporting an up to M.2-2280 and an up to M.2-22110 SSDs. ASUS does not detail how the latter work and share resources with PCIe slots as well as SATA ports, but keep in mind that C246 PCH only supports eight SATA ports in total.
When it comes to general I/O interfaces, the WS C246 PRO features a fairly standard set of connectors, including two GbE ports, four USB 3.1 Gen 1 Type-A headers (there are internal ones too), USB 3.1 Gen 2 Type-A & Type-C receptacles, four display outputs (DP, HDMI, DVI, D-Sub), 3.5-mm jacks for a 7.1-channel audio subsystem, and so on.
ASUS did not touch upon pricing details and availability timeframe of the WS C246 PRO motherboard in its announcement, but keeping in mind market specifics, expect the first workstations based on this platform to arrive in the coming months. As for pricing, this is a specialized premium product and will be priced accordingly, especially when bundled with SAS HBAs.
ASUS Intel C246 ATX Motherboard
WS C246 PRO
Supported CPUs
LGA1151 v2 CPUs
Xeon E
8th Gen Core i3/i5/i7, Pentium, Celeron
PCH
Intel C246
(Cannon Point-H WS)
Graphics
Intel UHD Graphics from CPU
PCIe 3.0 x16 slot
Display Outputs
1 × DisplayPort 1.2
1 × HDMI 2.0a
1 × DVI-D
1 × D-Sub
Memory
4 × DDR4 DIMM
Up to 64 GB of DDR4-2667
with or without ECC, depending on CPU
Slots for Add-In-Cards
Electrical
Logical
1 × PCIe 3.0 x16
1 × PCIe 3.0 x8
2 × PCIe 3.0 16
1 × PCIe 3.0 x1
x16/x8
x8
x4
x1
Ethernet
LAN 1: Intel I219LM GbE PHY
LAN 2: Intel I210AT GbE PHY
Storage
M.2

1 × M.2-22110 (PCIe 3.0 x4 or SATA?)
1 × M.2-2280 (PCIe 3.0 x4 or SATA?)
SATA
8 × SATA 6 Gbps
SAS
(Optional)
ASUS PIKE II 3008-8i 8-port SAS 12G RAID
ASUS PIKE II 3108-8i 8-port SAS 12G HW RAID
Audio
7.1-channel audio with analog and S/P DIF outputs
USB
4 × USB 3.1 Gen 1 Type-A
1 × USB 3.1 Gen 2 Type-A
1 × USB 3.1 Gen 2 Type-C
Serial Ports
1 × internal COM port
Other I/O
1 × TPM header
1 × internal USB 3.1 Gen 1 Type-A (for BIOS flashing)
2 × internal USB Type-A (for front panel)
Monitoring
CPU Temperature
Fan RPM
Management
WfM 2.0, DMI 3.0, WOL by PME, WOR by PME, PXE
Additional Features
ASUS Control Center (ACC), an integrated IT management platform for remote monitoring, controlling, and updating ASUS commercial products (servers, workstations, etc).
Form-Factor
ATX (305 mm × 244 mm | 12" × 9.6")
Related Reading:
Source: ASUS