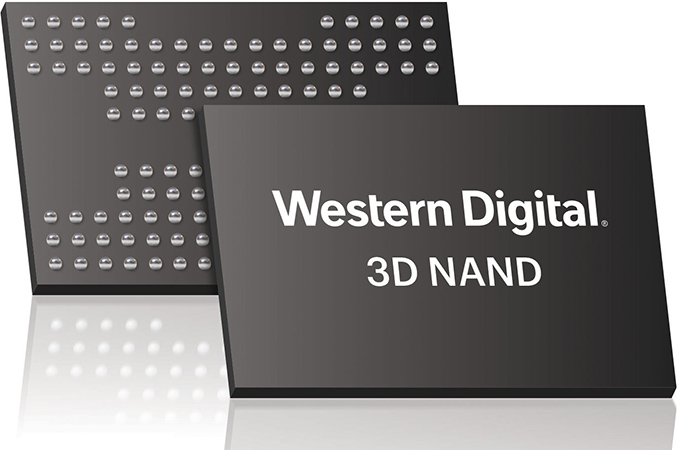 Western Digital this month said that it had started shipments of its fourth-generation BiCS 3D NAND memory to some of its customers. The company did not disclose details, but only said that the 96-layer 3D NAND memory is used for storage devices sold in retail, which usually means that it is used for inexpensive flash drives and/or memory cards. One of the important things about Western Digital's BiCS4 memory is the manufacturer's plan to build both TLC and QLC NAND using the technology.
Western Digital started production of its 96-layer BiCS4 NAND memory earlier this year and confirmed the beginning of the ramp up in late April during a conference call. At the J.P. Morgan Global Technology, Media and Communications conference in mid-May the company said that it had started to ship the said chips for revenue to its retail customers. Western Digital does not give any guidelines regarding the pace of the ramp up and the time when shipments of BICS4 exceed shipments of BICS3, but the fact that the ICs are used commercially is important.
"BiCS4, which is 96 layers, we have introduced that technology and we are shipping it primarily to our retail customers," said Steve Milligan, CEO of Western Digital. "If you look to where we at from a yield curve perspective, because [BICS4] is not too mature, we are very pleased with where we are. Because once you get to a certain point, you can project where you are going to end at (based on cycles of learning, etc). So, the 96-layer technology is progressing quite well, we continue to increase output of that as we move to the rest of 2018, I am very thrilled and grateful for our strong 3D NAND execution."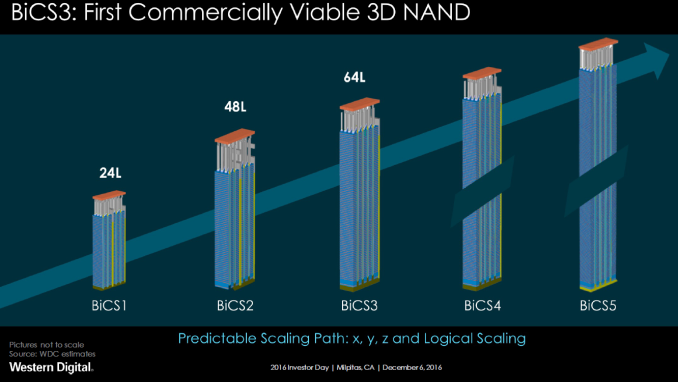 Western Digital's (and Toshiba's) BICS4 is a name for a family of 3D NAND flash devices featuring 96 active word lines (or layers). The lineup will include both TLC and QLC chips with capacities ranging from 256 Gb to 1 Tb. Based on Western Digital's announcement from 2017, its first chips to use 96 word layers are 256 Gb 3D TLC NAND devices. After the manufacturer figures out how to produce 96-layer 3D NAND with sufficient yields, it will move on to higher-capacity 3D TLC and eventually 3D QLC chips with up to 1 Tb (128 GB) capacity.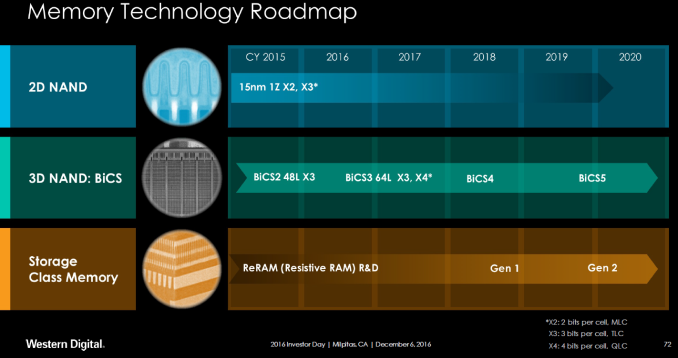 Speaking of QLC, it is necessary to point out that last year Western Digital and Toshiba also announced 768 Gb BICS3 64-layer 3D QLC NAND memory and it is highly likely that such ICs will hit the market earlier than 96-layer QLC NAND. Nonetheless, QLC is a crucial part of Western Digital's future plans.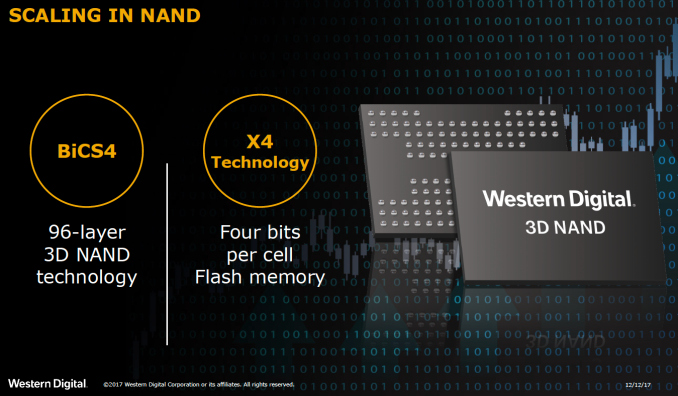 Related Reading:
Source: Western Digital