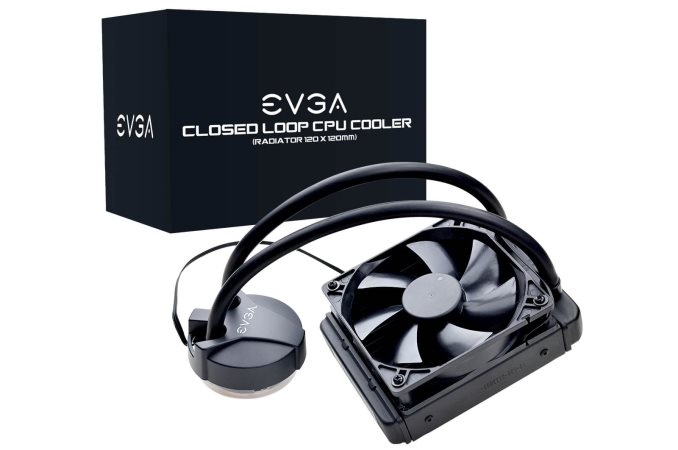 EVGA is no stranger to the CLC and AIO cooling market with numerous products already on the market from 120mm to 280mm CLC's currently available. The new offering in this segment is the CLC120 CL11 AIO. The CL11 is similar to the existing CLC120 except it does without a few bells and whistles such as RGB LEDs, and doesn't include fill ports or have expansion options as other competing products may have. It does bring to the table a less expensive entry point (by $30), has redesigned pump housing and smooth tubing, as well as fan EVGA says is designed to reduce noise & provide superior airflow.
The copper water block and pump assembly will fit Intel sockets LGA 115x, 1366, 2011, 2011v3, and 2066 sockets. AMD is not on the compatibility list for this specific cooler. The variable controlled fan allows for the fan speed (max. 1800 RPMs) to change based on coolant temperature while the pump is a constant-speed unit. The CL11 doesn't offer other controls or monitoring features so two 3-pin fan headers are the only connections needed.
The radiator itself is 120mm (the only size available) and with the fan attached has a combined thickness of 2.1-inches so the system should fit in most cases with little issue. The new cooling block is said to offer improved flow rates and heat transfer surface area to increase cooling efficiency at a noise level of only 20db(A) maximum. The 120mm fan uses sleeve bearings and is rated to put out almost 59 CFM at 2.13mm-H20 at slightly over 32 db (A) which, if rated properly, should be a pretty quiet unit.
The CLC120 CL11 is priced at $59.99 on the EVGA website and is available now. This price is $30 less than the CLC120 with the RGB LEDs and higher speed fan(s) which could make it an attractive cooling solution for those who do not care for all the flare the other EVGA CLC options offer. If the price isn't enough, EVGA stands behind this product with a five-year warranty.
EVGA CLC120 CL11
CPU Socket Compatibility
Intel ONLY - LGA 2066/ 2011-3 / 2011 / 1151 / 1150 / 1155 / 1156 / 1366
Radiator
Material
Aluminum
Dimensions
156 x 122 x 28mm (L x W x H)
Fan
Dimensions
120 x 120 x 25mm
Speed
1800 RPM +/- 10% (DC)
Air Flow
58.87 CFM (Max)
Air Pressure
2.13 mmAq (Max)
MTTF
N/A
Noise Level
32.1 db(A) (Max)
Connector
3-Pin (DC)
Pump
Dimensions
N/A
MTTF
N/A
Noise Level
20 db(A)
Connector
3-Pin
Price
$59.99 (EVGA Website)
Warranty
5 Years
Related Reading:
Source: EVGA