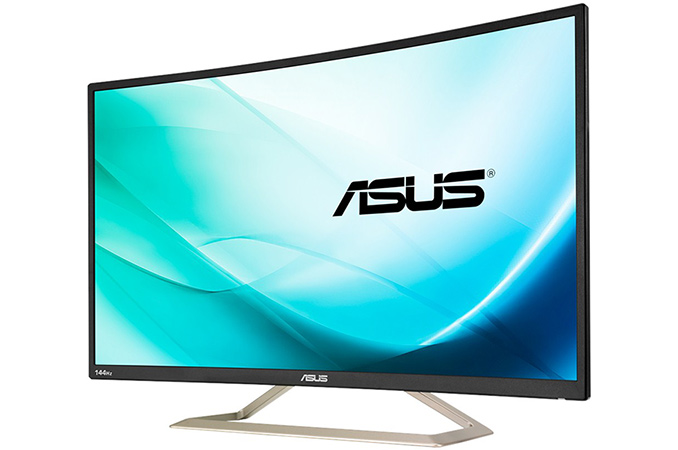 ASUS has introduced two new curved gaming displays that feature large 31.5" VA panels with a 144 Hz refresh rate. The VA326H and VA326N-W monitors have FHD resolution as well as a variety of ASUS' enhancements designed for gamers. ASUS positions the new products as entry-level models for gamers in budget that also demand a large diagonal, curvature and a high refresh rate.
The ASUS VA326-series displays use 31.5" AHVA panels with 1920×1080 resolution and 16:9 aspect ratio. General specifications of the monitors are typical for this class of devices: 300 nits brightness, 3000:1 contrast ratio, 178°/178° viewing angles, a 4 ms response time (grey-to-grey) and so on. The main selling points of the two displays are their 144 Hz refresh rate as well as 1800R curvature.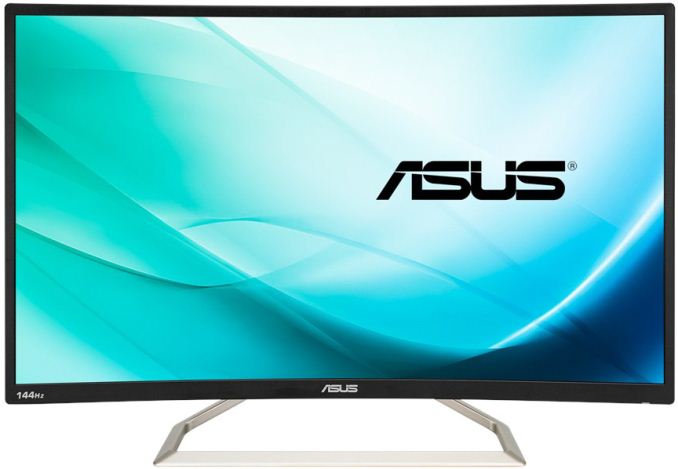 The only difference between the ASUS VA326H and the ASUS VA326N-W monitors is the supported connectors: both come with a D-Sub and a DL-DVI input, whereas the VA326H also has an HDMI 1.4 header. The displays lack features like a USB hub as well as integrated speakers, which is expected for entry-level consumer devices.
ASUS VA326-Series Curved Gaming Monitors
ASUS VA326H
ASUS VA326N-W
Panel
31.5 AHVA
Native Resolution
1920 × 1080
Refresh Rate Range
144 Hz via HDMI, DL-DVI
50~75 Hz via D-Sub
144 Hz via DL-DVI
50~75 Hz via D-Sub
Response Time
4 ms (gray-to-gray)
Brightness
300 cd/m²
Contrast
3000:1
Viewing Angles
178°/178° horizontal/vertical
Curvature
1800R
Inputs
1 × HDMI 1.4 with HDCP
1 × DL-DVI with HDCP
1 × D-Sub
-
1 × DL-DVI with HDCP
1 × D-Sub with HDCP
Audio
Audio in/out ports
Proprietary Enhancements
Trace Free Technology
Skin-Tone Selection: 3 Modes
Color Temperature Selection: 4 Modes
GamePlus Modes: Crosshair/Timer/Display Alignment
Low Blue Light: Yes
VividPixel: Yes
GameVisual Modes: Scenery/Racing/Cinema/RTS/RPG/FPS/sRGB
Power Consumption

Idle
~5 W
Active
28 W at 200 cd/m²
Detailed Information
Link
Link
The ASUS VA326-series displays formally belong to the company's Essential family of inexpensive monitors and are the first curved screens in this lineup. Nevertheless, they support a refresh rate of up to 144 Hz as well as ASUS' proprietary enhancements like Trace Free, Crosshair, Timer and others, which are valued primarily by gamers. In fact, the combination of a large size, a 144 Hz refresh rate, and curvature, combine into an interesting package for this particular price point and will likely appeal to gamers in budget. These gamers might be focused on eSports, therefore a relatively low resolution of 1920×1080 pixels is not going to be a drawback for them, but will rather be an advantage because they will be able to play with a native resolution with high FPS and at 144 Hz.
ASUS plans to start sales of the VA326H and VA326N-W monitors in early Q1 2017. In the U.S., the company will offer the ASUS VA326H for $399. MSRP for Europe and other countries are unknown, but given the positioning of the displays and their price in the U.S., the ASUS VA326-series monitors will be rather affordable.
Related Reading:
Source: ASUS