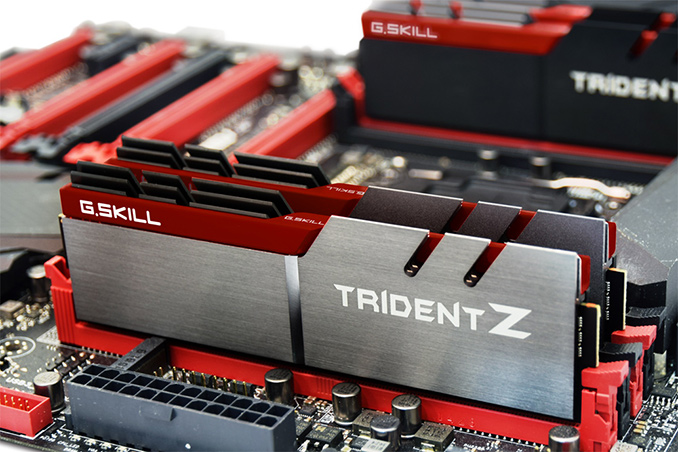 Until recently enthusiasts who would like to use the fastest DDR4 memory with their Skylake-S processors had to use 4 GB DIMMs based on 4 Gb chips, typically sold in pairs for a 8 GB total memory. This week G.Skill has introduced three new sets of Trident Z memory modules that come with either an extremely high clock rate, or very aggressive timings.
The new G.Skill Trident Z memory modules based on Samsung's 8 Gb DDR4 ICs and are available in 8 GB and 16 GB versions. The 8 GB DRAM sticks are rated to run at 3200 (CL13 13-13-33), 3466 (CL14 14-14-34) or 4266 (CL19 23-23-43) MT/s data rates, whereas 16 GB modules can work at 3200 and 3466 MT/s data rates at the aforementioned timings, with all kits running at the recommended DDR4 enthusiast setting of 1.35 volts. Like the rest of the Trident Z modules, the new sticks feature aluminum heat spreaders and custom black PCBs developed by G.Skill.

The new Trident Z modules are designed for Intel's Skylake-S processors when used in Intel's Z170-based motherboards which support XMP 2.0 technology (to automatically set their clock rates when they are installed into appropriate PCs). Using the 'performance index' metric from our memory reviews as a rough indication of general performance (rough in the sense that some workloads are frequency dependent, others are latency driven), the 3200 C13 modules come in at a PI of 246, the 3466 C14 modules have a PI of 248, and the 4299 C19 are at 225. Historically a higher frequency is harder to validate for reliability than a lower CAS Latency, and represents the main challenge when producing high-performance modules.
Because high-speed memory often needs to be validated with specific motherboards, so far G.Skill has validated its DDR4-4266 modules featuring 8 Gb chips on the ASUS ROG Maximus VIII Impact mainboard, but we expect that to expand over time. Meanwhile, the 8 GB and 16 GB DDR4-3200 and DDR4-3466 should work on many other motherboards as well. It is important to keep in mind that Intel's HEDT platforms (Haswell-E) are more limited for extreme memory frequencies, which is why G.Skill officially has not validated the aforementioned modules on the Intel X99.

Exact prices of the new Trident Z memory modules from G.Skill are unknown, but do not expect them to be cheap: DDR4-4266 modules at this time have only been announced by a few companies, and we believe G.Skill is the first to offer 8 GB modules. Moreover, DDR4-3200 and DDR4-3466 modules with aggressive timings like CL13 or CL14 are also pretty rare.
Availability of memory modules with high clock rates will depend on the availability and binning of chips capable of operating at appropriate frequencies. Typically it is up to the memory companies to find which ICs are capable of these speeds, and companies compete in bidding for certain batches that have high hit rates for fast memory. Nonetheless, if the share of Samsung's 8 Gb DDR4 chips that can operate in DDR4-4266 mode or with aggressive timings is significant, we may see competing solutions from other companies in the coming weeks or months.
Source: G.Skill