The Display
Acer uses an LG sourced 10.1-inch 1366 x 768 IPS panel for the W510. Viewing angles are great as are the rest of the basics. Max brightness is pretty low at just under 300 nits, but the flip side of that coin are very low black levels resulting in great contrast. Compared to the netbooks that Acer was shipping just a few years ago, the W510 is worlds better.
The low max brightness makes the W510 not ideal for use outdoors in bright sunlight: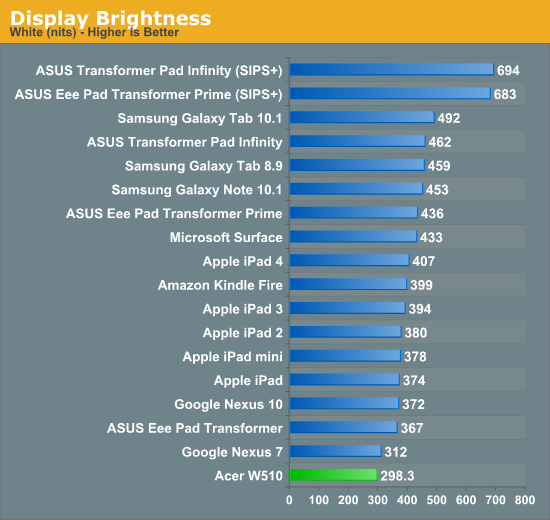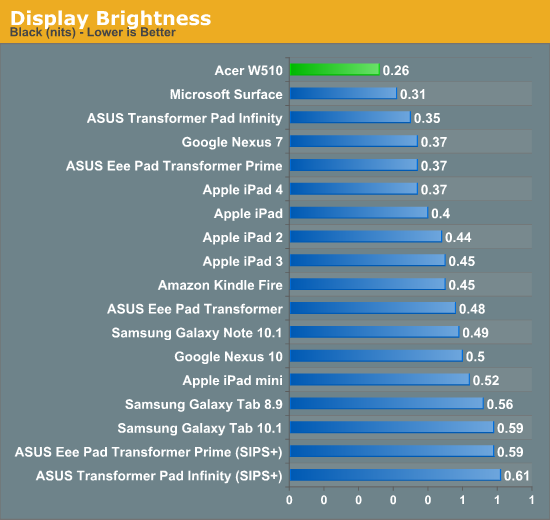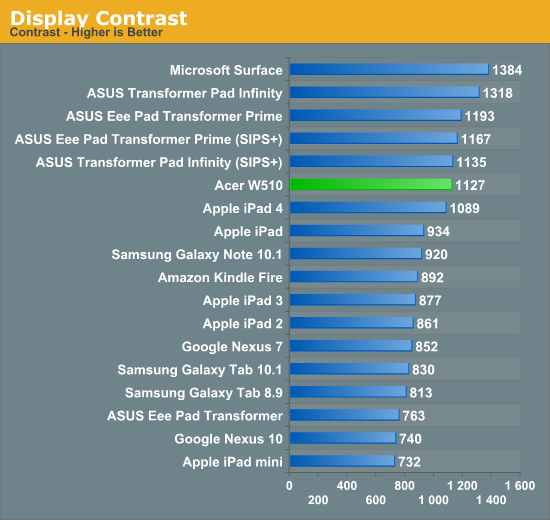 Color accuracy out of the box isn't great, but it's really no worse than something like the Nexus 10 if you look at our CalMAN results.
Once again I turned to our own Chris Heinonen's CalMAN smartphone/tablet workflow. We'll start off by looking at the calibrated white point for these tablets. What you're looking for here is a number close to 6500K: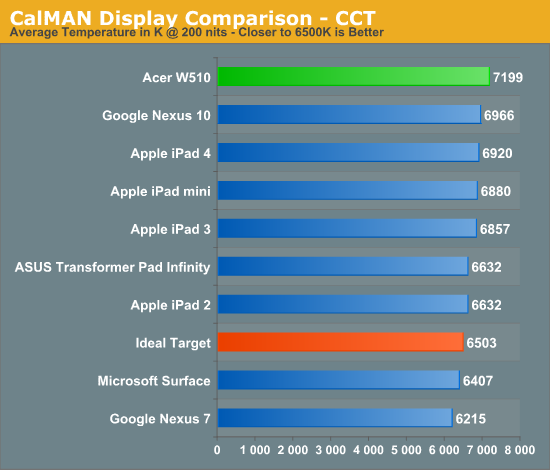 The next three charts look at accuracy represented as a difference between various source colors and what's reproduced on the display. The results are presented as average dE2000, with lower numbers being better.
First up is Grayscale performance, here we're looking at the accuracy of black, white and 19 shades of gray spread in between the two extremes: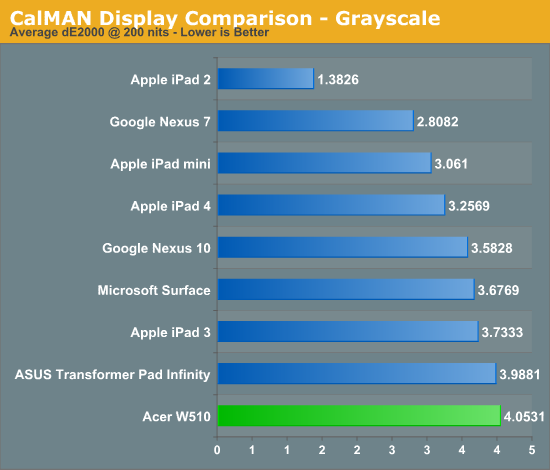 First in our color accuracy tests is a saturation sweep. Here we're looking at 20%, 40%, 60%, 80% and 100% saturations of red, blue, green, magenta, yellow and cyan.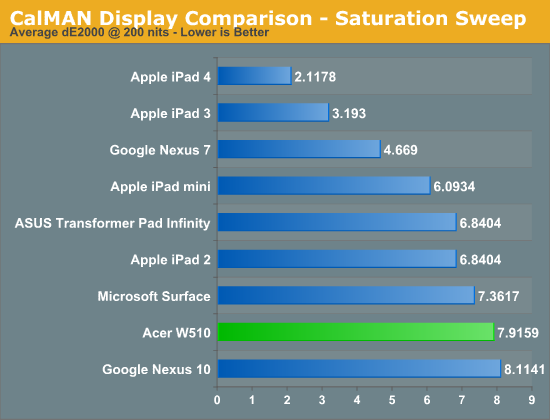 Gamut CIE Chart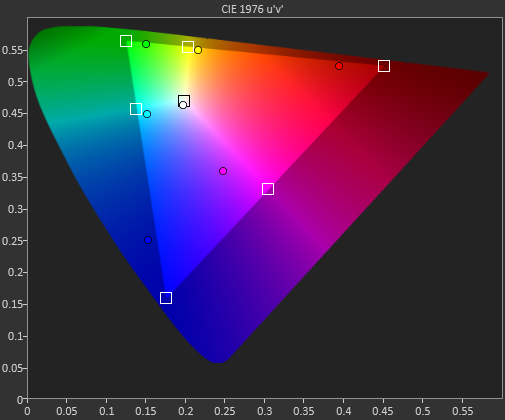 Saturation CIE Chart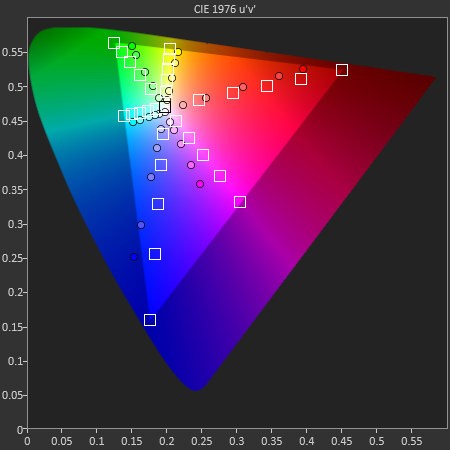 For our final accuracy test we're looking at the difference between a Gretag Macbeth colorchecker chart and the rendered swatches on these displays. Once again, lower numbers are better.

GMB Color Checker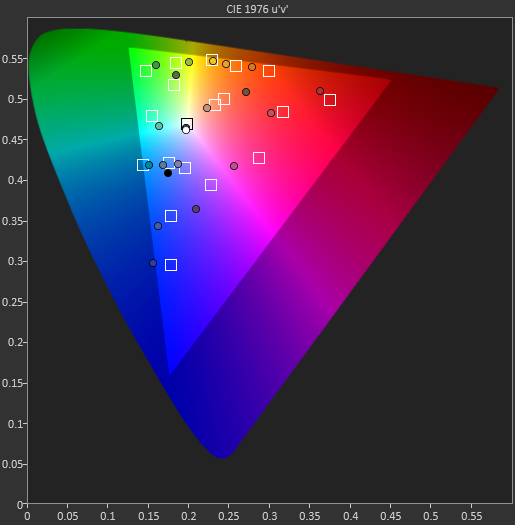 Acer doesn't really make an effort to calibrate the display at the factory, but there's not too much room for improvement here based on my calibration passes (I managed to get dE down to the mid 4s compared to the GMB chart). Nothing about the W510's display really looks bad, but it does lack that extra oomph of Apple's 3rd and 4th gen iPad with Retina Display. Microsoft did a better job on color accuracy with the panel in Surface RT. On the bright side, the display really is such a huge improvement over what we're used to seeing from a Windows PC priced at $499.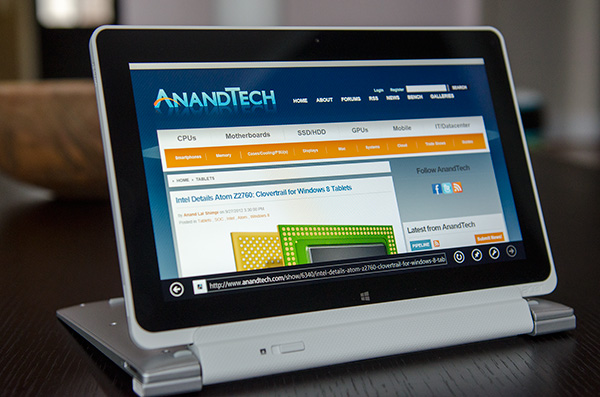 The relatively small display size means the native resolution isn't really too much of a problem. More resolution would always be appreciated, but in this case Clover Trail doesn't really have the GPU to drive it. In my experience with the W510 I didn't really find myself wishing I had a higher resolution display, although I'd be very surprised if the next-generation of these tablets didn't ship with something higher res.