Appearance, Cables and Connectors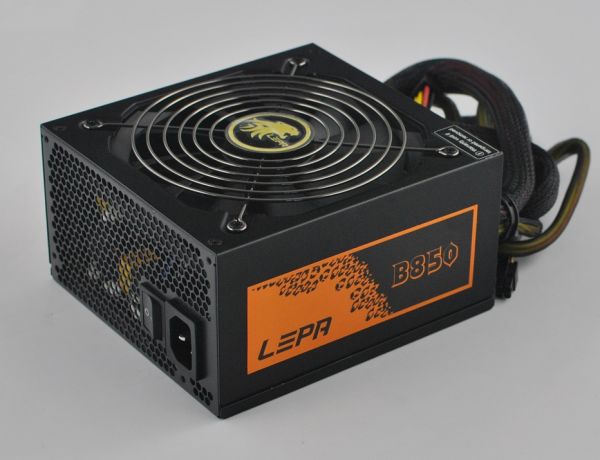 The whole housing is coated with a shiny black finish. The fan grille with a Lepa logo in the middle is silver, and both sides of the case bear Lepa logo. Apart from the 24-pin cable the cable sleeving is unimpressive. As usual the ventilation holes are honeycombed and a large power switch is located next to the AC input. On the front are modular cable connectors, color coded for PCIe (red) and peripherals (black). In addition there is a chart for all the pin allocations. The depth of the device is 16cm, which is normal for a power supply with modular cables.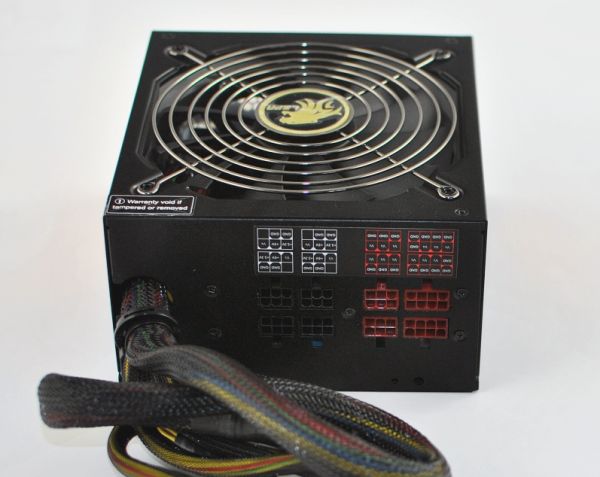 Cables and Connectors

Main
24-pin 50cm fixed
ATX12V/EPS12V
4+4-pin 60cm fixed, 8-pin 60cm fixed
PCIe
2x 6/8-pin (50, 65cm), 2x 6/8-pin (50, 65cm), 2x 6/8-pin (50, 65cm) all modular
Peripheral
3x SATA, 1x HDD (45, 60, 75, 80cm), 3x SATA, 1x HDD (45, 60, 75, 90cm) all modular
2x SATA, 1x HDD ( 45, 60, 75 cm), 2x SATA, 1x HDD ( 45, 60, 75 cm) all modular
Both CPU cables along with the large motherboard connector are fixed, and the 60cm ATX12V/EPS12V cables are reasonably long. Lepa includes six 6/8-pin PCIe connectors, two on each cable. The FDD connector is a separate adapter that splits off a Molex connector if needed; there are only four Molex connectors available, so if you need an FDD connector in addition to several Molex connectors you'll have to purchase a splitter. There are four SATA/Molex cable harnesses, each with one Molex connector on the end. The total number of SATA connectors on the other hand is a satisfying 10, which should be more than enough for most users.