Application and Futuremark Performance
Given that the Intel Xeon E3-1270 beating at the heart of our T1600 review unit is essentially a Core i7-2600 with the IGP completely disabled, it's reasonable to expect excellent performance in processor-intensive tasks. Do keep in mind as you look at the PCMark graphs that PCMark05 and Vantage both skew heavily toward SSDs, and the overwhelming majority of systems we've tested thus far have been using some form of SSD. Being a workstation, the CPU is also running at stock clocks, which will also put it at a disadvantage compared to overclocked gaming systems. For now, we don't have many similar systems to compare the T1600 to, but it's clearly a different target market.
UPDATE: After this review went live, Dell expressed concern to us that we were comparing the Precision T1600 to the wrong class of systems and to an extent we agree. The T1600 is our first modern workstation test and we had no other hardware to compare it against, but the majority of these are boutique gaming systems that just aren't going to be suited to the tasks Dell aims the T1600 at. We've pulled the "ultra" gaming suite tests since they were more academic and ultimately of little consequence to the tower's intended market, and added a pricing comparison to give you some idea of how things stack up.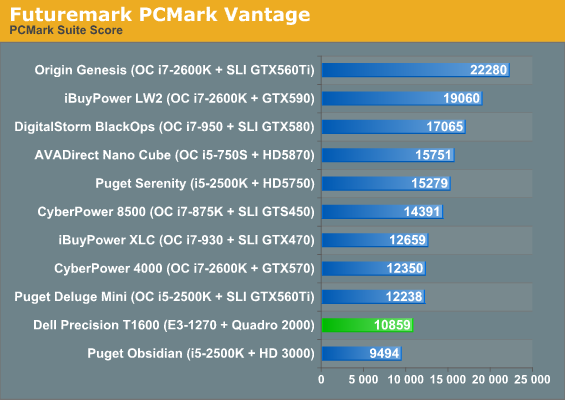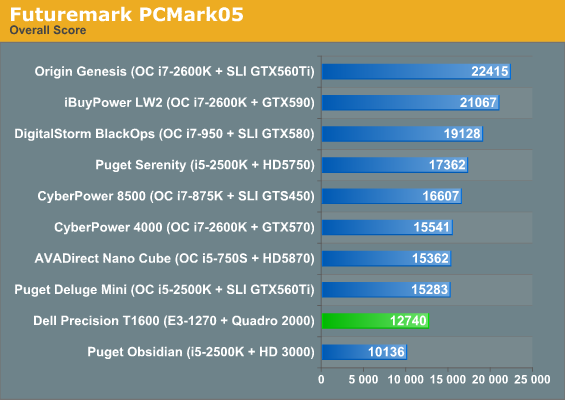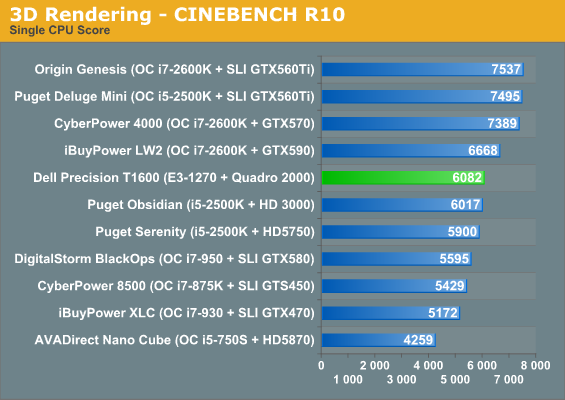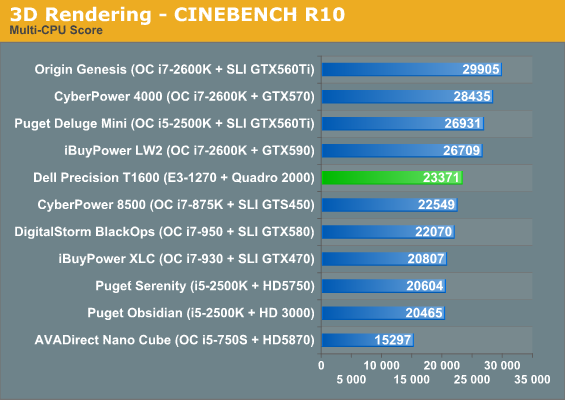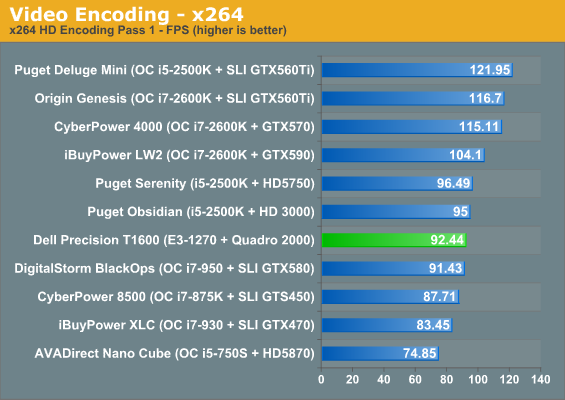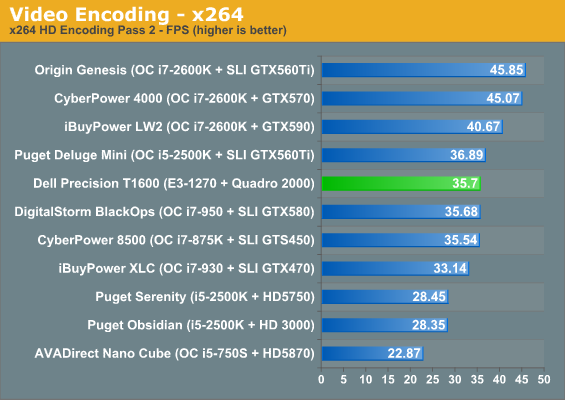 It bears pointing out that generally speaking, the only processors that really given the Xeon E3-1270 any trouble are heavily overclocked (all at least to 4GHz). With a workstation, stability and reliability are king. Overclocking is generally alright for the rest of us, and my own personal desktop has been running an overclocked, undervolted Core i7-930 for close to a year now. But during that period of time, every so often I'd have to retest for stability and boost the voltage a hair, and I know a few of us have seen chips gradually lose their capacity to overclock over time. Having to do that kind of maintenance is something that's simply unacceptable in a business environment.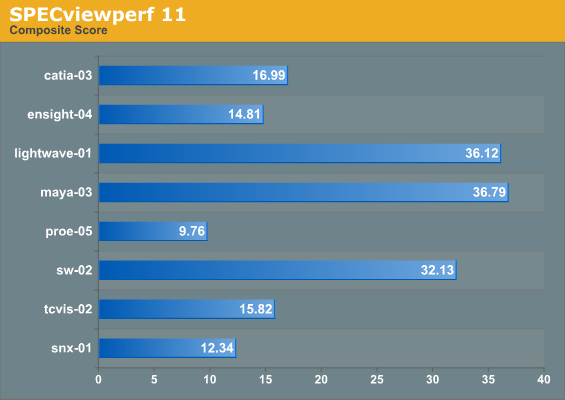 Since this is a workstation, we felt compelled to include testing results from SPECviewperf 11 to give an idea of how the T1600 and by extension the Quadro 2000 performs. To put things in perspective and really help hit home the value of a workstation graphics card, it bears mentioning that the Quadro 2000 produces scores at least two to three times higher than a GeForce GTX 480 would under this test.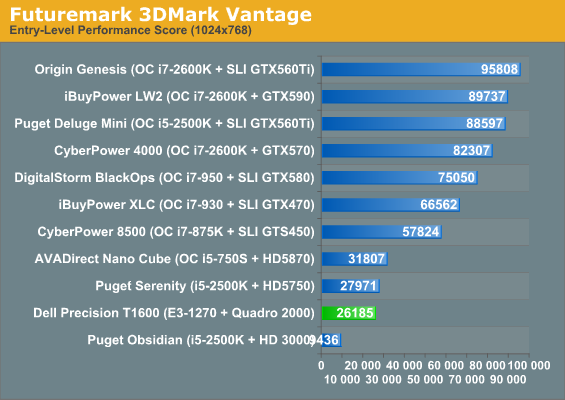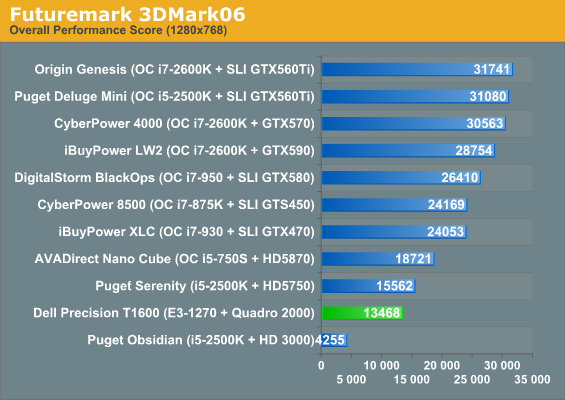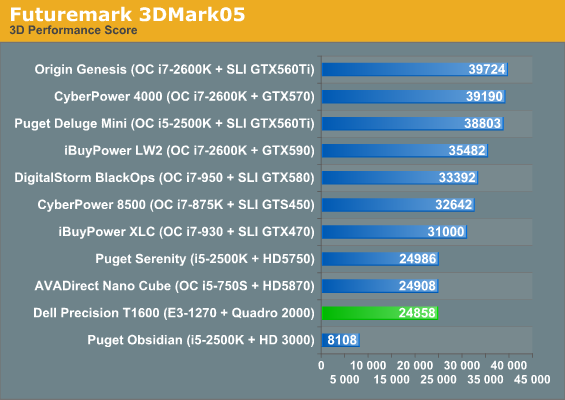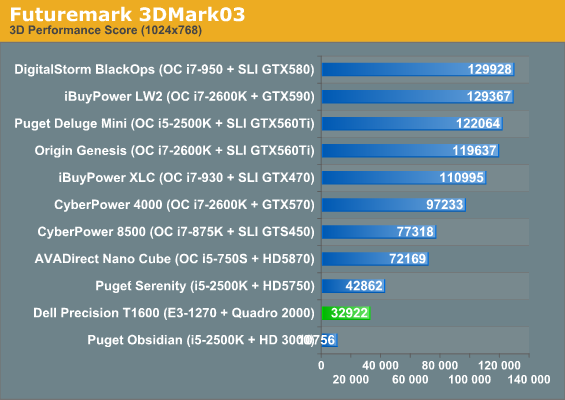 In consumer graphics disciplines, represented here by 3DMark, it should come as no surprise that the GF106-based Quadro 2000 comes in consistently behind the AMD Radeon HD 5750 in the Puget Serenity. Still, it remains miles away from Sandy Bridge's integrated HD 3000 graphics.