Sony Xperia Arc
So the most striking thing about the Xperia Arc is that it's running Android 2.3 gingerbread. Outside of the Nexus S, this is the first other device we've seen running google's latest smartphone OS, and what's even more surprising is that the Xperia Arc is running it atop a 1 GHz Qualcomm MSM8255 instead of Samsung Hummingbird like the Nexus S (which is essentially the reference platform for Android 2.3). The whole thing felt very snappy and responsive on the Xperia Arc, and we ran a couple of browser benchmarks on the Arc just to confirm our suspicions, screenshots of which are in the gallery below.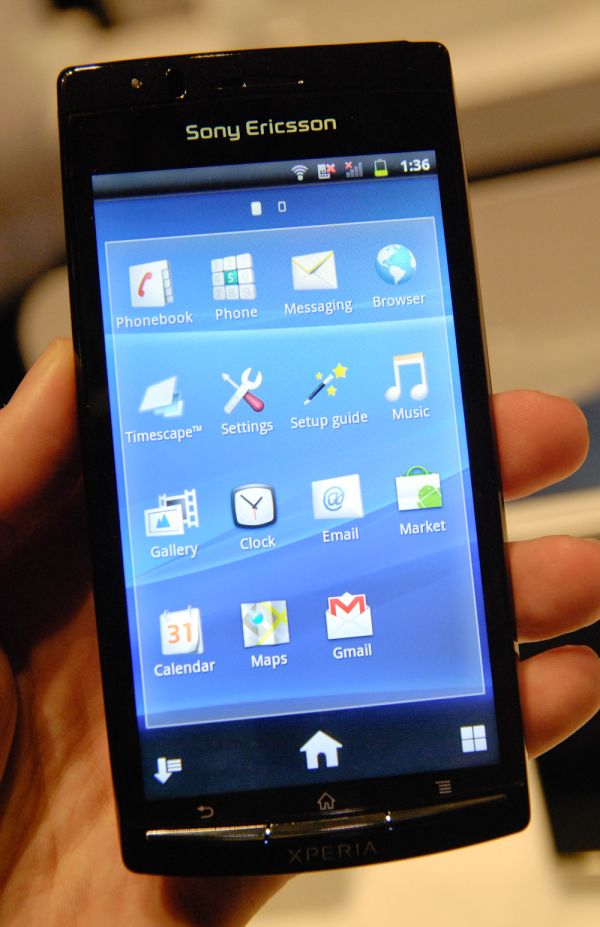 The Arc is visually striking, deriving its namesake from the concave curved backside which is 8.7 mm thick at its thinnest point. The unfortunate downside for the Arc is that the material is fingerprint-magnet plastic just like the Galaxy S and Nexus S - it feels slippery in the hands and looks it too. That said, it's hard to really gauge everything in just a few minutes time, and the Arc does impress. The other curious bit is that there are only three of the four android buttons on the Arc's face - back, home, and menu. Search is curiously absent.
Sony is taking a nod from Apple (though it seems everyone is this CES) by giving its display a brand name. Sony calls its admittedly bright 4.2" TFT-LCD a "Reality Display" and claims it has some secret sauce from Sony's BRAVIA TV heritage which improves quality. I'm not entirely sure what that actually entails, but the display indeed seemed bright and vivid, and viewing angles were good.
Similarly, the camera CMOS in the Arc is Sony's own backside-illuminated Exmor R, and is coupled with their own f/2.4 optical system. We didn't get time to test out the camera, but it'll be interesting to see how Sony's own in-house camera silicon compares to the stuff we've seen from OmniVision being installed in nearly every other smartphone.
Sony Xperia Arc
SoC
1 GHz MSM8255 (45 nm Snapdragon)
GPU
Adreno 205
RAM
512 MB
NAND
8 GB microSD
Camera
8.1 MP, Autofocus with LED flash, 720P Video Recording
Screen
4.2" 854x480 LCD-TFT "Reality Display", Capacitive Touch
Bands (UMTS)

HSPA+: 800/850/900/1900/2100

Bands (GSM/EDGE)
GSM/EDGE: 850/900/1800/1900
Height
125 mm (4.9")
Width
63 mm (2.5")
Depth
8.7 mm (0.3")
Weight
117 grams (4.12 oz)
I/O
microUSB, BT, 3.5 mm audio, WiFi
Sony has its own skin running atop Android 2.3, which dramatically changes the application launcher, dialer, notification bar, and a bunch of other places. You can see a bunch of examples in the gallery. It actually bears a striking resemblance in style to Sony themes on other devices like the PS3, but I'd still imagine people would prefer stock Android, especially since 2.3 really brings striking UI changes. Availability of the Arc will be late Q1 to Q2 2011.