Acer Ferrari One: Gaming and Graphics
The short story is that this really isn't a suitable gaming laptop unless your demands are very light. We tested the Ferrari One in our usual gaming suite, as well as running 3DMark. You can get gaming results for the other laptops elsewhere; here we're going to just show the scores for the Ferrari One. We should note that the combination of a 1GB and 2GB SO-DIMM in our test laptop forces the Ferrari One to run in single-channel memory mode, which reduces graphics performance relative to dual-channel HD 3200 notebooks. We did some quick testing with 2x2GB in dual-channel and found it improved performance by around 5-10%. The memory in the Ferrari One also runs at DDR2-480, further hindering performance—this despite the memory being rated for up to DDR2-800 speeds.
Acer Ferrari One Gaming Performance
Game Title
800x600
1366x768
Batman: Arkham Asylum
23.0
12.0
Crysis: Warhead
21.0
11.5
DiRT 2
20.2
13.1
Empire: Total War
34.5
19.6
Far Cry 2
16.9
11.3
Left 4 Dead 2
20.8
12.9
Mass Effect 2
16.9
7.1
STALKER: Call of Pripyat
49.7
26.8
On the gaming side, things are more encouraging for the Ferrari One. The Radeon HD 3200 is a far better integrated graphics solution than Intel's GMA 4500MHD. Unfortunately, that doesn't really make most recent games playable, even at 800x600 and minimum details. Of the titles we looked at, only STALKER: Call of Pripyat and Empire: Total War are playable at 800x600, and both frankly look quite poor at minimum detail settings—like games from 2005, which should also run well on the Ferrari One. You'd probably be better off with one of the ION based netbooks, which offer better graphics performance and an HDMI port. With Intel's latest drivers (we'll show this in an upcoming article), the HD Graphics on an i3-330M are actually able to match a higher spec AMD system with HD 4200, and that's the real killer for the graphics equation. Intel still isn't fast by any stretch of the imagination, but on laptops their HD Graphics is now roughly equal to HD 4200 while the CPU performance and battery life are substantially better.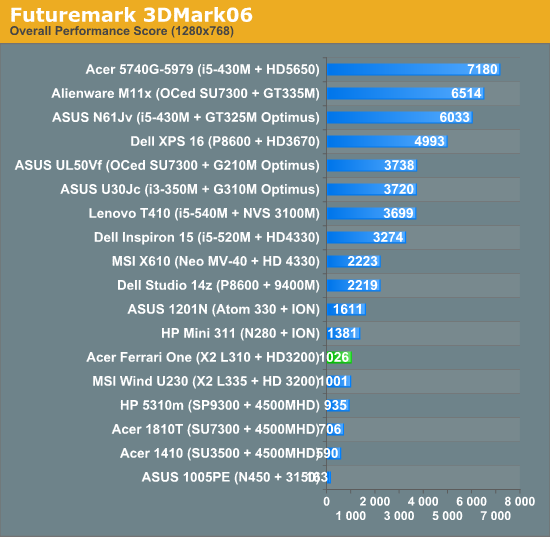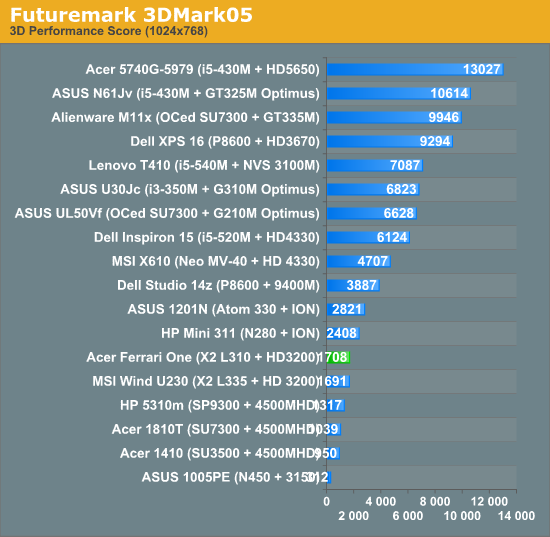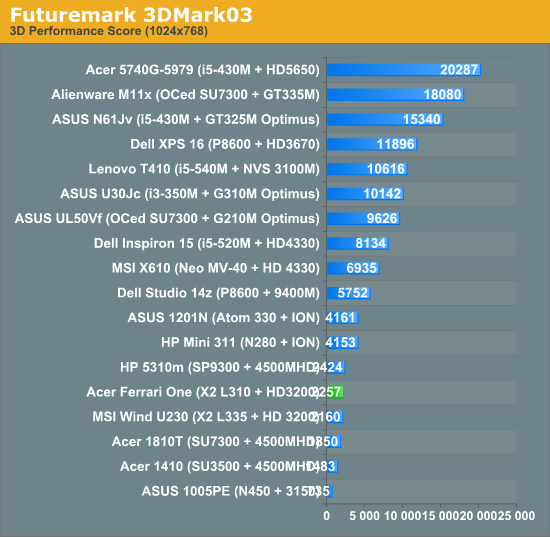 For those that like 3DMark results, you can see where the Ferrari One falls in relation to other laptops. It beats CULV with GMA 4500 and Atom, but that's about it. Atom with ION beats the L310 with HD 3200, and CULV with HD 4330 eclipses the ION laptops.
We also tried the latest Flash 10.1 Release Candidate (RC7 now) and ATI's 10.5 drivers. Unlike earlier releases, initial testing looks like Flash 10.1 is working well with ATI's GPUs now. That's definitely one area where the Ferrari One beats standard Atom netbooks, but then the competition isn't Atom at this price point; CULV and ION are readily available for a similar price. YouTube 720p worked fine with the current Flash 10.1 release and 10.5 drivers, but 1080p was a slideshow with sound dropping out as well. It looks like the L310 just doesn't have quite enough performance to handle 1080p (or the drivers need further optimizations, considering Atom + ION handles 1080p fine). Overall, we'd take any of the new crop of Core i3/i5 laptops with Intel HD Graphics as being a better multimedia solution than the Ferrari One, particularly in light of the missing HDMI port.